Description
The Sussex Drum! Creating communities in rhythm. https://www.thesussexdrum.com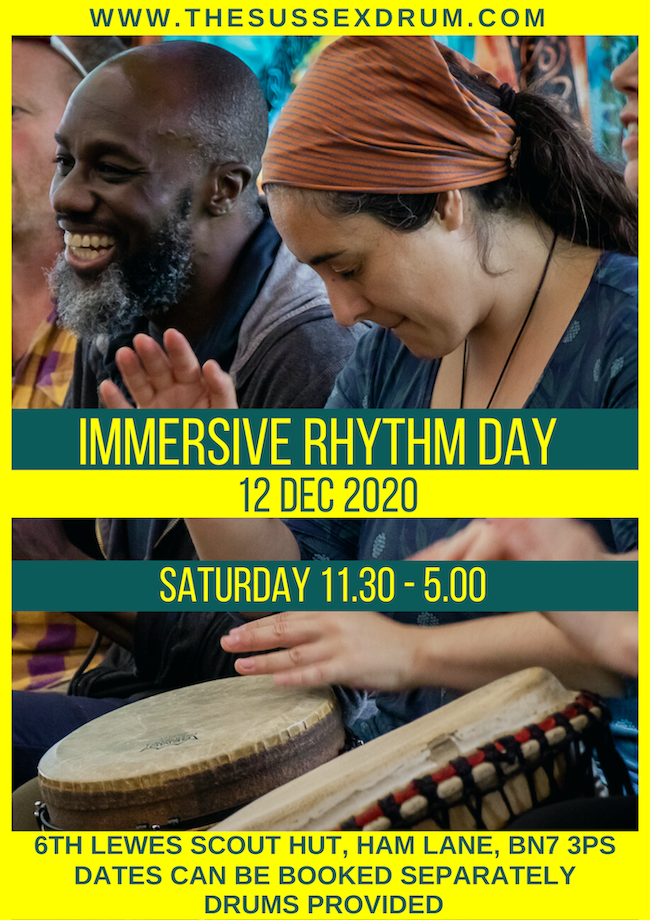 ADVANCE TICKETS £25 + booking fee £1.93
Venue: Sixth Lewes Scout Hut, Ham Ln, Lewes, BN7 3PS
Lewes Station -15mins walk
Train - London Victoria to Lewes - 1hr; Drive - London to Lewes - 1hr 30mins
This event is ideal for..
Anyone who wants to gather and drum with others in warm community. Anyone who wants a great introduction or a deeper dive into the world of rhythm. Anyone of any ability; a musician or novice. Anyone wanting to explore musicality & percussion as a communicator. Anyone interested in learning world rhythms collected over 20 years from across the globe. Anyone longing to feel welcome & part of a group without having to engage with words. Anyone interested in personal expression & community music. Anyone who has come to a class or event run by Jamie Morgan and wants more.
What to expect from an Immersive Rhythm Day..
In short:
A fun day diving into rhythm; Expect games, laughter, play & to take part in some really great music; We'll harness the potency of rhythm to connect, transform and empower; We'll break to share food and drinks (alcohol-free) surrounded by the Sussex Countryside.
In detail:
This day will be an immersive dip into the world of rhythm, community music & personal expression.
With over 20 years passion and experience hand drumming as a professional, Jamie has played & learned alongside some of the foremost leaders and musicians in the field. This has fostered a deep knowledge that, irrespective of prior experience, taking part in rhythm has enormous power and potency to transform, empower & liberate all kinds of wonderful energy.
On this day we'll dip as deeply as we can into this potential together.
Welcome - arriving in the space (teas & biscuits provided)
Warm up - warming the hands, body and brain with simple rhythmic pattens
Foundations - learning rhythms, dropping into listening and playing!
Snack Break - Yum (bring something to share & enjoy tea & biscuits)
Immersive Rhythm - We'll set an intention, and then we'll play the day out, raising our own energy to meet the natural ebb and flow of music as it happens
Closing - Optional verbal communication of thoughts, feelings, insights or appreciations to take away.
By sharing time and space in the rhythm, we take part in something profound and simple that's existed all over the world for millennia, with our own totally unique stamp on it.
Practicals:
Timings: 11.30am - 5.00pm
Cost:
ADVANCE TICKETS £25 + booking fee £1.93
To secure your place, you can pay in advance via paypal or card.
Children under 12 years of age go free.
This event is not suitable for children under 10 years of age & all children must be supervised.
What to bring:
- Drums & percussion will be provided, but if you would like bring your own, you are more than welcome.
- Chairs -This will be a seated event & chairs will be provided, but if you prefer to bring your own, please do.
- Food - We invite you to bring some food to share. There will be a long break of around 50 minutes. We imagine light snacks being shared, but if you'd like to bring something more substantial then do. Teas, coffees & biscuits, as well as some dairy & plant milk will be provided.
- Plates & Cutlery - Plates, cups & cutlery will be provided.
- Walking Gear - beautiful countryside or the historic town of Lewes are locally accessible. If you'd like to take advantage of this before the event or in the breaks, pack comfortable walking gear.

Travel:
Car - sharing can be a great way to get to know people & save costs.
Train - www.thetrainline.com - affordable advance tickets