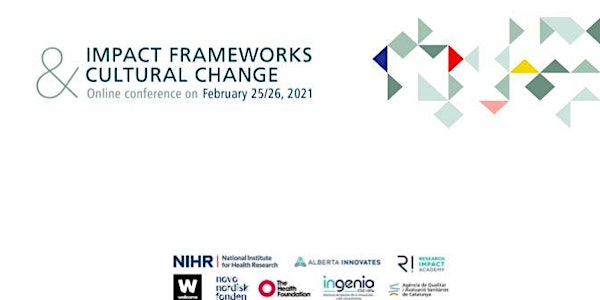 Impact Frameworks and Cultural Change
A two day online event featuring online talks, debates and podcasts on impact frameworks, implementation, policy and cultural change
About this event
Join this online conference on impact frameworks and cultural change to discuss best practice in this field, to question the suitability of frameworks as a way of connecting strategy to practice, and discuss their real world implementation and use to assess health and social impact and changes in society.
This event will add to the body of research impact assessment knowledge and refresh the impact 'lens' of all who participate and, though primarily aimed at the health and social care sectors, is open to all. Participants include Professor Trisha Greenhalgh (Professor of Primary Care Health Sciences and Fellow of Green Templeton College, University of Oxford), Professor Jonathan Grant (Professor of Public Policy, KCL and a founder of the International School of Research Impact Assessment) and Dr Louise Wood CBE - (Director of Science, Research and Evidence at the Department of Health and Social Care).
This event has been organised by the following funders across the world.