About this Event
Join sustainable and impact investing's market leaders at the Impact Investment Academy (IIA) 2020
Are you looking for a flagship event where you can connect with other like-minded Financial Planners and Advisers who are engaged in sustainable and impact investing? Well this is it!
This will be our tenth event overall and our first virtual event! The IIA is the largest gathering in the UK of around 200 financial planners, wealth managers, and asset managers, all focused on sustainable and impact investment, who come together to reboot their market intelligence and refresh their network in this fast-moving, stimulating sector.
It is an exciting and unique CPD forum and an inspiring day which will provide practical tools and deliverables to implement within your business. Together we aim to challenge and inspire!
AGENDA
We see ESG themed investments as being poised in prime position to assume the mainstream slot within the majority of investment portfolio. This should, in turn, enhance the profile of the "pure" version of Impact, thereby helping to maintain its ascendancy towards becoming the investment style of choice within the UK.
Within the agenda we will deliver a series of related themes for the Academy, continuing the narrative from earlier events.
The overall theme for this year's Impact Investment Academy is about how we redefine wealth in the new, post COVID world. The pandemic has accelerated the momentum in terms of attitudes towards sustainable and impact investing. How can advisers capitalise on this progression and build this into their client's portfolios. This includes how to embed impact within a firm's outlook and vision, procedures and discovery tools and within client's portfolios.
Whilst we will miss meeting in person, the online format does have the potential to enable us to offer so much more in terms of content, collaboration and community.
Content – a richly varied speaker list of sustainable and impact investment luminaries from around the globe – indeed we believe that the content planned for this event will be the most inspiring, insightful and engaging yet!
Collaboration - our online event platform has been carefully selected, with a view to us retaining all those elements of the Academy which make it special; such as networking with fellow delegates and opportunities to engage with our presenters. All delegates will be enabled to access the in-platform networking tools which will facilitate the corridor conversations that we know from your feedback to be a highlight for so many of you.
Community – by going online we will have the potential to significantly broaden the reach of IIA20.
We hope you will choose to join us for this milestone event which will provide an opportunity to engage more of your team than before.
Key notes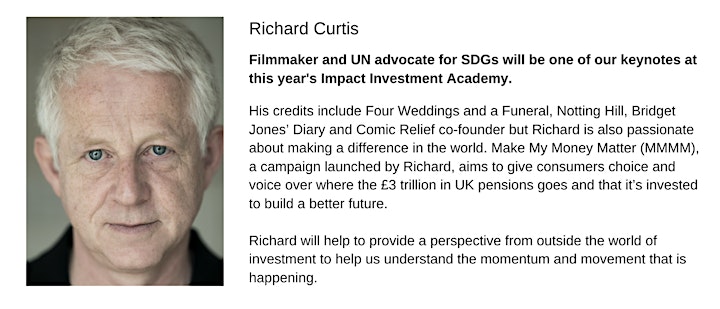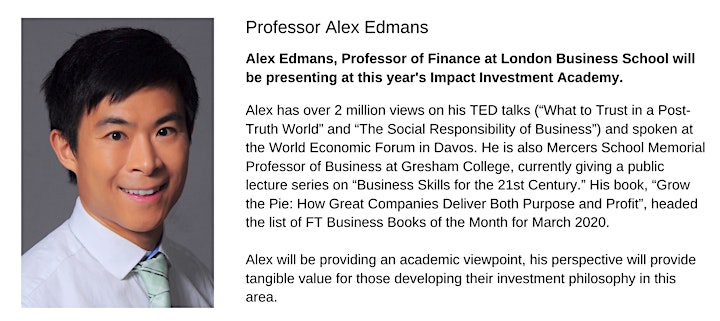 Who and why are people attending the IIA?
"The Impact investment Academy is the leading event for Financial Planning professionals in the impact space. It is a must-attend event for any Financial Planner who wishes to help their clients deploy their capital in accordance with their values and make a positive difference through their investment choices"
Michael Smith, Chartered Financial Planner and CEO, Chamberlyns
-------------------------------------------------------------------------------
"...I wholeheartedly  recommend anyone who has an interest in this area to attend. You will hear quality speakers and mix with a like-minded community of caring people who are all on the same page. It's easy to be busy and not attend, but I can say my 200-mile journey was well worth it and I will be attending again."
Roy Blacker, Partner/ Adviser, LifePlanning Solutions   
-------------------------------------------------------------------------------
"The Impact Investment Academy really helped me understand what Impact Investing is about and how we can utilise this for our clients."
Virginia Bolton, CFP, Chartered MCSI, Fiscal Engineers
-------------------------------------------------------------------------------
"An inspirational day which will help shape our client proposition for the future."
Simon Brown, Chartered Financial Planner and Director BPH Wealth Management
-------------------------------------------------------------------------------
"The movement towards impact is gathering steam; the IIA is playing a very important role in equipping FPs with the skills, knowledge and expertise to lead this movement with their clients" 
Ruth Sturkey, Client Director, Paradigm Norton


Date and Time
Location
Refund Policy