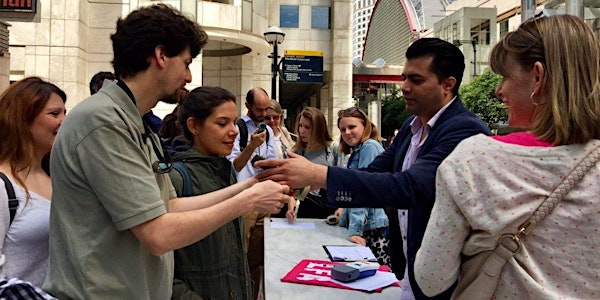 Impact of urban form on microclimate, air quality and human health
Location
Canary Wharf Station
Reuters Plaza
Canary Wharf
London
E14 5EH
United Kingdom
Description
London Festival of Architecture: Impact of urban form on microclimate, air quality and human health | Guided Walking Tour
Led by doctoral researcher in architecture, Mehrdad Borna, this walk will focus on air quality in our cities. If you care about creating a better future for our cities, then this tour is for you!
As part of the London Festival of Architecture join us for a hands-on experience and an insightful walking tour of Canary Wharf.
A clear sense of international awareness of the multiple threats to our natural environment now prevails globally, with demands from many a pragmatic address of the potentials for real on the ground change.

A principal question emerges as: If sustainability is important, what is it really? How do we pragmatically respond to it? And why is it important? How can our cities cope with issues ranging from global warming to air pollution? What does the future look like?
​
These problems are visibly global in extent, encompassing atmospheric pollution emerging from energy productions, transportation, the exhausting of natural resources, and an increase in waste productions, all are contributing to air quality deterioration, acid rain production, global warming, depletion of ozone levels, and our personal health issues. Sustainability as a criterion is now determined as a necessity.

On this walking tour, you will be working with Environmental Monitoring Instruments to monitor and capture data related to Air Quality, Temperature, Air flow velocity, and Relative Humidity. We will then interpret these data to understand if there is an association between urban form and urban air quality. By the end of this tour, you will have a better understanding of the urban form and its significant influence on the formation of undesirable microclimate which increases the concentration of air pollution in outdoor spaces and respectively triggers adverse impact on human health.

This walking tour will highlight some of the above issues and is a very enjoyable way to learn about Sustainable Development, Climate Change, Urban Microclimate, Urban Heat Island, air pollution and its impact on human health. We will also explore potential mitigation strategies to reduce our impact on the environment and discuss our present state of effort and achievement in order to secure production of a satisfactory quality of life for our future generations.
Itinerary
​
We will meet you at Canary Wharf which is the newly developed area of retailing and restaurants of London's latest financial centre operating as Europe's hub. From here we will have few stops before arriving at the Crossrail Place Roof Garden designed by Foster + Partners.

Meet at Canary Wharf Underground station

Guided visit to Canary Wharf district

Guided visit to Crossrail Place Roof Garden
Please note:

Walking tours will go ahead whatever the weather. Please wear comfortable shoes

We advise you to bring your camera and notebook to record any details you find exciting and interesting.

Please check travel arrangements on the day at Transport for London's Journey Planner site.
Inclusions
We provide guided tour, hand-outs and flyers informing of the locations visited to help you retain the information.
Exclusions
The tour does not include tickets for use on the underground or DLR trains or the cable-car link.​
Meeting point (Meeting at 10:15 for a 10:30 am departure)
Outside Canary Wharf Station. Please refer to our website for the exact meeting point location.
This event is part of the London Festival of Architecture 2019
About London Festival of Architecture: The London Festival of Architecture is Europe's biggest annual architecture festival, and returns to the capital from 1-30 June 2019 with hundreds of events exploring 'memory'. We celebrate London as a global architectural hub, provoke questions about the life of the city, and promote positive change to its public realm.