Location
Room 3.76, MBS West
Booth Street West
Manchester
M15
United Kingdom
Description
Humanities Entrepreneur in Residence Scheme - Supporting Ideas from Mind to Market
12.30-2pm (121s available from 2pm until 5pm)
The Business Engagement Support Team, UMIP and The Faculty of Humanities would like to invite you to a lunchtime seminar to hear more about the new 'Entrepreneur in Residence' scheme.
The scheme will embrace the creativity of our academic researchers alongside the business acumen of John Leach, a successful alumnus entrepreneur. The overall aim is to prime research project outputs that have the potential to yield "real world" impact by injecting additional entrepreneurial flair alongside leading domain expertise and knowledge. Outputs might be a spinout, licence, service business or other joint venture.
121 sessions available with John
Come along to hear more about this exciting scheme and how it can benefit academic colleagues. We are also offering a limited number of individual 121 sessions with John Leach for help in catalysing your potential projects.
About John Leach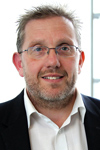 John Leach is an alumnus of The University and spent over twenty years working with passionate people, projects and businesses. He entered one of the Universities incubators in 2005 with a business idea and was supported by the incubator to help grow, since then has scaled his company Winning Pitch to a national brand specialising in business enhancement and personal growth involved in major delivery contracts for the public and private sector. John is a firm believer in R&D and commits a large amount of time to researching his markets and then developing new IP and innovating through learning. He has published a number of books on his passion for high growth business and individuals and he is extremely interested in helping shape new potential enterprises from research in social sciences and humanities. Through his role as Entrepreneur in Residence John is keen to help unlock value from Humanities based research that can be developed into impactful outcomes.
Please note this event is for staff and academics from the Faculty of Humanities.
Agenda
12.30-13.00: Lunch and Networking
13.00-13.05: An introduction to the EiR scheme - aims and objectives - Tony Walker (Director of Enterprise and Business Development, UMI3)
13.05-13.20: How this is supporting the Humanities Impact Agenda: Why researchers should consider this / ESRC funding available for impact related projects - Colette Fagan (Deputy Dean, Faculty of Humanities
13.20-13.40: Case Studies: Humanities staff developing enterprising projects
13.40-14.00: Q&A panel session
This event has been kindly funded by the Economic and Social Research Council: http://www.esrc.ac.uk/
If you have any queries, please contact ellie.sagar@umip.com.