Description
This workshop will help participants significantly develop how to speak with greater impact.
The interactive session will help you understand what it takes to have an impact when speaking. The concepts work on a one to one level and speaking to large groups.
Simon will help you understand and use tools and techniques to strengthen your message. You will work in groups of three to practice your new found skills and Simon will ensure you go away with new found confidence, networking skills as well as enjoying the challenge of speaking to small and large groups.
Once you work to really simplify your messages you will be able to speak effortlessly and confidently.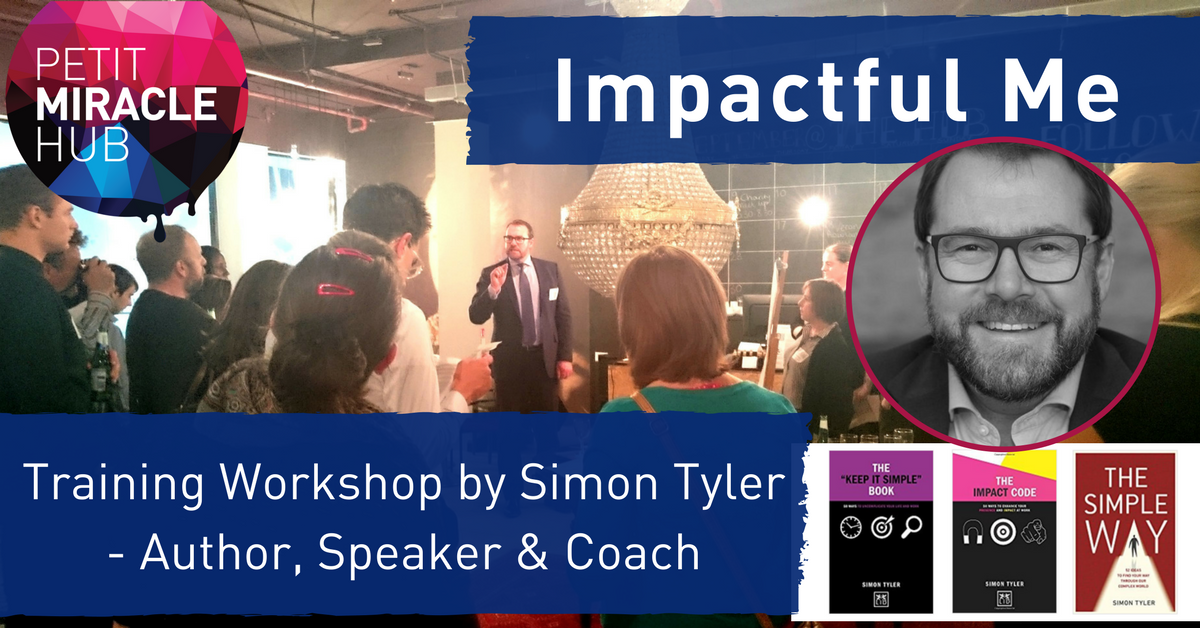 Read the blog post about the talk Simon did at the Hub about mastering networking and enjoying networking.
-----
Trainer:
Simon Tyler, author of 'The Keep It Simple Book' and the 'Impact Code' is one of the world's leading business coaches and inspirational speakers. His entertaining and thought stirring work cuts through complication and frustration and liberates individual potential. Simon's philosophy begins with the idea that to move forward you must create space, clear away what is confusing and take inspired action to clarify and simplify your interactions with the world. Simon has personally delivered over 4,000 hours of one-to-one coaching with 750+ leaders and executives, and has positively influenced large audiences through almost 1,000 live events. Simon is a pioneer in the field of personal growth, specifically in the power of attitude, simplicity and impact.
http://www.simontyler.com/ | https://www.linkedin.com/in/simontyler/

-------
About Petit Miracle Hub and SYOE
This training is part of our new Start Your Own Enterprise Programme.
Read more: http://www.petitmiracles.org.uk/hub/free-retail-space/