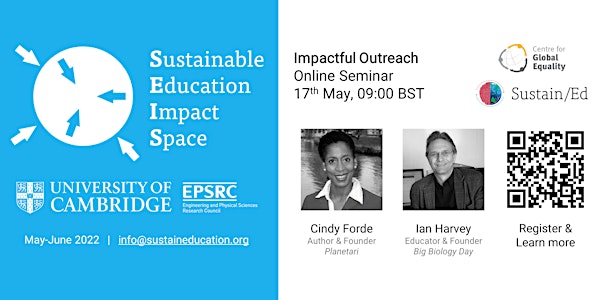 Impactful Outreach Seminar - Sustainable Education Impact Space
Two inspiring changemakers discuss generating opportunities for young people, and the quest for a fairer and more sustainable society.
About this event
Inequality in education is a shifting global challenge. In this first seminar hosted by the Sustainable Education Impact Space, two actors in educational outreach tell of their experiences and journey towards meaningful social impact, and discuss the sustainablity challenges facing our future generations.
We are delighted to welcome our speakers:
Cindy Forde - Author and Founder of Planetari, and former leader of the Blue Marine Foundation and Cambridge Science Centre.
Ian Harvey - Educator and Founder of Big Biology Day, and practical science lead on projects in Makeni, Sierra Leone.
Our speakers will participate in an audience Q&A chaired by Dr Stuart Macpherson - we are excited to take your questions and facilitate important discussions.
Interested in getting involved in educational outreach? Sign up or email us at info@sustaineducation.org to join a diverse and growing network!