This event will provide some critical perspectives, direction, and ideas on developing Impactful Research and Scholarship
About this event
The Society of Black Academics (SBA) is pleased to announce our 2nd Annual Conference titled ''Impactful Research and Scholarship''.
This event builds on our last conference on ''Developing a Successful Career as a Black Academic'' which was co-hosted by the Scaling Business in Africa (SBIA) Consortium (University of Edinburgh) and Knowledge Bridge.
The following themes will be covered this year:
What exactly is impactful scholarship? A critical perspective
Routes to impact: how does one go about developing it from a research and teaching angle?
The tools and techniques for impact: what are the strategies and how to approach them?
Navigating pitfalls and challenges: some practical examples and cases
Call to action: what other things can Black academics do to position themselves for career progression apart from teaching, research, and engagement?
Practitioner session on ''Recruiting for Senior Positions in Higher Education''
Attendees will benefit from the experience of other academics, rethink their career plans, and plan more effectively for success.
The event is organised by the SBA Events Team in collaboration with the Africa Research Group at Nottingham University Business School, University of Nottingham.
Join the event via link below:
https://teams.microsoft.com/l/meetup-join/19%3ameeting_NzQ3MTY3ZGUtZDBlOC00Y2NjLTg3NmQtNGJmZThhZGJkN2I0%40thread.v2/0?context=%7b%22Tid%22%3a%22aebecd6a-31d4-4b01-95ce-8274afe853d9%22%2c%22Oid%22%3a%22c9f78108-f3e0-4d7d-b7ca-a0758c3181cc%22%7d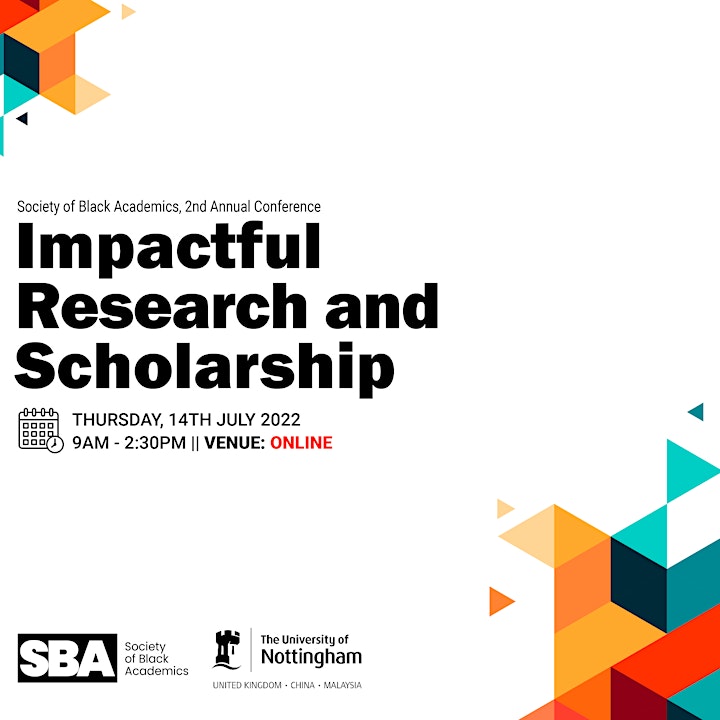 The event is informed by the fact that black academics and women are underrepresented at professorial and leadership levels in UK Universities. This issue raises concerns about the prospects of career progression for black academics in the UK despite an increase in universities employing both academic and non-academic staff at record levels (The Gryphon, 2021).
According to Higher Education Statistics Agency (HESA), 155 out of 23,000 university professors in the UK are black. This low figure has remained at below 1%, for the last five years, despite the rising number of positions into the full professorial and leadership staff. This issue seems to be more than a systemic and institutional bottleneck for both the universities, and black academics.