Description
Please join us on Saturday the 29th of June, in the

Read Lecture Theatre Room, Sherfield Building, 4th/5th floor (double tier entrance), 6 - 7:30pm at Imperial College South Kensington, for an evening serenade to the beginning of Summertime!
This concert will be performed by the brilliant Hiroko Yamammoto (Mrs Eastman), who has so kindly given up her time and talent to support EducAid, an educational charity from Sierra Leone - West Africa. It supports children and the community by removing barriers to education by providing necessities such as clothing, food, and school book materials in addition to a dedicated staff body throughout multiple school sites.
Lineup: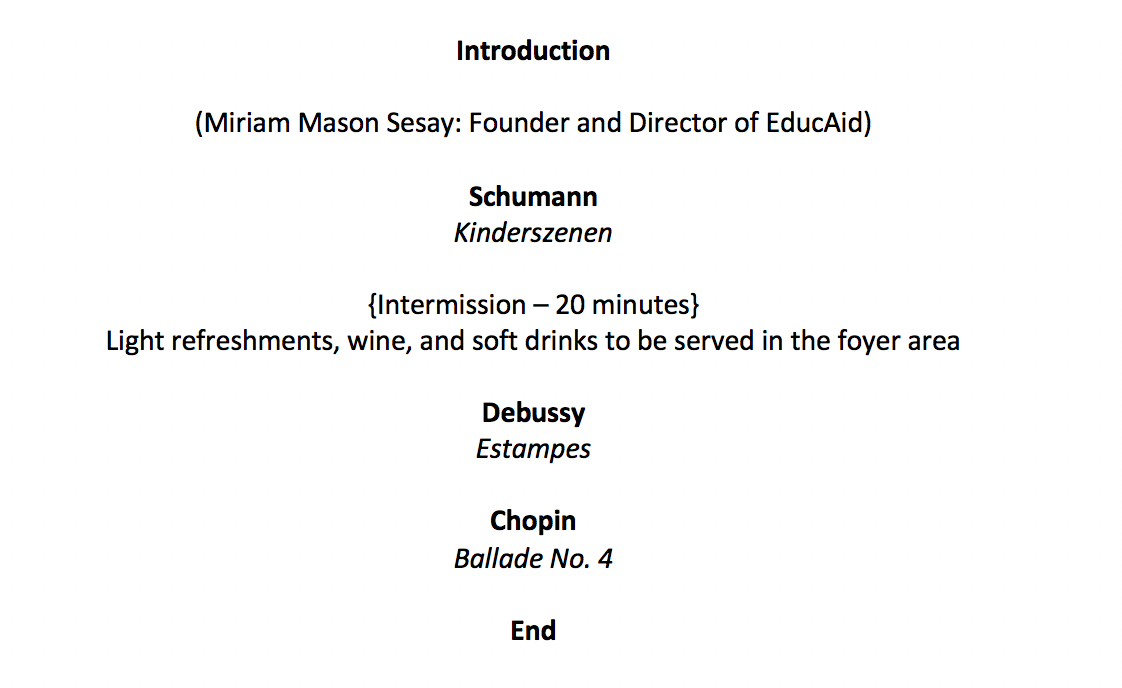 Pianist: Hiroko Yamamoto first came to England in 1995 when she restarted her piano studies with the late Geraldine Mason Harrison in Canterbury.
Hiroko graduated from Trinity College of Music and studied piano with 2 Russian pianists — Alexander Ardakov and Nina Sereda — and later also studied classical singing with Elizabeth Haws, John Wakefield and Penny Clark.
She won 4th prize at the Beethoven Piano Competition in Shiga prefecture in Japan awarded by NHK. She was also awarded the Anthony Lindsay Piano Prize by Trinity College of Music.
While at college, she toured with a violinist around Portugal and performed at several places including a performance for the mayor of Oporto; and also toured with 3 classical singers around the Black Sea with the Swan Hellenic Cruise company and gave several concerts.
​In 2014 She performed with Inzpir8tion (8 hands on two pianos) at several international venues including St Georges at Bristol and St James Piccadilly which were well received.
In the last 3 years she has been studying under Pascal Nemirovski, Hon ARAM who holds the position of International Chair in Piano at The Royal Birmingham Conservatoire.
---
EducAid Charity: We are a UK registered charity which believes that the education of young men and women is essential to: unlock human potential, overcome poverty, improve wellbeing, build democracy, and that it is the cornerstone of stable development. Our vision is a democratic, dignified and prosperous Sierra Leone, where poverty is eliminated by educated citizens who are able to develop their personal, social and economic wellbeing.
EducAid builds on the foundation of quality education in an environment of equality. In a country where gender equality is so disproportionately biased against women, we ensure that our pupils are treated identically, no matter their gender.
EducAid is unique in Sierra Leone in that it aims to empower Sierra Leoneans to build a better future for themselves, from the bottom up!