Overcoming challenges to implementing and sustaining nature investments at scale
About this Event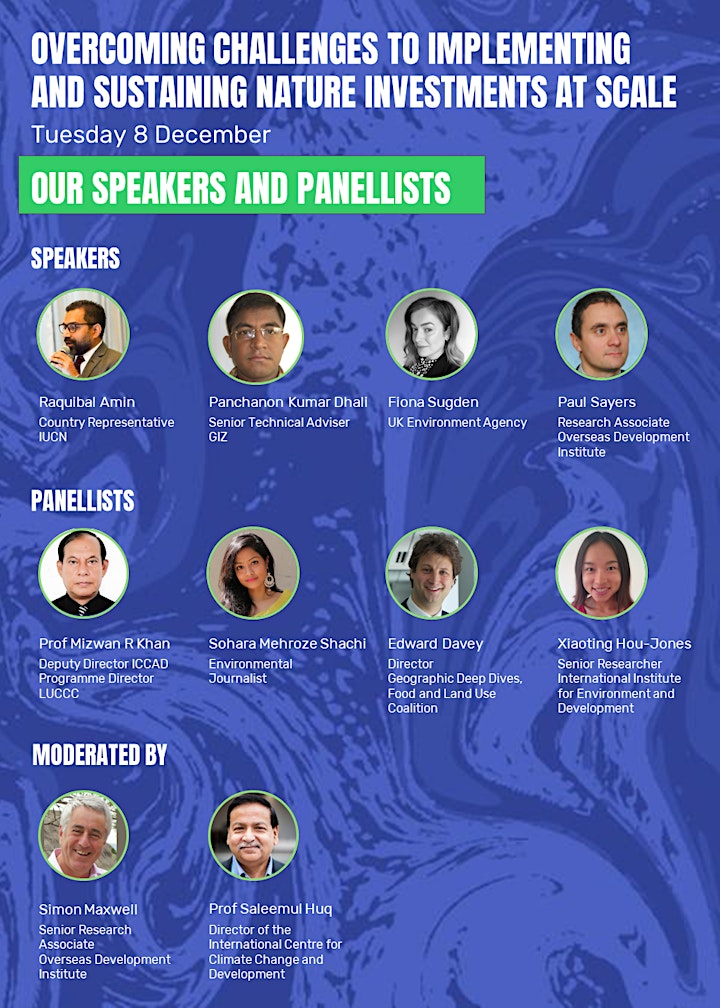 More details on speakers at the bottom of the page
Programme
Opening remarks from John Warburton, Team Leader, Extreme Poverty, Resilience and Climate Change at UK Foreign, Commonwealth and Development Office
Case studies
NbS in humanitarian response: case study from Kutupalong, the world largest refugee camp - Raquibul Amin, Country Representative, International Union for Conservation of Nature (IUCN)
Application of NbS in the Sundarbans - Mr Panchanon Kumar Dhali, Support to the Management of the Sundarbans Mangrove Forests in Bangladesh (SMP-II)
Adaptation using NbS with traditional infrastructure - Leeds Flood alleviation scheme, Fiona Sugden, Environment Agency
Making the business case for natural flood management - Paul Sayers
Panellists
Professor Mizan R. Khan, Deputy Director, International Centre for Climate Change and Development (ICCCAD) and Programme Director, Least Developed Countries Universities Consortium on Climate Change (LUCCC)
Sohara Mehroze Shachi, Environmental Journalist
Edward Davey, Director, Geographic Deep Dives, Food And Land Use Coalition
Xiaoting Hou-Jones, International Institute for Environment and Development (IIED)
Moderated by
Professor Saleemul Huq and Simon Maxwell
As one of the world's most vulnerable countries to the impacts of climate change, Bangladesh has experienced first-hand the devastating impact it can have on people, the environment and the economy. The UK's climate is also changing. Its ten warmest years on record have all occurred since 1990 and the country is increasingly vulnerable to flooding and coastal change, water shortages, food insecurity, pests and disease.
Featuring four exciting and innovative approaches from the UK and Bangladesh, this session will examine how nature-based solutions are being used in parallel with engineered interventions in Bangladesh and the UK to provide a variety of mitigation, adaptation and environmental benefits by protecting and enhancing natural capital at the same time as supporting socioeconomic development. In addition to the many challenges related to delivering nature-based solutions at scale, we will also explore how nature-based investments have the potential to generate employment opportunities for large numbers of low-skilled, daily wage earners that have been adversely affected by the economic downturn.
Experts from each project will give an overview of their work followed by a panel discussion and questions from the audience.
This event is part of the UK-Bangladesh Climate Partnership Forum virtual series which is building momentum on the journey to COP26. Visit our page to find out about other events in the series.
If you are unable to attend this event but would like to receive updates about the series, sign up for updates
About the UK-Bangladesh Climate Partnership Forum virtual series
This virtual series creates an opportunity to advance the climate agenda in the journey towards COP26 and beyond by bringing together experts and leaders from Bangladesh and the UK.
It will help to identify innovative ideas, partnerships and initiatives between Bangladesh and the UK, and further strengthen collaboration between the two countries by catalysing climate action and building a community of practice.
Each event will be structured around one of four key COP26 themes: adaptation and resilience, nature, clean energy and finance, and will feature a select panel of experts from Bangladesh and the UK, providing an opportunity to share knowledge and experience on tackling climate change.
COP26
The UK will host the 26th UN Climate Change Conference of the Parties (COP26) in Glasgow in November 2021. The climate talks will be the biggest international summit the UK has ever hosted; bringing together over 30,000 delegates including heads of state, climate experts and campaigners to agree coordinated action to tackle climate change. In its role as president of the Climate Vulnerable Forum, Bangladesh will be representing more 1.2 billion people living in 48 of the world's most climate vulnerable countries at COP26.
Speaker profiles
Mr. Raquibul Amin, Country Representative of IUCN Bangladesh, has the overall responsibility of representing IUCN in Bangladesh, working with the governmental, non-governmental and other civil sector partners, as well as with members of the international community in Bangladesh with other appropriate partners. He helps building bridges between governmental & non-governmental sectors and between national, regional, transboundary and global institutions and promote IUCN as neutral convening platform. Mr. Amin is a Bangladeshi national. He brings more than 20 years of diversified experience of working in multiple countries and multi-disciplinary settings covering the areas of natural resource management, water governance, building resilience, mainstreaming gender, integrated coastal management, and sustainable livelihoods development. He has worked with organization and partners in Bangladesh, Cambodia, India, Indonesia, Pakistan, Sri Lanka, Thailand, Seychelles, Maldives, Myanmar, and Viet Nam. Mr. Amin holds a M.Sc. degree in Environmental Technology from the Imperial College of Science, Technology, and Medicine, United Kingdom.
Fiona Sugden is a Senior Project Manager at Arcadis, currently working within the Environment Agency as Project Manager for the Leeds Flood Alleviation Scheme Natural Flood Management programme. She is a Chartered Project Manager with over 10 years' experience within the water and environment industry. Fiona is responsible for leading the team in delivering this pathfinding programme – the largest of its kind nationally – working with over 150 stakeholders to deliver market-leading nature based solutions across River Aire catchment.
Linkedin https://uk.linkedin.com/in/fiona-sugden-chpp-mapm-92922144
Prof. Mizan R. Khan has a Ph.D in Environmental Policy and Management from the University of Maryland School of Public Policy, MD, USA. Currently he is Deputy Director, Int'l Centre for Climate Change & Development (ICCCAD), Independent University, Bangladesh (IUB), and Programme Director, LDC Universities' Consortium on Climate Change (LUCCC) at ICCCAD, Dhaka. He served at North South University (NSU), Dhaka as Chair of the Department of Environmental Science & Management (DESM) during 2003-2009 and had been Director of External Affairs at NSU during 2015. He was an Adjunct Professor at the Natural Resources Institute (NRI), University of Manitoba, Canada, during 2009-2013. Dr. Khan had been a Visiting Professor/Fellow at the School of Public Policy, University of Maryland at College Park, MD, USA during Fall 2018; Universite de Poitiers, France in February 2015 & at Brown University, USA during the Spring & Fall of 2012, Spring of 2013 and Fall of 2016. He is a Lead Author of the Intergovernmental Panel on Climate Change (IPCC). From August 1981 he served at the Bangladesh Institute of International & Strategic Studies (BIISS), Dhaka, where he was a Research Director during May 1998–June 2001. Before joining NSU, he served for four years (1999-2002) as UNDP Environment Policy Specialist, working with the Govt. of Bangladesh. In the early 1990s, he worked for 3 years as a Senior Researcher at the Centre for International Development and Conflict Management (CIDCM) of the UMCP, MD. He was Vice Chair of the LDC Expert Group under the UNFCCC during 2002-2004. He attends climate negotiations as the lead negotiator on climate finance with the Bangladesh delegation since 2001. Dr. Khan is the Focal Point of the Nairobi Work Program of the UNFCCC representing the Academia in Bangladesh. He is an invited speaker in global expert meetings on climate change. Dr. Khan is a reviewer of many peer-reviewed journals like Climate and Development, World Development, Climate Policy, Climatic Change, International Environmental Agreements, Ethics, Environment and Policy, etc.
Sohara Mehroze Shachi is a Bangladeshi freelance environmental journalist and development professional with 7 years of work experience with a focus on climate change. A graduate of Yale University, Sohara is currently pursuing a masters in environmental change management at the University of Oxford. With UNDP, she worked on designing a project on enhancing women's adaptive capacity to climate change in coastal areas, which received funding from the Green Climate Fund. She also worked on tracking the climate expenditure of 20 ministries and developing Bangladesh's first ever national climate budget report, in collaboration with the Ministry of Finance. Her journalistic work has appeared in Reuters, Deutsche Welle, IPS, Undark magazine, as well as Bangladesh's leading English newspapers - Dhaka Tribune and the Daily Star. One of Sohara's pieces has been included as reading material for a Harvard Kennedy school course on climate change, and her work for Undark's "Breathless" series on air pollution was a recipient of NICHM's 2019 digital media journalism award. For her feature stories, she has conducted extensive field work in Bangladesh, ranging from the Chittagong hill tracts region where she reported on climate change induced crop failure, to the Rohingya refugee camps where she reported on environmental degradation and reproductive health. Last month, she shot a video documentary for Al Jazeera on offgrid solar electrification in a remote "char" island of Bangladesh. Sohara has also covered various international conferences, including World Economic Forum's Davos in 2017, the United Nations' General Assembly in 2018 and the International Climate Conference COP in 2015, 2016 and 2019. She also leads a voluntary youth organization named Global Shapers Community through which she initiated a city greening and environmental education initiative named Treelionaire that has been replicated in 4 countries. For her work on climate change, she was selected as an Asia Foundation Development fellow in 2019, an Acumen fellow and an Atlantic Council Millennium fellow in 2020. She is the first Bangladeshi winner of SEC's Asian Young Environmental Journalist of the Year Award.  
Instagram https://www.instagram.com/soharamehroze/ 
Edward Davey is International Engagement Director at the Food and Land Use Coalition, Co-Head of the World Resources Institute's UK office, and an Adviser to the UK COP26 Presidency in Cabinet Office. Previously, he worked for the Prince of Wales' International Sustainability Unit and as Lead Adviser on the Environment to the Presidency of Colombia. He has a Master's with Distinction in Environment and Development from the London School of Economics and Political Science, and an undergraduate degree in Modern Languages from the University of Oxford.
Xiaoting Hou-Jones is a senior researcher in IIED's Natural Resources research group. Xiaoting has more than 12 years of experience working with governments, NGOs, the private sector and local communities on a wide range of sustainable development issues in developing countries, including nature-based solutions for climate change mitigation and adaptation. She currently leads IIED's Ecosystem-based Adaptation work which gathers practical evidence, provides policy guidance and implementation support to scale up nature-based solutions for climate change adaptation in developing countries.
Prof. Saleemul Huq is the Director of the International Centre for Climate Change and Development (ICCCAD) at Independent University, Bangladesh (IUB) since 2009 and Senior Fellow at the International Institute for Environment & Development (IIED) in London. He is also Senior Advisor on Locally Led Action, Global Centre on Adaptation (GCA) and Advisor of Climate Change Programme at Brac. Before that Dr Huq was the Director of the Climate Change Programme at IIED and founding Executive Director at the Bangladesh Centre for Advanced Studies (BCAS). He has worked extensively in the inter-linkages between climate change (both mitigation as well as adaptation) and sustainable development, from the perspective of the developing countries, with special emphasis on least developed countries (LDCs). He has published numerous articles in scientific and popular journals, was a lead author of the chapter on Adaptation and Sustainable Development in the third assessment report of the Intergovernmental Panel on Climate Change (IPCC), and was one of the coordinating lead authors of 'Inter-relationships between adaptation and mitigation' in the IPCC's Fourth Assessment Report (2007). He has been named among the "World's 100 Most Influential People in Climate Policy for 2019" for making a positive difference by The Apolitical, a London-based public servants' networking group.
Simon Maxwell is an economist who began his career working in Kenya and India for the UN Development Programme, and then in Bolivia for the UK aid programme. He was a Fellow of the Institute of Development Studies in Sussex from 1981-1997, and was Director of the Overseas Development Institute from 1997-2009. Since 2009, he has inter alia been Executive Chair of the Climate and Development Knowledge Network (2010-17), and Specialist Adviser to the International Development Select Committee of the UK House of Commons (2010-17). He is currently on the Steering Committee of the annual UN Environment Emissions Gap Report. Simon is a past President of the Development Studies Association of the UK and Ireland. In 2007, he was awarded a CBE for services to international development. He writes extensively on development policy. In January 2016, Simon delivered the Anniversary Lecture of the Centre for Policy Dialogue in Dhaka, on the topic of 'Climate Compatible Development: Pathway or Pipedream'. For further information, see www.simonmaxwell.net.