Description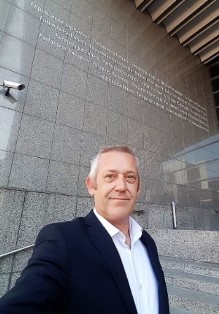 Jason J Hunter is an International Trade Negotiator at the highest level, representing such parties as the government of Hong Kong.
He has recently become something of a social media sensation given his experience in his field, due to the various reports of the state of our government's negotiations with the EU in terms of Brexit.

As a result he has been interviewed on a number of platforms recently, from BBC News to Radio 5 Live.

Jason is also one of the stars of the YouTube Brexit discussion podcast series 3 Blokes in a Pub.
Jason has subsequently been travelling around a lot of Europe meeting with various interested parties, representatives of the EU itself, and indeed members of Irish government, given the particular issues over the border. This will be a great opportunity to hear first-hand from, and indeed question, someone on the front line without the interpretation the media, and a must attend event for anyone interested in the economic future of the country.

Doors open 7.00pm for 7.45pm start and depending on how the evening goes there will be an opportunity to continue the discussion in a local pub.
Organiser of Implications of Brexit on Trade;with Jason Hunter
Who we are?
The Lincolnshire branch of the European Movement was founded on the 14th February 2017. We are a cross party pro European organisation covering the County of Lincolnshire.
Our aims
To promote awareness of the European Union.
To disseminate a positive image of the European Union & Britain's role in Europe.
To campaign to remain a permanent member of the European Union.
To further the aims of European Movement UK by undertaking relevant activities.
What we do 
We act as a conduit for Europeans of all nationalities living and working in Lincolnshire to have their voice heard and we reach out to local people to promote understanding, cohesion, co-operation and unity between all citizens of European Nations living in Lincolnshire and beyond. 
We do this by running campaigning stalls, seeking to attract authoritative speakers to Lincolnshire to take part in public meetings and by organising social events for members and supporters, and taking part in and promoting national and regional events as considered appropriate
How to join us
All members of European Movement UK and Young European Movement are automatically members of the Lincolnshire branch. 
We welcome corporate membership applications from any business or organisation that supports our aims at a rate to be agreed by our executive committee in consultation with European Movement UK on a case by case basis