IMPORT2EBAY - 2018 Learn How To Import From China & Sell On eBay

Saturday, 12 May 2018 at 10:00

-

Sunday, 13 May 2018 at 17:00 (BST)
Event Details
Welcome to IMPORT2EBAY for 2018



Date & Times:

IMPORT2EBAY is a TWO-day event starting Saturday the 12th of May 2018 @ 10am to 5pm  & Sunday the 13th of May @ 10am to 5pm held at the Radisson Blu Manchester Airport Hotel. 


So what is Import2eBay?

Import2eBay is a training course specifically designed to give you all the tools, resources, systems, tips, tricks, strategies and information to enable you to successfully set-up a business importing products from China and selling on eBay.

Import2eBay has been running for 4 years and traditionally has been a 1-day event held once a year with my Import agent. 

Please see the following link for reference to the previous courses: www.Import2eBay.co.uk

Following a year long break from running this course to maximize my own import and eBay businesses; this intensive training program has been developed in response to the high demand from people contacting me asking when the next event would be held.

This comprehensive no holds barred training course will now run over TWO days with just myself covering all aspects of Importing from China and effective trading on eBay.

This New 2018 Import2eBay Event is a TWO Day Course Covering The Following Content...


DAY 1: Importing From China 

Types of Importing / How To Import
Process & Freight Forwarders

Paperwork

China Sourcing

Agents

Landed Quotes
How To Pay For Your Imports

Currency

China Quotes

Exchange Rates

Forex
Quality Control & China

Why Do We Need QC

Types of QC

QC Recommendations

QC Reports

Case Study Example 
Finding Profitable Products

Trends & Data

Case Study Example

Research Tools & Resources

Live Researching & My 10 Step Process

Start Your Business Today - 10 Hot Selling Researched Products
Types of Scams in China

Why Do They Happen in China?

11 Types of Common Scams When Importing 

How to Reduce Risks of Being Scammed
Branding, Trademarks & Design Specs

Building a Brand 

How Do You Do It?

Brand Relation & Transfer to Product

Trademarks & Packaging Design

Inspiration - Light Bulb Moment!
Packaging & Delivery

Packaging / Importing

Gun Cabinet Case Study

Packing Supplies

Courier Networks
Becoming a Successful Importer

The Import Cycle

DIY vs Using An Agent

Tips & Tricks

Video Documentary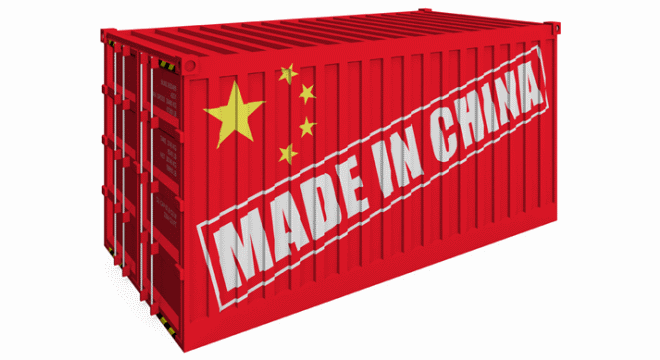 ---
DAY 2: eBay Marketing / Listings & Strategies   

eBay Longevity
Funding Your eBay




Setting Your Stall Out

Support & Resources

Different eBay Business Models
Storage & Distribution
Types of Storage & Distribution

Fulfillment & Warehousing 
Marketing, Listings & Shops
Killer Strategies

eBays  Algorithm

Templates

eBay Shops

Good & Bad Listings

Factors For Optimisation

The Future of eBay Listings

Social Media

Cross Platforms

Feedback & DSR Ratings
Listings eBay
Advanced Searches

Flipping For Profit

Case Study 
Trade Fairs & Shows
Canton Fair

NEC Autumn & Spring Fairs 
Summary 
Psychology Of Sellers

Q&A
---
BONUSES: 
Access to additional training resources to support your journey - excel/word docs & PDF's 


Access to all my contacts, training materials on the day and in-house research software  


12 Months of ongoing mentoring and support


A review of your eBay ID with a 12-month succession plan of action via Skype or email 



Access to my private FB support group/communities for like-minded eBay sellers & previous students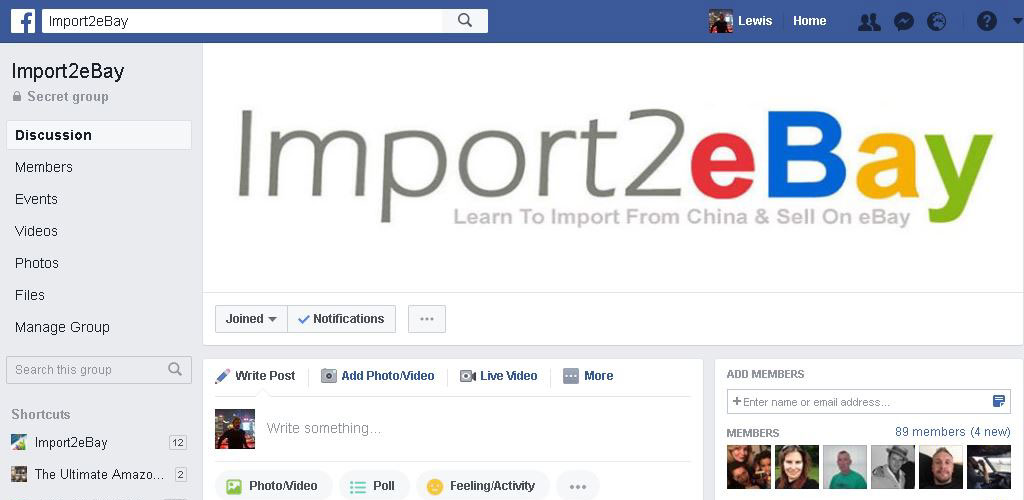 ---
FURTHER DETAILS:

The two days will be conducted in a very relaxed manner and setting to allow you to ask questions at any time and to help you follow along with the presentations. Some parts will be faster paced than others depending on the module covered – some areas will need particular attention and focus.

I ask that you bring a laptop/tablet with you so that you can download presentations onto your device enabling you to follow live case examples and research in real time. (Note this is not essential as all will also be shown on the conference room digital/projector screen but having your own device may help you visually)

Note pads & pens will be provided for you to take notes but all course material will be given to you on the day. 

There will be free conference room wifi, free teas/coffees/juices & snacks throughout the day and a free 2-course lunch provided per day. 

Car parking will be an additional cost but is discounted for event attendees, as well as hotel accommodation if staying over. Your evening meal & drinks are not included in the price. 

Please contact the Radisson Hotel for further enquiries:
Address: Radisson Blu, Manchester Airport, Chicago Ave, Manchester M90 3RA
Phone: 0161 490 5000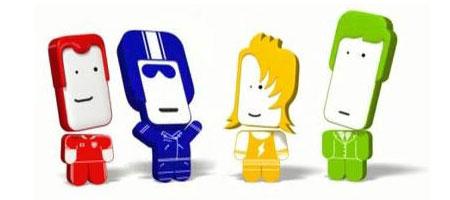 ---
OTHER INFORMATION: 

Ok so why Import2eBay? Why not "Drop-Shipping to eBay" or "Wholesaling to eBay" ?

Well, the fact of the matter is, if you want to be competitive on eBay and be successful, you have to learn to CUT OUT THE MIDDLE-MEN, simples!

Wholesalers and drop-shipping companies are all middle-men, adding their own profit margins on top of the product price.

The knowledge and training that I am going to teach you in my Import2eBay event will teach you how to cut out the middlemen by importing directly from manufacturers. In turn, you'll learn how this will dramatically increase your profit margins on eBay.

There are many drop-shipping companies on the internet, and by using them you will never compete on price on eBay. You will only come up against seasoned eBayers, like myself, who import directly from China! A whole section dedicated just to drop-shipping companies could be written outlining the pitfalls. There maybe some honest and decent ones out there, but the internet is plagued with the scammers and their flash websites promising you the earth but which will deliver you nothing! So why run the risk?

Back in my naïve early eBay days some 12 years ago; I found out that when you had signed up to their flash websites promising fast eBay riches, you'd soon discover that their stock prices were never competitive enough for the eBay marketplace. I lost track of the times I sent drop-shipping companies my orders only to be told the item was not in stock, despite their website saying that it was!!

Another headache are the delays in these companies sending your item out to your customer. That's if they don't send them the wrong item out in the first place! Worst case scenario is that your customer's item gets lost in the post which does happen from time to time, you are left in a third party chain for communicating these problems to your customer. The customer naturally gets' fed up with the whole fiasco, you get the blame and the detrimental feedback comment.

As you can see, I am not a fan of drop-shipping. The companies or scammers, who market these websites make it all look so easy and effortless to an eBay newbie, and they will always grab their attention and their wallets in kidding them into a "get rich quick" eBay business.

Still thinking of drop-shipping despite my warnings? BE WARNED drop-shipping is, in fact, illegal on eBay!  eBay states that all "stock needs to be owned and in the possession of the seller".

So in MY view, from my personal eBay success, you want to give yourself the best possible starting point in making your eBay business a long term, profitable enterprise.  Avoid the pitfalls and scams, you need IMPORT2EBAY!

---
FAQ:

(Q) Ok so what is Import2eBay?

(A) It's a 12-month training program for learning how to import from China and sell products on eBay / online.

(Q) So who is Import2eBay for?

(A) Import2eBay is designed for intermediate / advanced level of business people.  However, I have taken on complete novices to people with established LTD companies on eBay turning 100k +.  I have had people fly in from the USA and Ireland to attend my courses, so my reputation for giving value and helping to build businesses is number 1 in this industry.  

(Q) How many training days do you do each year?

(A) I only hold ONE training day weekend each year, THAT'S IT.

(Q) £595 is a lot of money, is it really a good investment?

(A)  If you're really serious about starting to import products, selling them on eBay and building a regular income outside of the rat race, then YES. I am going to give you EVERYTHING you need, i.e. all the tools to do the job, by showing you all the strategies, techniques, systems, and software that I use daily to make my own businesses a success.  Not only that but with the support package, I am going to hold your hand for the first 12 months to ensure you get well on your way to becoming a successful and profitable importer / eBay entrepreneur. 

(Q) Do I need lots of money to get started to buy stock?

(A) No you can start with a little as £100 importing products from well known China supplying websites. I show you how to effectively do this on the course and I show you other business models to get you started on eBay. I also offer you a cheap alternative to importing via sea freight using my Agents mixed container service, which allows you to import smaller quantities of products on pallets into the UK. Thus reducing your capital outlay, allowing you to cut out the middle men, making you competitive online and increasing your profit margins! 

(Q) I don't have any ideas on what to import or sell so where do I start?

(A) I physically show you lots of products on the day that you can start right away importing with to double your money.  If you are struggling to find products then I will give you additional training and help in this area.

(Q) I have already got an eBay account and I have sold stuff on there, so I guess I already know it all?
(A) My favorite saying is, "Assumption is the mother of all fuck ups" If you already know it all then you wouldn't be here looking at this website as you would be too busy doing what we are already doing!

Also, eBay has evolved and still is evolving every year, not many people know how to get an eBay listing to the first page of a category or key word search. A little like Google SEO, there is eBay SEO and you have got to know and understand how to align your listings to eBay's "Best Match" algorithm. There are also a number of other strategies and techniques that the top level sellers like myself use in order to stay on top and keep the competition at bay.

You need to have an understanding for the psychology of eBay buyers and what factors trigger them into purchasing. Then there is design and marketing, building confidence in your prospect to buy from you and not one of your competitors, and NO it doesn't always come down to price. In fact, I'm the probably highest priced seller in the majority of my niches and I still make more money from these products than any of my competitors do because I understand how to market and how to implement it effectively in my listings.

I also know how to split test and maximize key wording on my listing titles and what other factors contribute to this to help boost your listing in becoming more searchable, thus increasing sales. To cut it short you are basically getting over 10 years of my knowledge on what works and what doesn't work to make you stay on top and become a platinum power seller like myself.
---
TESTIMONIALS: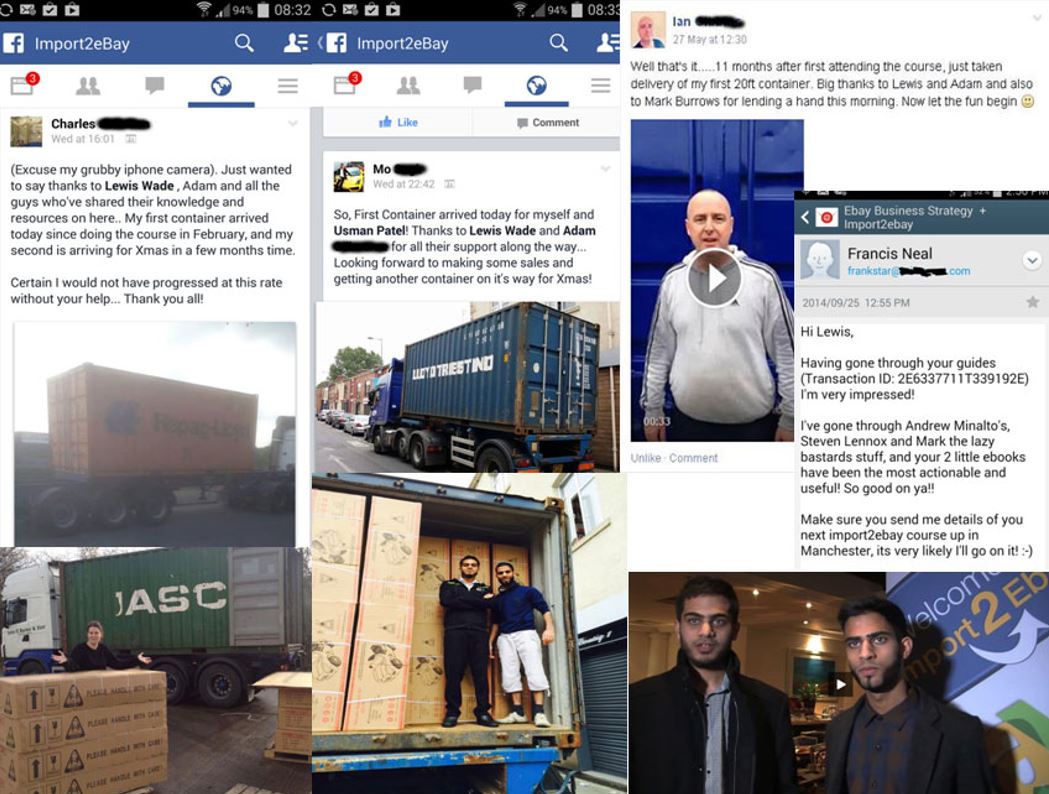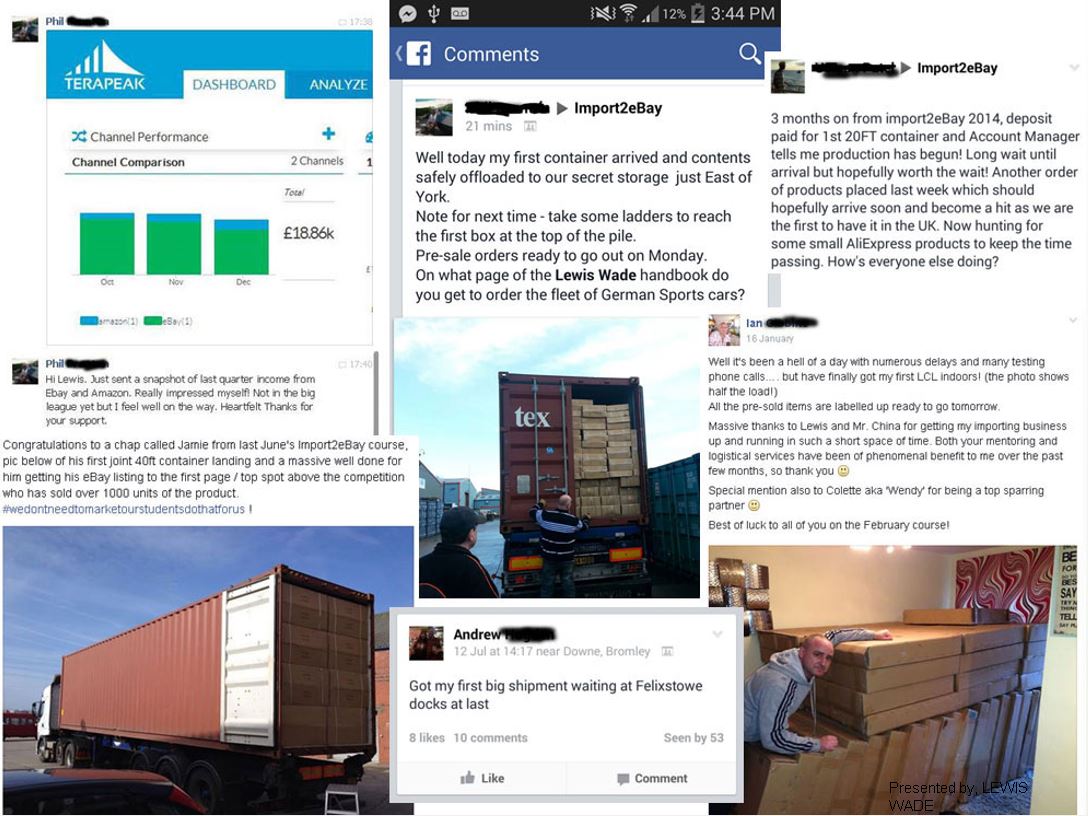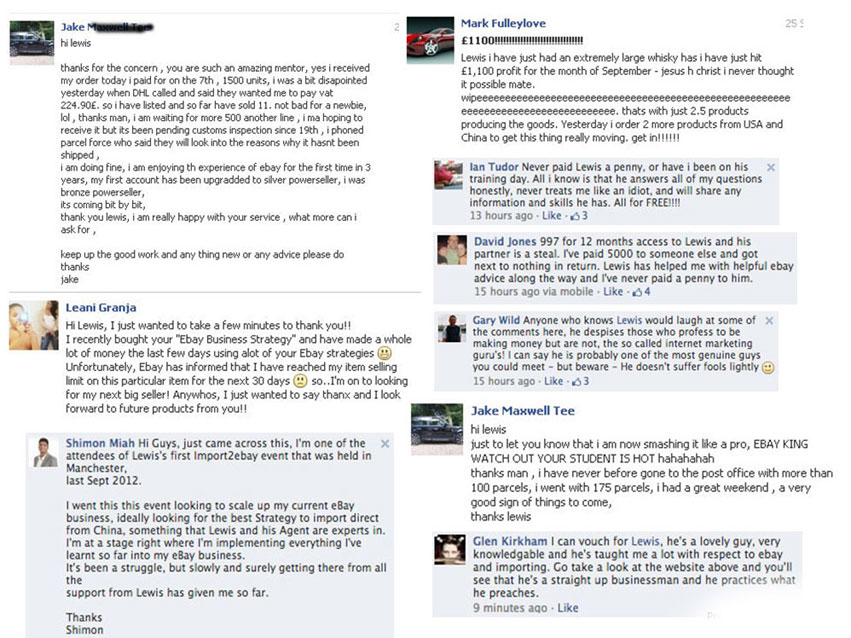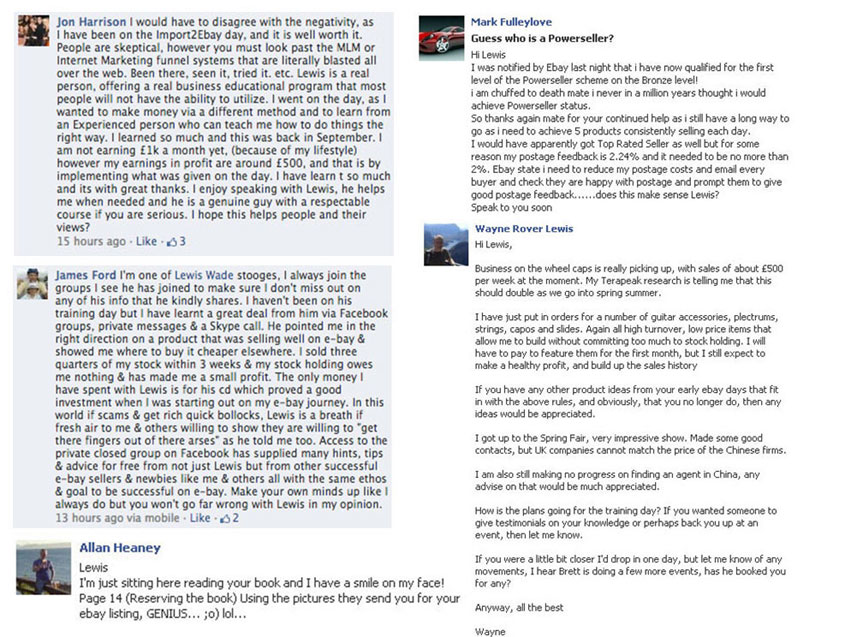 Do you have questions about IMPORT2EBAY - 2018 Learn How To Import From China & Sell On eBay ?
Contact Lewis Wade
When & Where

Radisson Blu Hotel Manchester Airport
Chicago Avenue
M90 3RA Manchester
United Kingdom


Saturday, 12 May 2018 at 10:00

-

Sunday, 13 May 2018 at 17:00 (BST)
Add to my calendar
Organiser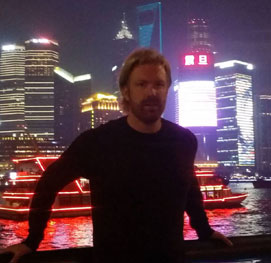 I have been importing since 2005 and have two staffed warehouses.  I sell mainly online through eBay, Amazon and my own ecommerce websites. The majority of my import business is via sea freight in 20ft & 40ft containers and I travel to China 2-3 times a year visiting trade fairs, shows, suppliers, factories and agents. I have been recognised by eBay for having one of the fastest growing eBay shops and I have a dedicated eBay account manager for my eBay accounts. I have also been invited to many of the eBay Key Merchant growth seminars around the UK.

I was personally invited by Global Sources, a major Chinese sourcing portal to speak on stage at the World Asia Expo Centre in Hong Kong as a recognized industry expert for importing products from China and selling onto eBay.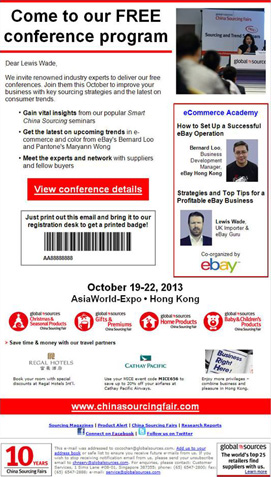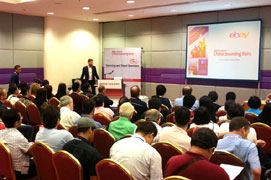 I eat, sleep and breathe my import business, selling physical products online which is why I have the credentials, expertise and knowledge of someone you can trust in to deliver you genuine training on running a successful Import/eBay business. 

I have been running the training program Import2eBay for 4 years and as a result I have had the pleasure of watching a growing number of my students grow in confidence and expertise to run full time and part time import businesses successfully. I have also taken students out to China to show them around factories and to personally introduce them to my Agents and QC team.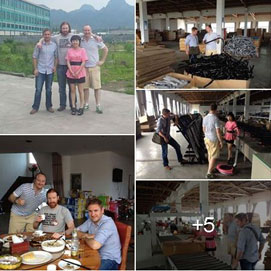 Visiting factories with agent & student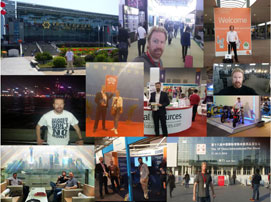 Visting UK & Asia trade fair shows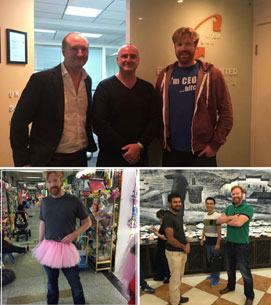 Visting agents with import course students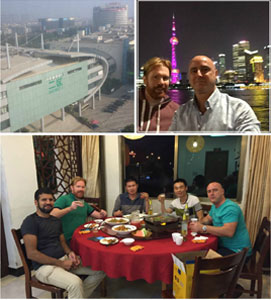 Dinner with agents and import course students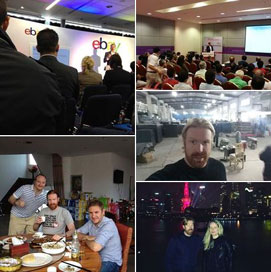 Factories, suppliers, eBay conference ...