Sales Have Ended
Ticket sales have ended
Hello! Thanks for booking onto Improv in the Park Sundays, 1pm-2.30pm Improv in 3D! Any enquiries please email hello@emmabird.info Social distancing is in place for this session. Emma Bird Creative Director, Liverpool Comedy Improv
Sales Have Ended
Ticket sales have ended
Hello! Thanks for booking onto Improv in the Park Sundays, 1pm-2.30pm Improv in 3D! Any enquiries please email hello@emmabird.info Social distancing is in place for this session. Emma Bird Creative Director, Liverpool Comedy Improv
Improv in the Park with Liverpool Comedy Improv. All levels workshop.
About this event
Join us at our improvised comedy workshops for all levels.
Liverpool Comedy Improv is in a hybrid situation - providing improvised comedy classes both online and outdoors.
For the past 14 months we've provided online improv classes, and they are set to continue. It's been awesome, and turned into its own improv style. Then in April and May 2021 we took some of our classes outdoors in small groups.
Now, following the current guidelines (May 17th 2021), larger groups outdoors are allowed, so our park-prov classes are taking bookings for up to 16 people. We will maintain social distancing as much as we can. Be spacially aware of each other and avoid physical contact.
Improvised comedy is a brilliant way to laugh, connect with others, build confidence and unleash your creative side.
Maybe you used to improvise in person, but took a break over the past year? So you might feel nervous or rusty about improvising back in person? Maybe you're an online improviser and have never improvised in person? Or maybe you haven't improvised comedy at all? All of these are fine! These sessions are carefully planned to cater for all of these possible concerns.
These sessions are for all levels of improv experience. Come and learn and play with a group of like-minded, supportive and friendly people.
These workshops are a great opportunity to practice and (re)learn how to improvise in 3D. Using our whole physicality to create improvised scenes and characters; listening well to each other; accepting and building on each other's ideas.
Things to Bring:
Bring a face mask and hand gel etc.
Bring some water.
A folding chair or blanket to sit on
Warm layers and a waterproof coat
Conversely - sun cream! (Basically all things to cater for the unpredictable British weather!
Snacks (improvising makes you surprisingly hungry!)!
If the weather is really awful, the session will be canceled, and you will be emailed; this may be at short notice, but a decision will be made at least 2 hours beforehand.
Where:
Sefton Park, Liverpool, L17 4 JG. Meet at the entrance on Aigburth Drive, opposite Livingston Drive North.
When:
Sundays 1pm -2.30pm. Please aim to arrive at the correct entrance at 12.45pm. Give plenty of time to travel and walk to the park, and find us.
How to Get There:
CAR: There is plenty of street parking. Meet at the small car park at the park entrance that is opposite Livingston Drive North, on Aigburth Drive. Postcode L17 4JG
BUS: The 82 bus (from Liverpool One bus station in town, or you can pick it up on Renshaw St too. Direction Speke or South Parkway). Approx 15/20 min bus ride. Look out for the McDonalds on Aigburth Road; then the Shell Garage; Get off at the second stop after the Shell Garage. You will see Churassco restaurant. Walk up Livingston Drive; bear left on Livingston Drive North, to the end where the correct entrance to the park is. (6/7 min walk)
TRAIN: St Michael's station (Northern Line from Liverpool Central or Moorfields station). Get off at St Michael's. Turn left out of station, walk up Southwood Rd, keep going straight over onto Dalmeny St. Cross over the pedestrian lights on main road, Aigburth Rd. Lark Lane is directly ahead, but walk up Livingston Drive instead (slightly to the right, at Churassco restaurant). Then bear slight left onto Livingston Drive North. Entrance to park is at the end there. See map below. (15 min walk).
Please Note:
Sessions adhere to the LCI code of conduct, found here http://www.liverpoolcomedyimprov.co.uk/lci-code-of-conduct/
Cost: £7 (excl booking fee)
No refunds or transfers unless at the discretion of LCI.(however, if the session is cancelled due to bad weather, refunds will be issued)
All enquiries to hello@emmabird.info
Should your plans change and you can't come, please contact me, so your place can be released to someone on the waitlist.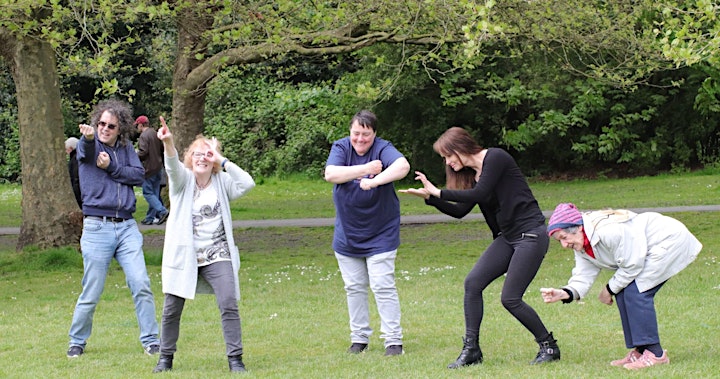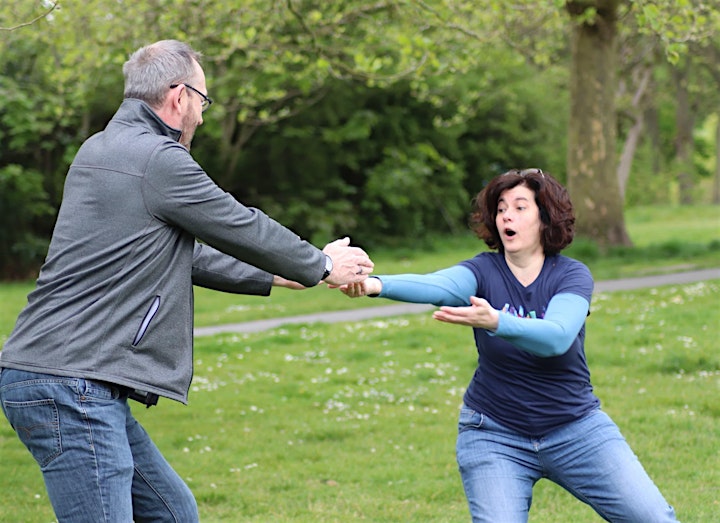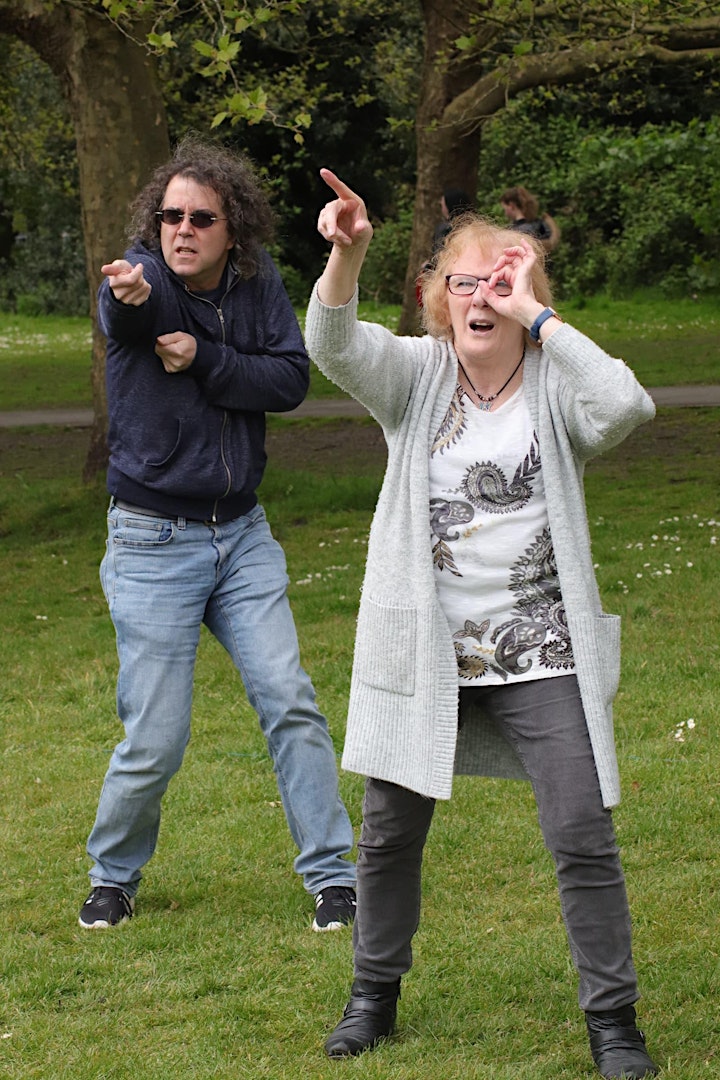 Organiser of Improv in the Park with Liverpool Comedy Improv
IMPROVISED COMEDY CLASSES with LIVERPOOL COMEDY IMPROV
"Improv enriches my life and makes me feel like I am growing, not just as a performer, but also as a person. I feel inspired, happy and full of ideas."
Liverpool Comedy Improv teaches improvised comedy classes and courses. Both short and long form improvisation at every level. Based in Liverpool, UK. Currently all our classes are delivered online, with a global reach.
LCI improv classes and courses cater for every level of experience.
All levels weekly drop in (suitable for beginners + upwards)
Long Form weekly drop-in (intermediate/advanced level)
Intermediate level - 6 week courses
Beginners level - 6 week courses
Advanced Coaching (max 8 people) - 6 week courses
Improv for Kids (aged 7-12yrs)
Musical improv - 6 week courses
Improv in the Park
Long Form improv (Level 1 & 2) - 6 week courses.
Specialist coaching / directing for your improv team.
Personalised coaching for individuals (eg in small groups of 2-4)
Improv workshops for business organisations - develop team building, creativity and innovation
Improv workshops for wellbeing - boost self-confidence and wellbeing
Specialist Guest Teachers
http://www.liverpoolcomedyimprov.co.uk
http://www.facebook.com/liverpoolcomedyimprov
http://instagram.com/livcomedyimprov
http://www.twitter.com/livcomedyimprov
YouTube Channel: https://bit.ly/3grT9e2
All email enquiries to hello@emmabird.info