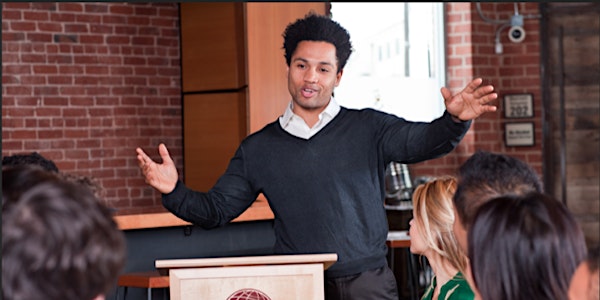 Improve your confidence and speaking skills for college or university
Location
The Mayfield Centre
Sunnybank Road
Stirling
FK7 0DB
United Kingdom
If you're about to start college or university and feeling nervous about it, we can help boost your confidence and speaking skills.
About this event
Are you nervous about starting college and university?
Do you get anxious at the thought of public speaking?
Do you feel awkward and self-conscious when speaking out during classes?
Is English your second language and you want an opportunity to practice?
There's so much to take in and get used to when starting uni or college. It's understandable you might be feeling a bit anxious about it all. Then there is the prospect of speaking up in class, giving presentations and ultimately preparing for the world of work.
We all know speaking with confidence is really useful....but not everyone is good at it. You might have read the books, understand the principles and learned the 'do's and don'ts' but still quiver at the prospect of standing up and speaking.
Stirling Speakers offer a safe, supportive environment for you to practice public speaking and build up your confidence. Every member has been where you are now and understands how you feel. So you can practice your speaking skills safe in the knowledge that you won't be judged, mocked or ridiculed and it doesn't matter if it's not perfect. You will get feedback each and every time you speak; feedback that highlights what went well and provides suggestions on how to improve the bits that didn't go so well.
Our regular meetings follow a structured, tried-and-tested format, which introduces participants to the skills and techniques of confident speaking. The meetings are designed to help all levels and development is at each individual's own pace. You don't have to do anything you're not ready to do.
Members are encouraged to practice their speaking skills, using a guided programme and with lots of encouragement and helpful feedback. Areas covered include:
dealing with nerves
body language and vocal variety
impromptu and prepared speaking
watching your language and keeping to time!
Your first 3 visits are free of charge so you can try it out and see if it's right for you. If you do decide to join, your membership fee will roughly equate to the price of a coffee and cake per meeting so is an affordable and worthwhile investment in your future.
We run hybrid meetings on the 2nd and 4th Monday of each month and those attending in person meet at The Mayfield Centre, Stirling. If you would prefer to attend online at any time email stirlingspeakers@gmail.com for the Zoom link.
Stirling Speakers is based in Central Scotland, UK, meet every 2nd and 4th Monday of the month from 7pm - 9pm (BST) and are members of Toastmasters International.
If you haven't heard of Toastmasters click this link to find out more or watch the short clip below to hear what other people have to say about it.
https://www.toastmasters.org/