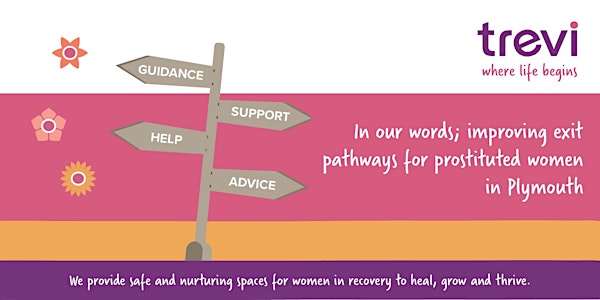 Improving exit pathways for prostituted women in Plymouth conference
Understanding issues affecting prostituted women, effectiveness of current services, gaps in service provision & improving exit pathways
About this event
In January 2022, Trevi commissioned SERIO, a research unit at the University of Plymouth, to undertake a piece of research to gain an understanding of the issues affecting prostituted women, the effectiveness of current services available to them, what gaps in service provision exist, and what could be done to improve exit pathways.
We are pleased to invite you to register to attend our 'In Our Words' conference. We will be sharing the research findings and how the report will be used to inform and create a model of how future support services should be delivered on a local and national level; ensuring there is a very specific, joined-up and flexible approach in providing support services for prostituted women.
Tuesday 14 June 2022, 10.00 am to 11.30am, held online.
Our CEO Hannah Shead will be presenting at our conference and delivering the research findings along with the following speakers;
• Councillor Rebecca Smith, Plymouth City Council - Chair of the VAWG Commission and Planning Committee
• Julie Bindel - journalist, writer, broadcaster and researcher. Julie will be discussing the impact of porn on how young boys perceive women and how education is key.
• Tracey Lovelace & Norma Mullanif – Trevi SPARK project. Tracey & Norma will be discussing the Wednesday Women's project in supporting prostituted women in the city.
We will also be welcoming Julie Swede, who brings with her lived experience and will be sharing her story of survival.
This event is open to professionals and teams who are engaged in women's services and who are invested in working towards an integrated approach to providing services.