A service delivery webinar to support pharmacists and pharmacy technicians commissioned to deliver the Improving Inhaler Technique Service.
About this event
This webinar is open to providers of the 'Improving Inhaler Technique through Community Pharmacy' service which is commissioned by GMHSCP and managed by CPGM Healthcare Limited (CHL)
This service, commissioned for a number of years in GM, has recently been renewed and updated. This webinar will provide both an overview of the relaunched service for existing providers and an introduction for new providers.
Pharmacists and Pharmacy Technicians are required to attend a locally arranged service delivery session at least every three years whilst providing this service. This webinar will meet this training requirement of the service.
This meeting has been supported by Aspire Pharma, Clement Clarke International Ltd, GlaxoSmithKline, Glenmark Pharmaceuticals and Viatris, through the purchase of a webinar slide.
The sponsors have contributed towards the cost of this meeting but have not had any involvement with speaker selection or content.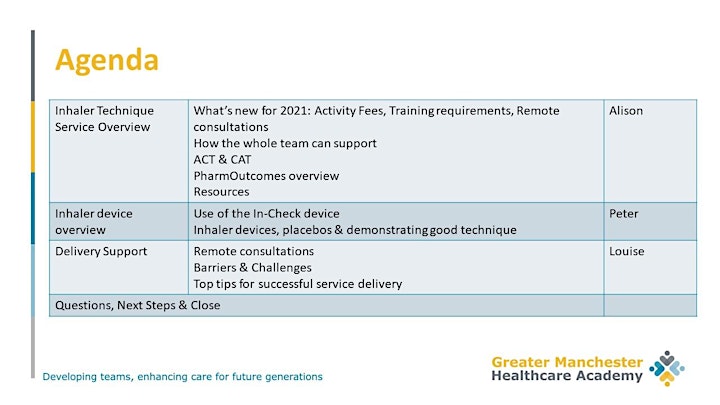 Organiser of Improving Inhaler Technique Through Community Pharmacy Webinar (May)