Is your parent/teacher relationship strained and fractured? Join us to learn how to manage those relationships with professionals and school
About this event
Copy and paste the link into your web browser to book your ticket now (For Apple IOS users)
https://www.eventbrite.co.uk/e/214627646067
Is your parent/teacher relationship strained and fractured? Would you like to improve it to create a more positive impact on your child?
We often get asked by parents and carers how to get the best out of a school setting for their child in a way that is mutually pleasing... We also get asked the same questions by teachers, too.
And it often stems from two different view points clashing, with the same goal - healthy development of a child.
So how can we make this better?
We are delighted than Jennifer Wyman and Nikki Webster from Bridge the Gap is going to present this interactive workshop, empowering us to have more confidence and knowledge to enable effective communication between home and school; something that is hugely beneficial for our children.
You will also learn:
The science behind behaviour.
Child brain development, and how differences, deficits and/or trauma can impact a child's school day
What is a reasonable adjustment to a child's education setting, and how to negotiate it?
Communication tools and styles to get the best from your parent-teacher relationship
As always there will be time for questions throughout the presentation.
Slides, references and CPD certificates will be available to attendees along with a recording to watch again for up to 30 days afterwards.
Copy and paste the link into your web browser to book your ticket now (For Apple IOS users)
https://www.eventbrite.co.uk/e/214627646067
How do our webinars work?
1. Once you have purchased a ticket, you will be emailed a link to register for the event on ZOOM. It's really important you register as soon as possible, as we manually check everyone in for safeguarding and security reasons.
2. Once registered you will be sent a link to join us on the night, almost as if the 'room to the door' is opened for you and you're checked in.
3. Click on the link to the ZOOM room 15 mins before the live webinar is to start, and make sure you are logged into ZOOM beforehand.
If you encounter any issues please visit www.sunshine-support.org/troubleshooting
The video of the webinar will be available to watch for 30 days after the webinar takes place, so if you need to leave the webinar at any time or can't make it at that specific time you can watch again at your leisure. The link to the recording will be sent to you within 24 hours of the webinar taking place.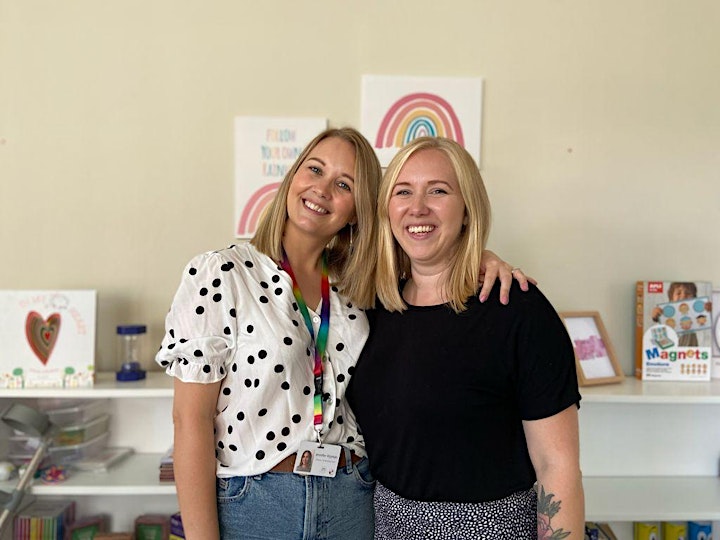 About Bridge the Gap
"Bridge the Gap are a Community Interest Company (CIC) based in Derby supporting the mental health and wellbeing of the local community. We deliver sessions to children within schools and privately to support emotional literacy. We also deliver in-depth emotional literacy training to schools and other child focused services. Our multidisciplinary team consists of mental health nurses, emotional literacy specialists, an educational psychologist, play therapist, music therapist, occupational therapists, creative expressive practitioners and child wellbeing practitioners. We are passionate about the importance of all children and young people having access to emotional literacy support from a young age as this fosters good, long term mental health"
Nikki: "I am an experienced specialist mental health nurse and have worked both within adult and children mental health services NHS and privately. I have additional training in family therapy and CBT."
Jennifer: "I am an emotional literacy and early years specialist, I am passionate about proactive child development and support around emotional health and wellbeing."
Date and time
Location
Refund policy