A four-part lecture series exploring the stories of survival, endurance and innovation from the jewellery world in London.
About this event
The Goldsmiths' Jewellery Series
Goldsmiths' Fair and Rue Pigalle have collaborated to create a four-part "In Conversation" lecture series that explores the stories of survival, endurance and innovation from the 14th-century jewellery world in London to the unprecedented hardships today's makers are contending with due to COVID-19.
June 3: The Goldsmiths' Company
The Goldsmiths' Company – which has been around since 1327 and is one of the iconic 'Great XII' Livery companies of London – was created to regulate the trade and enforce hallmarking standards for the precious metals being used. Eleni Bide, the Company's librarian, takes us on a virtual tour of the magnificent Goldsmiths' Hall, sharing the stories over the centuries that capture its inimitable resilience and showcase the artistry the Company has always championed.
June 10: The Women in Silversmithing
The history of women in silversmithing—and their fight to be at the bench—is a historic tale about the lengths women had to go to in order to achieve equal rights in a craft dominated by men. Librarian Eleni Bide will highlight the notable women who broke through the ranks and Sophia Tobin, the author of The Silversmith's Wife and an expert in antique silver and jewellery, will join us.
June 17: The Master and the Apprentice
In this lecture, you'll meet a master and an apprentice attending the Goldsmiths' Centre, which is a highly respected training program for professional goldsmiths. We will explore the unique relationship that forms between the master and the apprentice.
June 24: The Makers and the Gallerist
We'll take you virtually into the studios of makers Daphne Krinos and Ane Christensen. Both artists have showcased their work at the prestigious annual Goldsmiths' Fair. They will share the reality—both joyous and arduous—of running their own jewellery business. The flipside to that success often comes down to securing representation in a respected gallery. For this side of the discussion, we'll be joined by Christina Jansen, Managing Director of the Scottish Gallery.
WHAT YOU NEED TO KNOW
- Subscribers to the series will receive a reading list and resource sheet for further learning, a recording of each conversation, and a complimentary entry ticket to Goldsmiths' Fair 2020.
- The In Conversations series are held on Zoom Every Wednesday from 1:00pm-2:00pm EST/6:00pm-7:00pm BST.
We recommend you download the Zoom app. If accessing the conversation from your browser, note that Zoom works better in the Chrome browser and be sure you don't have any pop-up blockers on.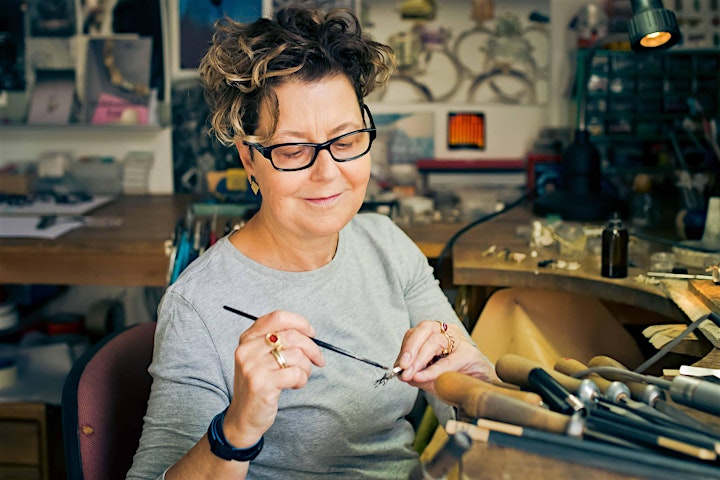 Organiser of "In Conversation" - Artists Live Interviews - The Goldsmiths' Series