Refund policy
Contact the organiser to request a refund.
Eventbrite's fee is nonrefundable.
Shortlisted for the 2021 Wilbur Smith Adventure Writing Prize, join us in conversation with authors Ayesha Harruna Attah and D.V. Bishop.
About this event
The Wilbur Smith Adventure Writing Prize is a £10,000 annual award that seeks, supports and celebrates the best adventure fiction today.
Adventure is a broad genre. Sometimes an adventure spans a lifetime, sometimes it happens over 24 hours. Your favourite adventure story may be found with the historical fiction, tucked in amongst the crime novels, or standing shoulder-to-shoulder with the latest thrillers. But for us, the most important thing in any adventure story is a journey so compelling that we have no choice but to get on board.
The Prize celebrates this diversity, looking for novels which both honour the traditions of adventure and are unafraid to try something new. Each year we hope that the longlist and shortlist will include a book suited to every reader's taste, truly 'An Adventure for Everyone.'
We'll be discussing all things adventure with Ayesha and David, two of the authors shortlisted for the 2021 Prize, before they treat you to a short reading from their novels.
See the full shortlist here.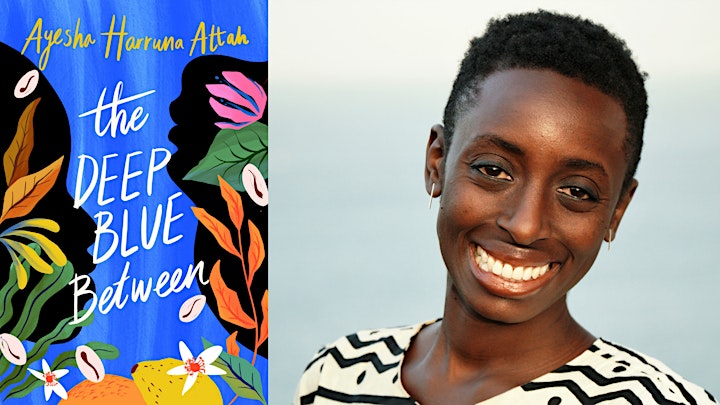 About The Deep Blue Between:
Twin sisters Hassana and Husseina's home is in ruins after a brutal raid. But this is not the end but the beginning of their story, one that will take them to unfamiliar cities and cultures, where they will forge new families, ward off dangers and truly begin to know themselves.
As the twins pursue separate paths in Brazil and the Gold Coast of West Africa, they remain connected through shared dreams of water. But will their fates ever draw them back together? A sweeping adventure with richly evocative historical settings, The Deep Blue Between is a moving story of the bonds that can endure even the most dramatic change.
About the author:
Ayesha Harruna Attah grew up in Accra, Ghana, and was educated at Mount Holyoke College, Columbia University, and New York University. She is the author of the Commonwealth Writers' Prize nominated Harmattan Rain, Saturday Shadows, The Hundred Wells of Salaga, currently translated into four languages and finalist of the William Saroyan Writing Prize, and the YA novel The Deep Blue Between. Her romcom debut novel Zainab Takes New York is coming out in 2021. Her writing has appeared in the New York Times, New York Times Magazine, Elle Italia, Asymptote Magazine, and the 2010 Caine Prize Writers' Anthology. Attah is an Instituto Sacatar Fellow and was awarded the 2016 Miles Morland Foundation Scholarship for non-fiction. She lives in Senegal.
What our reviewers had to say:
'We are thrust into two different worlds across Africa and Brazil in the 1800s, we meet two fantastic and daring protagonists and we are rooting for both of them to find each other again. It is an expertly crafted adventure novel, filled with all of the elements I was hoping to find but with a unique and beautiful twist.'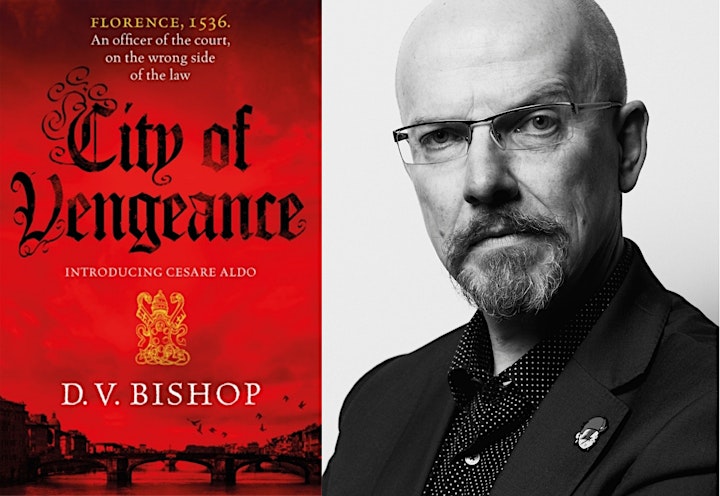 About City of Vengeance:
City of Vengeance is an explosive debut historical thriller set in Renaissance Florence. It's winter, 1536. A prominent Jewish moneylender is murdered in his home, a death with wide implications in a city powered by immense wealth. Cesare Aldo, a former soldier and now an officer of the Renaissance city's most feared criminal court, is given four days to solve the murder: catch the killer before the feast of Epiphany – or suffer the consequences.
During his investigations Aldo uncovers a plot to overthrow the volatile ruler of Florence, Alessandro de' Medici. If the Duke falls, it will endanger the whole city. But a rival officer of the court is determined to expose details about Aldo's private life that could lead to his ruin. Can Aldo stop the conspiracy before anyone else dies, or will his own secrets destroy him first?
About the author:
D. V. Bishop is an award-winning screenwriter and TV dramatist. His love for the city of Florence and the Renaissance period meant there could be only one setting for his crime fiction debut. City of Vengeance won the Pitch Perfect competition at Bloody Scotland 2018, and he was awarded a Robert Louis Stevenson Fellowship by the Scottish Book Trust while writing the novel. When not busy being programme leader for creative writing at Edinburgh Napier University, he plans his next research trip to Florence.
What our reviewers had to say:
'The setting is fascinating - the political intrigue of the City State unfolding around an investigation into several murders was intriguing and new to me. I have to confess not to have read very many historical thrillers. I'm now resolved to read more because of this book!'