Join us for an uplifting and high energy conversation with Rose Marley CEO of Co-operatives UK and Eleanor Mills, founder of Noon.
About this event
Join us for an uplifting and high energy conversation with Rose Marley CEO of Co-operatives UK, and co-founder of social enterprise Sharp Futures, and Eleanor Mills, founder of Noon, and a journalist who has interviewed everyone from David Cameron to Sheryl Sandberg.
Eleanor will be interviewing Rose to discuss her journey as an entrepreneur and the highs and lows of creating an impact business. They will be discussing the role of creativity, giving insights into what makes a good social enterprise and coop, and tips on how to stand out from the crowd in today's market.
Rose has been a pioneer in leading initiatives that help everyone get a chance to build a business that they love. Having started her career in the creative industries, during the "Madchester" era, working in the music industry, she then went into the social enterprise sector and has supported many young entrepreneurs through her time at SharpFutures. She has been the Social Enterprise Advisor to the Manchester City Council and has ensured that everyone who wants to start a social enterprise has the opportunity to. She is a progressive leader with a passion for inclusion.
What will you learn?
How to build a social enterprise and coop and how to make it stand out from competitors
The importance of creativity in the entrepreneurship world
The important role of diversity and inclusion in entrepreneurship
An understanding into why supporting young entrepreneurs is so important and why we should ensure that all voices are represented.
Community action and how to spark passion
Who is this for?
All entrepreneurs and business owners, especially social entrepreneurs and impact businesses, who want to learn about building a purpose-driven business.
About the Organiser, Hatch Enterprise
At Hatch we are passionate about helping people building businesses from the things they love. We want to create a fairer society by supporting underrepresented into sustainable business. We offer:
Hatch Impact Programmes
Do you have a purpose driven idea solving a social or environmental issue? It could be anything from tackling social inequality or minimising plastic waste - whatever it is we can help you get your idea off the ground.
Application deadline: 14th September 2021.
1-2-1 Skilled Volunteering Programme
Are you seeking support for your business? Book a free 121 session with one of our skilled volunteers who can help you solve your business challenges. Our volunteers can support you with strategy, business planning, finance, marketing, legal and more.
This podcast unwraps the stories, failures, highs, lows, and lessons learnt from our community of founders so that we can learn and grow with each other. In each episode a participant from one of our programmes shares their challenges with their mentor, who offers them advice and guidance on how to overcome them.
A helpful list of resources, opportunities, articles and online communities for business owners affected by Covid-19.
Sign up to our monthly newsletter to receive the latest on our programmes, events and stories from our community of founders.
About the speaker: Eleanor Mills - founder of NOON
Eleanor Mills is the Founder and Editor in Chief of Noon (noon.org.uk) a new website, platform and community to empower women in midlife. In all the conversation about diversity, age is the aspect that is most often forgotten in all cultures. Eleanor is passionate about changing the narrative about the latter parts of women's lives so that they become more representative of the reality.
An award-winning journalist, Eleanor spent 23 years at The Sunday Times as a campaigning columnist, feature writer and latterly as Editorial Director of the paper and prize-winning Editor of the Sunday Times Magazine. She began her career as an interviewer and has interrogated everyone from Mikhail Gorbachev to David Cameron, Theresa May (the famous leather trousers debacle) and Sheryl Sandberg. She was Chair of Women in Journalism from 2014-2021, where she has campaigned tirelessly for more diversity in the media and the necessity for it to be a true reflective mirror of the society it serves rather than a distorting lens.
She is a board member of Reporters Sans Frontieres and believes passionately in press freedom. Her publications include Cupcakes and Kalashnikovs – 100 Years of the Best Journalism by Women (published by Hachette and on the A level syllabus) and she is working on her first novel, about midlife transformation. As CEO of consultancy InHer Space Ltd (Inherspace.co.uk) she works on narrativity, with high-performing women and CEOs, helping them tell their own stories to establish their personal brand and conducts media training. She also works with some of the world's biggest brands on how they talk to the midlife female cohort.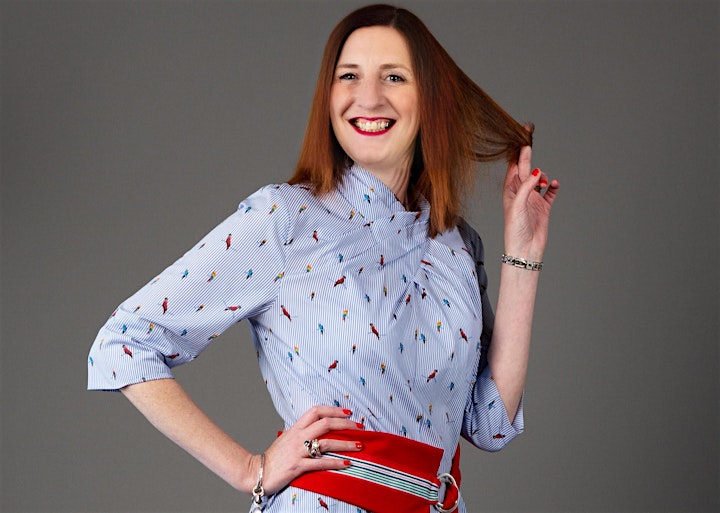 About the speaker: Rose Marley - CEO of Co-Operatives UK
Rose Marley has had an eclectic career. Self-employed from a young age, she cut her teeth in the music business during the 'Madchester' era before turning her hand to social enterprise, inspired by the lack of social mobility in the creative industries and in search of something more impactful.
Rose was the founding COO of Manchester City Council developments The Sharp Project and Space Studios where she was a founding director of award winning social enterprise SharpFutures. This led to Rose becoming the Social Enterprise Advisor to Greater Manchester Mayor Andy Burnham and lead for the young person's opportunities card Our Pass.
Rose is renowned for her ability to galvanise community action, not least in leading Manchester City Council's response to the Manchester arena attack, leading a global broadcast of choirs singing from the steps of the town hall on the first anniversary.
Organiser of In Conversation with Rose Marley and Eleanor Mills
Here at Hatch we are passionate about helping people building businesses from the things they love. We want to create a fairer society by supporting diverse and impact founders into sustainable business. We offer programmes, expert led events, mentoring and access to a community of diverse and impact founders.