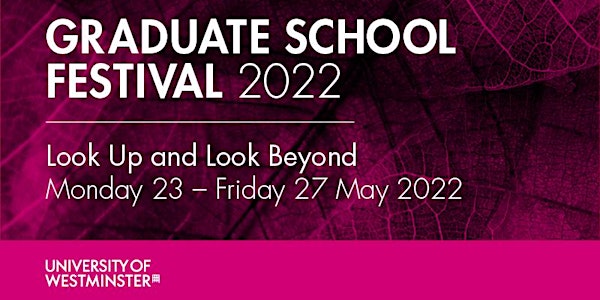 In Conversation with…. Victoria Burgher and Jacqui Grainger
Event Information
Location
University of Westminster
309 Regent Street
London
W1B 2HW
United Kingdom
Each doctoral researcher will present their research and then take questions from the audience in these 'spotlight' events.
About this event
The 'In Conversation with…' events feature Doctoral Researcher's from the University of Westminster's Graduate School. Each will present on their research for 15-20 minutes before the floor will open to questions chaired by the other. There will be a break between the two sessions.
Victoria Burgher
Westminster School of Arts
Victoria Burgher is an artist whose practice-based Phd research uses porcelain to reveal and challenge hegemonic whiteness in relation to the legacy of empire. Porcelain, cherished for its 'purity', becomes an apt material and concept to embody, expose and critique notions of white supremacy. How can the properties of porcelain – its fractiousness and vulnerability when raw, its strength, whiteness and translucency when fired – challenge terms such as white fragility and innocence? Key to her project is interrogating how and in what spaces an artistic practice can be affective as anti-racist activism.
Jacqui Grainger
Humanities
The 'lost' museum: a history of empire in objects – founding members, a collection of men, and the founding collections
My research project aims for the first time to tell the story of the UK's first 'national' military museum. A privately owned museum located in Whitehall at the centre of the political and military establishment, it was founded in 1831 as the Naval and Military Library and Museum. Subsequently, renamed the United Services Museum of the United Services Institute, from 1895 it was in Banqueting House, the last remaining part of the Palace of Westminster until it closed in 1962. Its founding collections reflected the scientific concerns of its founding members and the social and cultural context of early nineteenth century Britain.
Jacqui Grainger is a Techne AHRC CDA researcher working with the the archives of Royal United Services Institute for Defence and Security Studies for her University of Westminster research project. She is an experienced special collections curator and has previously worked at Chawton House, the University of Sydney and SOAS. Jacqui has recently been awarded the Byrne-Bussey Marconi Fellowship for the History of Science and Communication 2022-2023 at the Bodleian Library, University of Oxford.
To find out more about other events happening as part of the University of Westminster Graduate School Festival visit: http://blog.westminster.ac.uk/graduateschoolfestival
Sales will close at 5pm the day before the event. If you are interested in attending the event but Sales have closed please email graduateschool@westminster.ac.uk
Date and time
Location
University of Westminster
309 Regent Street
London
W1B 2HW
United Kingdom