Description
The Offpiste Awareness Talks are a series of live multimedia talks about how to have fun and be safe while riding off piste this season. It covers avalanche awareness and much more about how you can build your knowledge and confidence to go off piste with or without a guide.
The talk is brought to you by Henry's Avalanche Talk and Ortovox. With thanks to Ellis Brigham and The Ski Club GB for their support in making it happen.
The Essentials – a must see

talk

, full of 'essential' information for all off-piste skiers, no matter how experienced you are.

In depth – Understand exactly how avalanches are triggered (for those who have already seen the Essentials Talk).
This event is the In Depth talk. This talk builds on what we teach in The Essentials. We go in depth to help you answer the critical question "Is it safe out there?" This talk focuses on two subjects
Exactly how and why avalanches are triggered

How you can use this knowledge by understanding the impact of the Human Factor
The talk is full of exciting images, videos and stories of accidents, great skiing along with close calls with danger. We look at Alain Duclos and Francois Louchet's theory of how avalanches triggered. You can read their orginal article on this by clicking here
In this talk, Henry will show you how to use this and deliver a risk management formula that will help you to see how skiing off-piste can be no more dangerous than the activities that you engage in each day.
You can also watch this talk online click here
Organiser of In Depth (Manchester) Off Piste Awareness Talk
Henry's Avalanche Talk (HAT) provides training and essential information for skiers who want to go off piste, but are held back by fear of the unknown. HAT is known for helping ordinary skiers have an extraordinary experience off piste. We leave people feeling liberated and unleashed.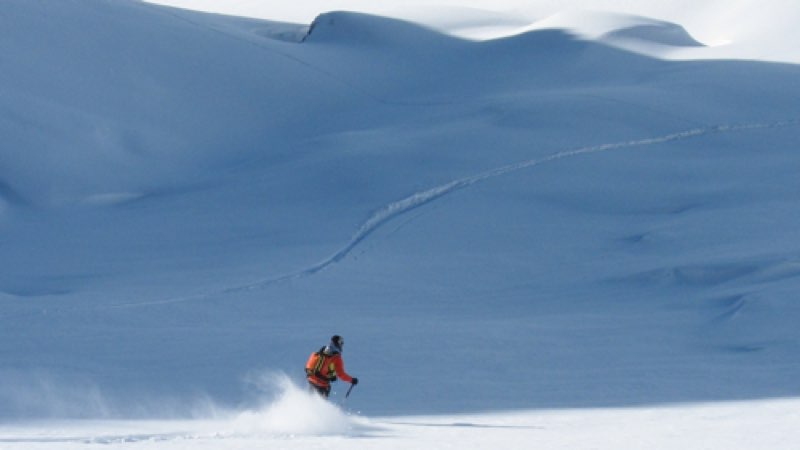 Henry's Avalanche Talk has been around for 25 years and has grown into a team of off-piste professionals, often referred to as HAT. We have given talks and courses to tens of thousands of people, presented at international snow science conferences and published many papers and articles, often in the British press.
There are two types of skiers we help. The first are experienced skiers who go off-piste, take risks they don't understand and could easily suffer an avalanche accident. The second are regular skiers who are reluctant to go off-piste because they think it is dangerous and scary due to avalanche danger and the hazards of navigating unfamiliar terrain.
But avalanche accidents are not random unpredictable events. It is a fact that 9 out of 10 avalanche victims trigger the avalanche themselves. This means that once you know how to manage the risks, you can make the off-piste no riskier than driving your car at home. The conventional solution is to hire a guide, but they are expensive and are often reluctant to share their knowledge. If people do look up professional avalanche literature it tends to reinforce the idea that this stuff is too difficult to learn and that off-piste remains off limits, dangerous and scary.
So we have created a method that demystifies the expertise and teaches skiers how they can go beyond the piste, have much more fun and stay safe, all at the same time. The programme helps people answer the critical question "Is it safe out there?" We explain that there is no simple yes or no answer. The right answer is it depends on you. It depends on where you go and when, how you go down or up and how well prepared you are.
We deliver training in the UK, Val d'Isere and online. HAT is known for helping ordinary skiers have an extraordinary experience off piste. We aim to leave people feeling liberated and unleashed.