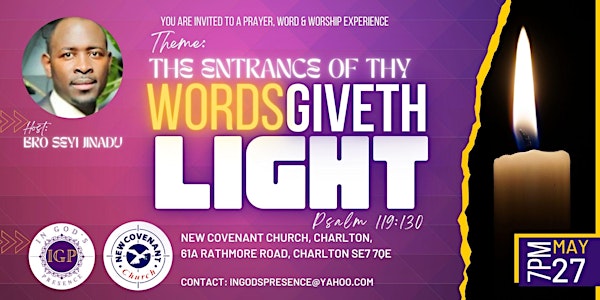 In God's Presence - May 2022 - The Entrance of Thy Words Giveth Light
Location
New Covenant Church, Charlton
Rathmore Road
London
SE7 7QE
United Kingdom
New Covenant Church Charlton invites you to a powerful Prayer Worship and Word event with your host, Bro. Seyi Jinadu. Register here (free)
About this event
In God's Presence
A gathering featuring powerful praise, prayer and the word of God.
Theme:
"The entrance of thy words giveth light..." - Psalm 119:130
In God's Presence is a program that brings us together under one canopy to enjoy the power and the presence of God. In His presence, you will be refreshed, empowered, healed, delivered and revived.
Date: Friday 27th May, 2022
Time: 7pm (London)
Venue:
New Covenant Church, Charlton,
61A Rathmore road, Charlton SE7 7QE
RSVP:
ingodspresence@yahoo.com
Note: This event is free to attend but registration is required.