Location
The Mowbray
118 Mowbray Street
Neepsend
S3 8EN
United Kingdom
You're invited to take your seat at the In Good Company table - feel good evenings for Sheffield females to connect, dine and share.
About this event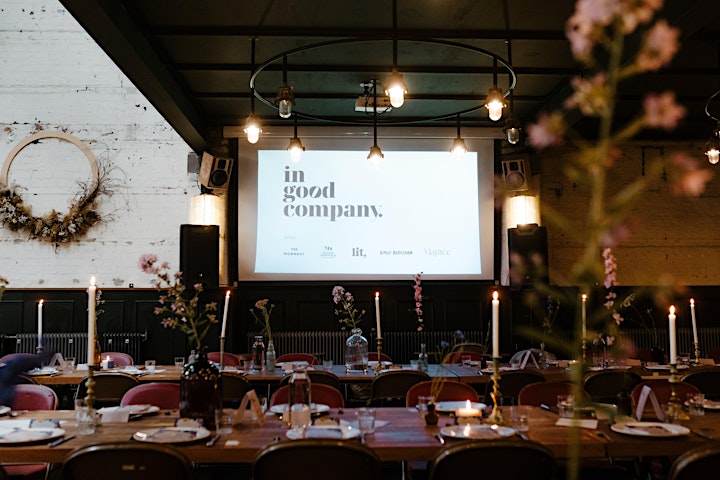 New Date Announcement!
Having been totally blown away by the response to our launch In Good Company event, we're thrilled to announce the date of our second IGC event, which will take place on Thursday 13th October 2022.
Our debut event at The Mowbray brought together more than 100 incredible Sheffield females under one very beautiful roof for an evening of good food, good surroundings and, of course, good company!
As part of our relaxed panel conversation, we heard the inspiring stories and honest opinions of Spoken Word Poet & BBC Radio Sheffield Presenter Sile Sibanda, Co-founder of luxury children's brand Scandiborn, Grace Tindal, and Personal Trainer & Medical Herbalist Lydia Lakemoore.
Some of the city's talented female creatives also brought their skills to the In Good Company table to help create the perfect setting and ambience for our unique and uplifting evening.
A delicious feast was consumed, glasses were filled, and an incredible energy radiated throughout the room. Above all else, conversations were sparked and affinities formed between like-minded Sheffield women keen to make new connections without the formalities, pressure or awks associated with traditional group events.
And now - due to great demand - we can't wait to do it All. Over. Again! So, if you want a non-negotiable date in the diary to take time for oneself with the bonus of being inspired and lifted by fellow Sheffield females, consider this it! In Good Company: 13.10.22.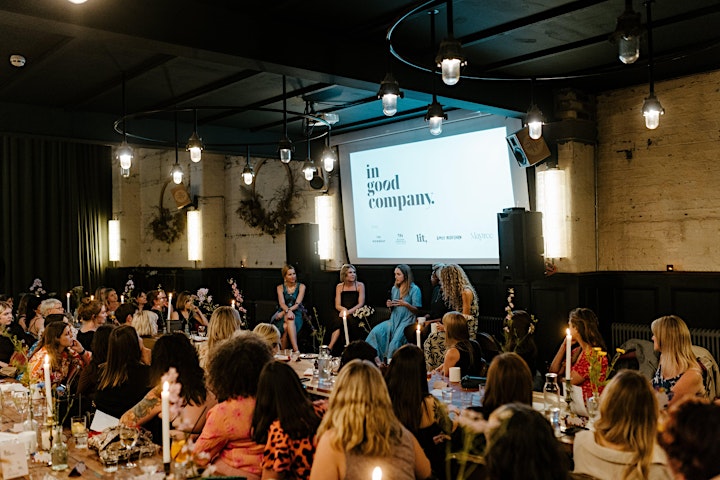 A Unique Event Concept
In Good Company resulted from an unshakeable idea to create evenings that combined a lot of the things we consider to be life's simple pleasures. A place where like-minded women can flock with a shared appreciation for delicious food, warm surroundings and relaxed conversation. Moreover, we wanted to provide escapism from the every day, excitement to feel your true self and engagement with those who resonate and inspire.
We know connecting with new people and sharing experiences with relatable women can become more challenging as you reach different life stages. From the lost new mum craving habits of her former self to the overwhelmed freelancer missing office fellowship or the relocated city newbie trying to find their feet. In Good Company offers a seat at the table for all.
Think of our evenings as time for oneself. Whether it's a chance to apply your favourite lipstick, enjoy face-to-face, free-flowing chat, or simply to feel like you again. We are here to fill your cup (and glass!), spark your mind and feed your tummy.
Above all else, we want In Good Company to be a safe, accessible and inclusive space for in-tune women to feel at home. To be lifted by the conversation you never knew you needed and inspired by the stories of Sheffield-based women you never knew existed.
As well as providing an outlet to share your own thoughts and interests, you'll also hear from a diverse range of fascinating females via a relaxed panel conversation on their experience of what it means to be a woman in today's hectic world. Expect to hear the good, the bad and the beautifully honest.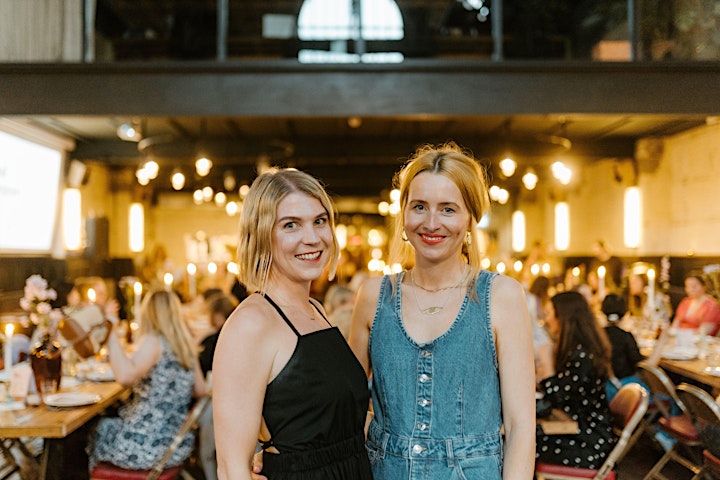 The Hosts
Nic Sowden, Art Director
Rachel Hirst, Copywriter & Journalist
Having entered uncharted waters in the last couple of years (motherhood and freelance life), we found ourselves wanting to make new connections with Sheffield females in similar boats but away from cliquey, formal or super awkward settings and groups.
Furthermore, we were fed up with watching from the social media sidelines as other cities hosted creative and collaborative events that our amazing home city seemed to be lacking.
The answer? In Good Company! A warm, accessible and relaxed evening that centres around what we consider to be life's simple pleasures and appeals to those who treasure the same.
It sparks conversations and connections without feeling in the least bit heavy or forced. It celebrates some of the city's incredible female talent without being at all showy or corporate. And it creates time for oneself to be lifted and inspired.
The very best bit? You need not worry about bringing anything but your presence to the In Good Company table, for this is an evening that asks nothing of you, but that delivers everything you need in return!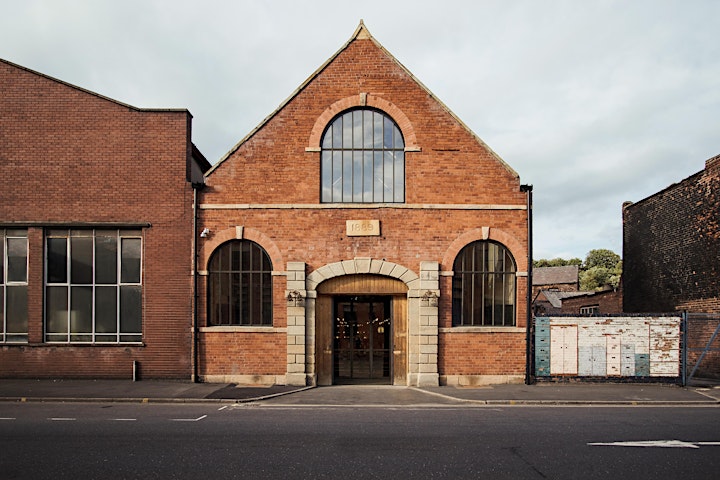 The Venue
Our second In Good Company event will take place at the architecturally-stunning Sheffield venue that is, The Mowbray. Located in the Kelham Island area of the city, this unique venue dates back to 1889 and has been thoughtfully restored to create a style-led urban space that sings with simplicity and splendour.
The Mowbray's seasonally-inspired chefs will be serving up a specially designed grazing-style feast for us to dine on during the event, plus a delicious dessert to finish.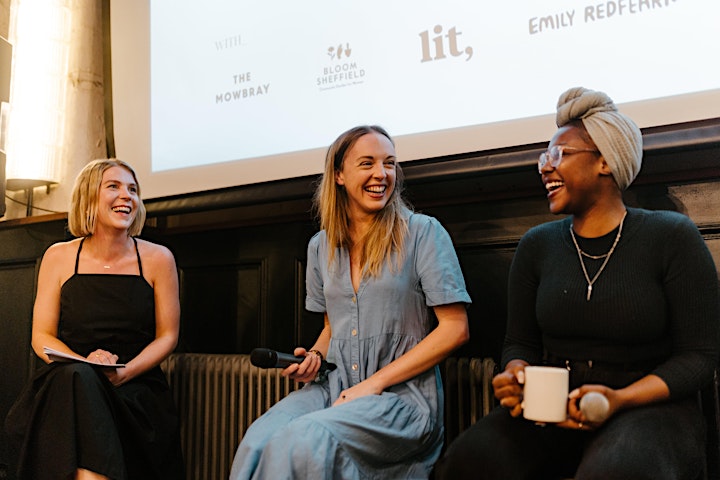 The Panellists & Partners
A key element of the evening is a relaxed panel conversation with a mix of caring, ambitious and gifted females who are proud to call Sheffield home. During this open, podcast-style chat, our panellists will share their thoughts on navigating life from a woman's point of view, touching on career, priorities and family life as well as what 'in good company' means to them.
To add to In Good Company's immersive experience and neighbourly vibe, we invite a number of Sheffield female creatives to contribute their talents to the evening too.
Details of our October event partners and panellists coming soon!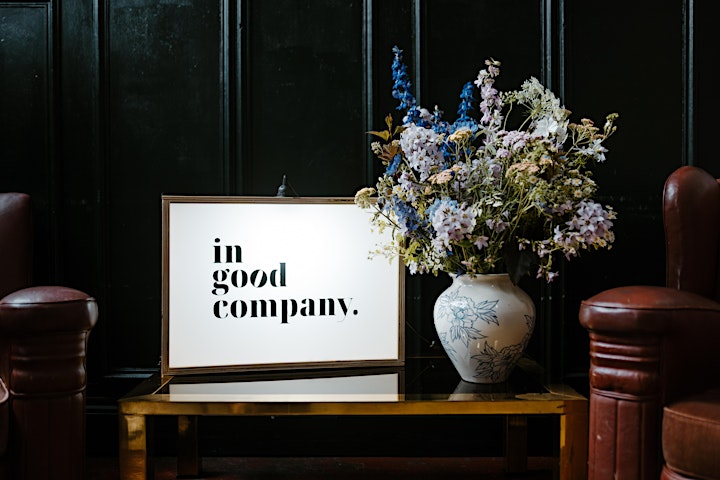 Order Of The Evening
6.30pm - Warm welcome & arrival drink
7.30pm - Your seat at the table
7.45pm - Dinner is served
9pm - Panel conversation
10.30pm - Evening comes to a close