Description
Over the last few years CfaN Worship UK have been hosting In His Presence ministry nights. They carry the message of evangelism, the miraculous, the power and presence of God so often recognised in the ministry of CfaN globally.

As we draw near to God He comes near to us. We should learn to give Him our lives and surrender everything. A day will come when you will meet your Maker face-to-face in heaven, but until that glorious day we have the privilege of entering His presence here on earth. I want to wholeheartedly encourage you to come to this In His Presence evening. I know that you will be blessed, and that God will minister to you!
Evangelist Daniel Kolenda
Together with Reinhard Bonnke and the CfaN Team


Worship Led by CfaN Worship UK
Since 2012 CfaN Worship UK has been on a journey of seeing a vision from God turn into reality. One of the defining characteristics of the group is the sense of God's presence during their services leading to healing, salvation and restoration.
Watch this live video recording from Fire 2014 to see more of CfaN Worship UK - https://youtu.be/18rP8wavlUg


Special Guest - Noel Robinson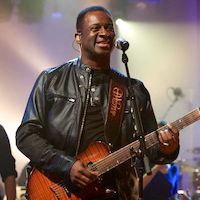 Noel Robinson is an international worship leader, music pastor, songwriter and producer whose mandate is to see the body of Christ rise up in worship, intercession and unity in this generation. Noel has been involved in Worship ministry for over 20 years, and his ability to cross over the many cultural and diverse expressions of worship has allowed him to stand and lead at many leading events and conferences across the world.



Speaker - TBC
Please Note:
You will notice that there is a small fee applied to transactions. Please note, CfaN does not benefit from this fee, it is an administration charge by Eventbrite allowing us to use this incredible ticketing platform. Please note tickets are non-refundable but are transferable. See http://cfan.org.uk for more event details and terms and conditions.
Save