A workshop exploring how Registered Providers can partner with Community Land Trusts to deliver affordable housing schemes
About this Event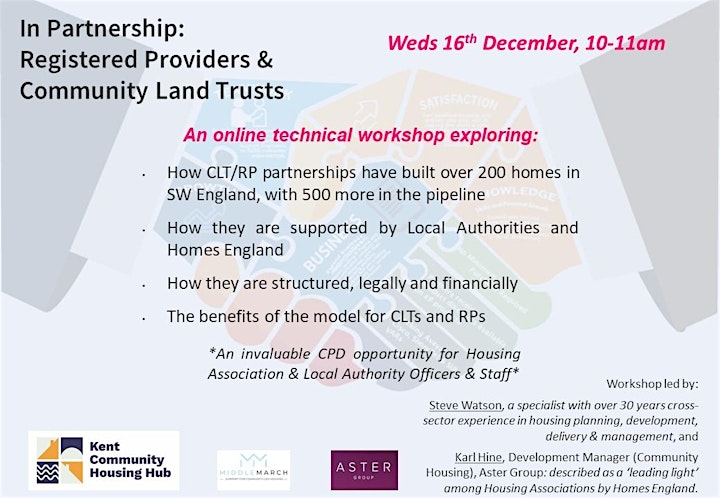 This free online technical workshop explores how Registered Providers can successfully partner with Community Land Trusts to deliver affordable housing.
The workshop is suitable for Registered Provider staff, Local Authority officers and other housing professionals to gain an understanding of how these partnerships work, the benefits that they bring and how they've succeeded in other parts of the country.
Led by professionals with extensive cross-sector experience, the workshop is a fantastic CPD opportunity for officers and staff to build knowledge and expertise in the expanding arena of community led housing.
Watch the short video included below (2mins 25sec watch) for a taster of the subject of partnerships within the community led housing sector.
This event is hosted by Kent Community Housing Hub: empowering people in Kent to bring their own housing schemes to life.
The workshop is being delivered by Middlemarch Associates, supported by Aster. Technical advisors Middlemarch have developed the freehold/leasehold model for RP/CLT partnerships for Wessex Community Assets and other clients since 2010.
Biographies:
Steve Watson: In his role as a partner at Middlemarch and technical adviser to community-led housing projects, Steve has supported some 45 CLTs since 2010. Some 20 of these projects are now complete providing nearly 200 affordable homes on land owned by the CLTs. All have worked with a housing association using the partnership model developed by Middlemarch. Before joining the community-led housing sector, Steve worked for a number of housing associations in development and leadership roles.
Karl Hine: As Development Manager (Community Housing) with Aster, Karl has led the group's community-led projects work for the past 10 years, before which he was a Rural Housing Enabler. Aster has developed more projects in partnership with CLTs than any other RP and the Group's CEO - Bjorn Howard - is a prominent advocate of the model.