About this Event
Happiness is something that each one of us has the potential to experience, but often our habitual ways of thinking take us in the opposite direction. This engaging course will teach critical lessons about some of the habits of happy people that will enrich your life's experience.
We will explore several meditations and ways of thinking that uplift the mind. We will learn how by carrying these with mindfulness into our day we can maintain a light and joyful attitude whatever life throws our way.
The classes are offered in person on Tuesday evenings at 6.00pm at KMC Nottingham, 5 Pelham Road, NG5 1AP. The online classes can be booked here.
After you register for a class you will receive a confirmation email which contains important information about your in-person class.
£4.00 per class (per person)
Free for Weekday + Full Members
Full details of the meditation centre's programme, please see: www.meditateinnottingham.org
EVERYONE WELCOME
Important Information About Attending In-person Classes and Activities during the Coronavirus Pandemic:
Please book online for in-person classes. Due to social distancing, seating is limited. If you are unable to attend for any reason please cancel your booking to make your seat available to another person.
The centre is carefully sanitised by volunteers before and after in-person classes.
We open the front door to welcome visitors approximtaely 15 minutes before in-person classes begin.
You are required to wear a face mask / face covering at the centre at all times (unless you have a valid reason not to do so).
Use hand sanitiser on arrival and departure - this is available in the hallway.
While at the centre please practice social distancing and remain 1m + from others and follow centre guidelines.
In line with government guidance for places of worship, please leave promptly after classes finish.
Contactless / card payments only for bookshop and other payments at this time.
You may wish to bring your own drinking water. The cafe is not open at this time and we are not able to offer hot or cold drinks before or after classes. Small bottles of water are available in the shop for a donation.
Please do not attend the centre if you or anyone in your household have had symptoms or tested positive for Covid 19 or if you have been in contact with anyone who has symptoms, tested positive or been advised to self isolate within the last 14 days.
Please contact the centre as soon as possible if you becopme unwell with symptoms of Covid-19, have a postive test or are advised to self-isolate within 14 days of attending the centre.
Your online registration for classes may be used for the purposes of supporting NHS Track and Trace should this be required. You can opt out of this by contacting the centre.
Caring for and supporting those who are more vulnerable to severe illness from Covid-19
For those who are more vulnerable (including thoise who are clinically vulnerable, extremely vulnerable, those aged over 70 and those who have been advised to shield or remain at home as much as possible) we continue to offer all our classes, courses and programme online should you prefer to join us for activities in this way. You can find details of our online programme here www.meditateinnottingham.org/livestream
Thank you for helping keep the meditation centre Covid-19 Secure
KMC Nottingham Team
hello@kmcnottingham.org
0115 985 7356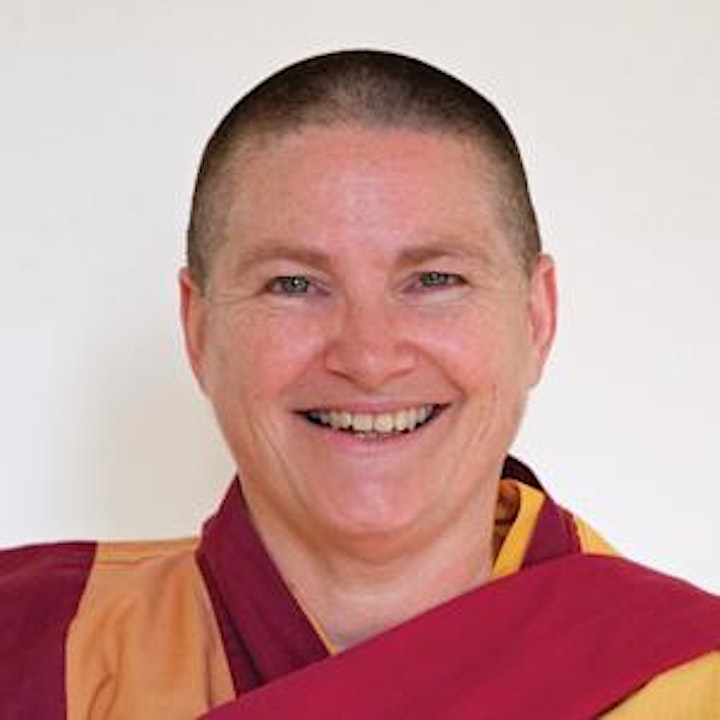 The teacher for this course is Gen Kelsang Gakyi, Resident Teacher at Kadampa Meditation Centre Nottingham, much respected for her ability to present Buddha's teachings with warmth, humour and clarity.