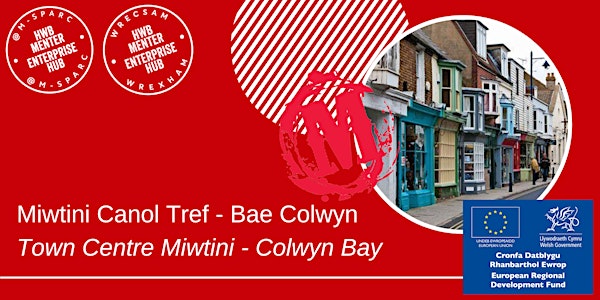 IN PERSON-Miwtini Canol Tref - Bae Colwyn/Town Centre Miwtini - Colwyn Bay
Event Information
Location
Colwyn Bay
29 Conway Road
Colwyn Bay
LL29 7AA
United Kingdom
Miwtini Canol Tref - Bae Colwyn / Town Centre Miwtini - Colwyn Bay
About this event
(Scroll down for English)
**DIGWYDDIAD MEWN PERSON - BAE COLWYN**
Ydych chi'n ystyried agor busnes yng nghanol tref? Ymunwch â ni ar gyfer ein rhaglen Miwtini Canol Tref a fydd yn ymdrin â'r holl wybodaeth hanfodol sydd angan arnoch i redeg busnes llwyddiannus. Byddwn hefyd yn cynnwys gwybodaeth am ganllawiau Cronfa Entrepreneuriaeth Canol Tref Gogledd Cymru. Cronfa sydd yn rhoi cymorth ariannol i entrepreneuriaid a busnesau sy'n awyddus i ddechrau a thyfu busnes yn un o bedwar canol tref ledled gogledd Cymru - Bangor, Bae Colwyn, y Rhyl a Wrecsam.
Bydd y rhaglen yn rhedeg rhwng 9.30 a 15.30 ac yn trafod y canlynol:
Hanfodion Cychwyn Busnes
Canllawiau Prydlesu
Trefi SMART
Cyllid
Marchnata
Gwasanaeth Cwsmeriaid
Mae'r digwyddiad yma wedi ei drefnu ar y cyd rhwng Hwb Menter @M-SParc a Hwb Menter Wrexham. Ariennir yr Hwb Menter yn rhannol gan Cronfa Datblygu Rhanbarthol Ewrop drwy Lywodraeth Cymru.
- - - - - - - - - - - - - - - - - - - - - - - - - - - - -
**IN PERSON EVENT - COLWYN BAY**
Thinking of setting up a business in a town centre? Join us for our Town Centre Miwtini programme which will cover all the essentials information on running a successful business. We will also include guidance on the Town Centre Entrepreneurship Fund. The fund will provide financial assistance for entrepreneurs and businesses who are looking to start and grow a business in one of four town centres across North Wales – Bangor, Colwyn Bay, Rhyl and Wrexham.
The programme will run from 9.30 – 15.30 and will cover the following:
Business Start-Up Essentials
Lease Guidance
Smart Towns
Finance
Marketing
Customer Service
This event is organised in collaboration between Enterprise Hub @M-SParc and Wrexham Enterprise Hub. The Enterprise Hub is part Funded by the European Regional Development Fund through the Welsh Government.
Date and time
Location
Colwyn Bay
29 Conway Road
Colwyn Bay
LL29 7AA
United Kingdom