Location
Kadampa Meditation Centre Nottingham
Gedling House
Wood Lane
Nottingham
NG4 4AD
United Kingdom
Refund policy
Refunds up to 1 day before event
Half-day meditation retreat
About this event
IN-PERSON: Bookings on this page are for those intending to attend the class in-person. Online booking is available here.
'We can see from this practice that it is possible to experience inner peace and contentment just by controlling the mind, without having to depend at all upon external conditions.'
Ven Geshe Kelsang Gyatso (How to Transform Your Life)
Join us for a half-day meditation retreat at Kadampa Meditation Centre Nottingham, Gedling House - the perfect way to experience the benefits of meditation - on Saturday 29 January 2022 from 10:00 am to 1:00 pm.
Many people want to gain more experience of meditation. Half-day retreats are the ideal way to combine a busy life with gaining experience of meditation. Beginners welcome.
A wonderful opportunity to relax in a beautiful, peaceful environment, discuss questions and enjoy refreshments between sessions.
On this half-day retreat we will be guided on simple and profound meditations to enable us to find a peaceful mind.
The retreat will be led by our Resident Teacher, Gen Kelsang Gakyi.
This course is suitable for everyone, beginners welcome.
EVERYONE WELCOME
Programme
9:30 am: Welcome
10:00 am: Introduction with meditations
11:00 am: Break & refreshments
11:30 am: 30 minute meditation session
12:00 am: Break & refreshments
12:30 am: 30 minute meditation session
1:00 pm: Retreat concludes
We also offer this retreat online, please click here for booking details. Details of membership are available here.
Full details of the meditation centre's programme please see www.meditateinnottingham.org
EVERYONE WELCOME
0115 985 7356
hello@kmcnottingham.org
KMC Nottingham Covid Statement:
In line with current advice, we ask that masks are worn at the Centre.
We are keeping the centre well ventilated and have increased the space around chairs in our meditation room. As a result you may wish to bring an extra jumper or hoodie with you for your meditation class.
We will still be providing hand sanitiser by our entrance for those who wish to use it.
We ask that if you feel unwell you do not attend the Centre in person.
Kadampa Meditation Centre Managers will review the situation regularly and communicate any changes in our policy in our class booking information.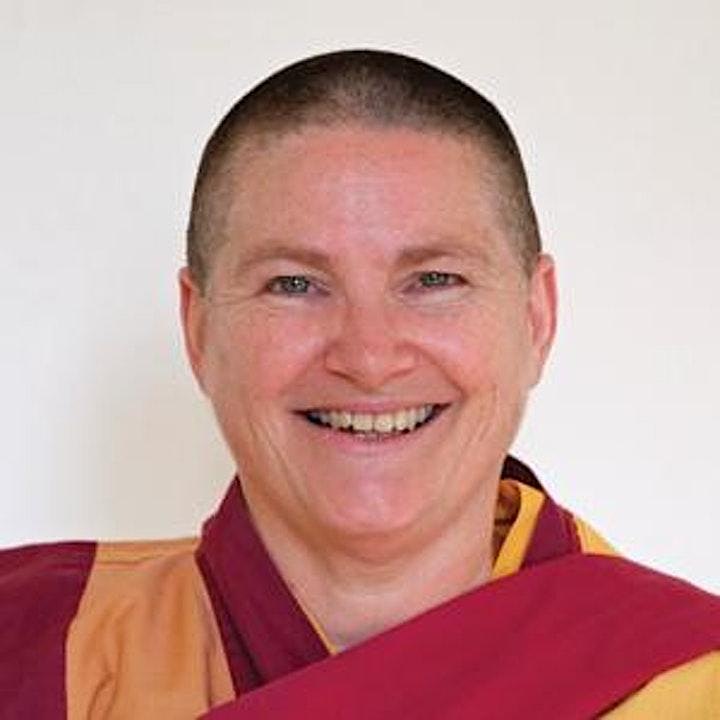 The teacher for this course is Gen Kelsang Gakyi, Resident Teacher at Kadampa Meditation Centre Nottingham, much respected for her ability to present Buddha's teachings with warmth, humour and clarity.