Event Information
Refund Policy
Contact the organiser to request a refund.
Eventbrite's fee is nonrefundable.
What Next? A Virtual Symposium
About this Event
What Next? A Virtual Symposium
10 December 2020
14:00 and 18:00 GMT
What Next takes a tour of our two Special Issue journals; Producing Luxury and the Space of Luxury. The authors discuss and debate their articles and whether anything has changed in the ever-changing world of luxury since publication, and of course what next?
Our symposium also marks a milestone in luxury publications. Christopher Berry's seminal monograph, The Idea of Luxury is marking its 25th year since it was first published. To mark this occasion Chris will be sharing his thoughts on luxury in all its guises. A 25 year reflection.
Chris will also be in conversation with Father Andrew O'Connor discussing the vice and virtues of luxury. They will discuss luxury as a concept and the ethical and moral questions surrounding it. They will also address topics such as sustainability, waste, conspicuous consumption, the role of technology and innovation, and social justice.
For more information about our speakers who include;
Kenneth Appiah-Nimo
Prof Christopher Berry
Prof Mark Bloomfield
Dr Shaun Borstrock
Dr Federica Carlotto
Dr Sheena Calvert
Dr Silvio Carta
Pieter De Kock
Dr Veronica Manlow
Father Andrew More O'Connor
Click here
The "In Conversation" and panel discussions will be followed by a question and answer session.
The price of the ticket includes entry to the symposium and one copy of one of our Special Issue Journals. At time of booking select which issue you would like to receive.
Producing Luxury Journal:
Editorial:
VERONICA MANLOW
Foreword
CHRISTOPHER J. BERRY
Articles:
Fur and sustainability: Oxymoron or key to 'deeper' luxury?
FABIAN FAURHOLT CSABA AND ELSE SKJOLD
Peace of mind: The quintessential luxury
SUE THOMAS
Personalization, customization and bespoke: Increasing the product offer
SHAUN BORSTROCK
Designing the geography of luxury: Online perceptions and entrepreneurial options
FEDERICA CARLOTTO AND SIMON O'LEARY
Space of Luxury Journal:
Editorial
SHAUN BORSTROCK
Foreword
JESSICA HELFAND
Articles:
No space for luxury?
MARK BLOOMFIELD
The Fondation Louis Vuitton: A utopian space apart from the world of luxury retail
VERONICA MANLOW
Analysing the impact of operational challenges on value perceptions of South African luxury fashion brands
KENNETH APPIAH
Reifying luxury, gold to golden: How the showroom became a digital showreel, from object (gold) to experience (golden) – experiencing luxury by abstracting the object
SILVIO CARTA AND PIETER DE KOCK
Dernier cri: Continuity and convergence in technology and luxury
STÉPHANE HOUY-TOWNER
The language of luxury, the luxury of language
SHEENA CALVERT
For further information please visit In Pursuit of Luxury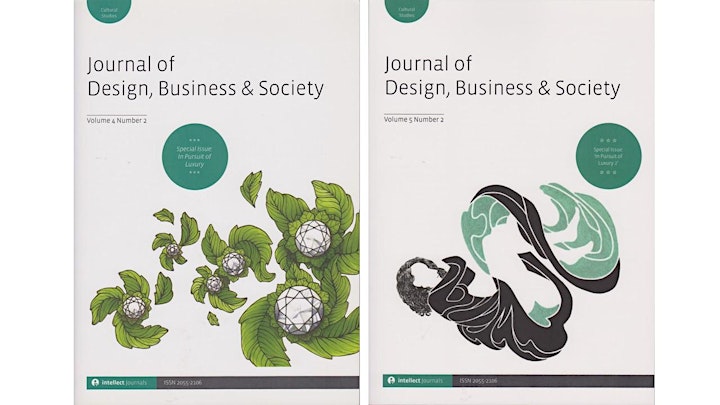 Date and Time
Location
Refund Policy
Contact the organiser to request a refund.
Eventbrite's fee is nonrefundable.