Event Information
Refund policy
Refunds up to 7 days before event
Eventbrite's fee is nonrefundable.
Join us to celebrate circular innovations and find out how you could be zero waste in your business.
About this event
We are keeping a close eye on all updates in relation to COVID-19. Our events up until the end of July have been confirmed as interactive webinars/online workshops, including our valuable networking sessions and 60 second pitches. If we can revert back to physical events, you will have the option to attend physicall or virtually.
What are the basic principles and practice of circular economy? How can organisations implement circularity, and how do those methods differ for across sectors?
Come along to this business breakfast to hear how others have created circular business practices in their goal towards becoming sustainable.
The Future Economy Network invites WSP, LettUs Grow and Network members Michelmores and Interface to speak at this event.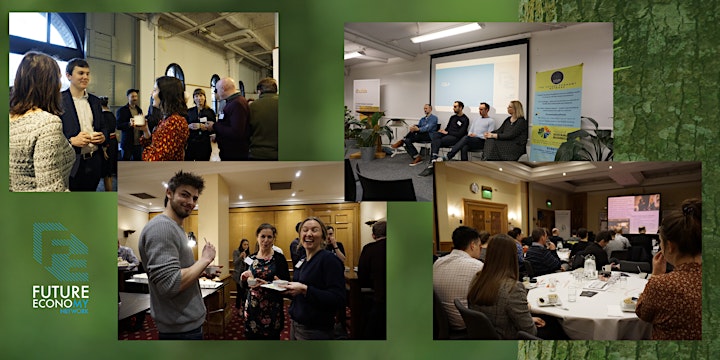 Tim Danson, Environment & Sustainability Project Manager, WSP
• What is a 'circular business', anyway?
• Delivering circular action on major infrastructure and buildings projects
• The growing suite of tools and processes
• What WSP expects next in industry
Rachel O'Connor, Agricultural Lawyer, Michelmores LLP
Rachel will discuss the emerging role of insects in the human and animal feed food chains including;
- the utilisation of insects to convert waste and b- products into high quality protein;
- the use of insects as a source of protein for humans and for animal feed;
- the industries ambitions to displace soya meal in animal feed; and
- the challenges faced by the industry.
Jack Farmer, Co-founder and Chief Scientific Officer at LettUs Grow and Ellen MacArthur Foundation Circular Economy Pioneer alumni
Jack will explore the controlled environment agriculture industry's potential system integrations with renewable energy, anaerobic digestion and other waste management systems. The talk will address the successes and challenges of aquaponics, where aeroponics fits in, the potential for co-location and off-grid systems, and what this could mean for the future of food.
Becky Gordon, Sustainability Manager (UK & Ire), Interface
Interface is a global leader in the manufacture of commercial flooring with a 25 year track record in sustainability. The talk will look at Interface's mission, Climate Take Back, which represents a commitment to respond to a climate emergency and do business in a way that is restorative to the planet. We will look at how Interface approaches circular economy through its ReEntry take back scheme and award-winning Net-Works project.
Agenda
07:30 - 07:45 - Registration
07:45 - 08:00 - Facilitated Networking
08:00 - 08:10 - Introduction from The Future Economy Network
08:10 - 08:25 - WSP - Tim Danson
08:25 - 08:35 - Q&A for Tim
08:35 - 08:50 – Michelmores - Rachel O'Connor
08:50 – 09:00 – Q&A for Rachel
09:00 – 09:15 – LettUs Grow - Jack Farmer
09:15 - 09:25 - Q&A for Jack
09:25 - 09:40 – Interface - Becky Gordon
09:40 - 09:50 – Q&A for Becky
09:50 - 10:00 - Extra Time for Group Q&A
10:00 - 10:05 - 60 Second Pitches
10:05 - 10:10 - Close
10:10 - 10:30 – Optional Facilitated Networking
Meet Our Speakers!
Tim Danson, Environment & Sustainability Project Manager, WSP
Tim has more than 20 years' experience of a wide range of sustainability and environmental projects. His specialisms include sustainable design and construction of civil infrastructure and buildings, circular economy and sustainable resource management, and development of bespoke sustainability toolkits.
Tim's capabilities are founded upon a career spanning a diverse spectrum of technical environmental and sustainability fields, in which he has developed both pragmatic and common-sense skills for delivering high quality and balanced solutions.
In the last decade, Tim has worked on a wide variety of major linear infrastructure and other built environment projects, providing circular economy, material resources and waste advice, as part of a wider approach to delivering sustainable outcomes. He was Lead Author for the IEMA Guide to Materials & Waste in EIA, and for the new DMRB standards on Sustainable Development in Design (GG103) and for the pilot content for assessing the impact of materials and waste within EIA (LA110) for Highways England. Tim established and now leads the Planning & Advisory Task Force for Circular Economy at WSP.
Rachel O'Connor, Agricultural Lawyer, Michelmores LLP
Rachel spearheads the Firm's Sustainable Agriculture practice which considers emerging technologies and practices which are tackling the most pressing issues facing the agriculture sector for generations: climate change and biodiversity loss. Rachel is also a lecturer at Cardiff University on Environmental Law including waste management and nature conservation.
Rachel has developed an expertise in the law relating to insects as an alternative protein source in animal feed and as part of the circular economy. In recognition of Rachel's work in this area, Rachel has the distinction of being the only associate to be named in The Lawyer's Hot 100 listing for 2020 which recognises "the professions brightest stars of 2020" and "the most daring, innovative and creative lawyers…of the moment. All those on the current list are shaping the legal profession right now". Rachel sits on the organising panel for the UK's Insects as Food and Feed Conference (IAFF), in association with the Royal Entomological Society and ADAS
Jack Farmer, Operational Lead, LettUs Grow
Jack Farmer is the Co-Founder and Operational Lead of LettUs Grow, a startup using innovative aeroponic technology to design the next-generation of indoor farms. Their mission is to reduce the waste and carbon footprint of fresh produce by empowering anyone to grow delicious food near its point of consumption.
He's a passionate advocate for the use of social enterprise policy, and the circular economy to bring about a more sustainable future. Jack specialises in controlled environment agriculture and its use as a means to reduce agricultural pressures upon natural ecosystems.
Becky Gordon, Sustainability Manager (UK & Ire), Interface
Becky is Sustainability Manager UK & Ireland for Interface, a world leading manufacturer of sustainable flooring.
As a key advocate for Interface's Climate Take Back mission, and member of the Interface global sustainability team, Becky focuses on the commercialisation of sustainability in the built environment.
Becky has over 10 years of experience at Interface in the customer service and sales roles. As an Account Manager, Becky trained as a Sustainability Ambassador and developed a specialism helping architects and designers understand sustainability issues and identify strategy and solutions. She also acted as a spokesperson and internal trainer on sustainable design.
As sustainability became a specialism for Becky, she chose to further her understanding across sectors, completing a Post-Graduate Certificate in Sustainable Value Chains at the University of Cambridge in 2018.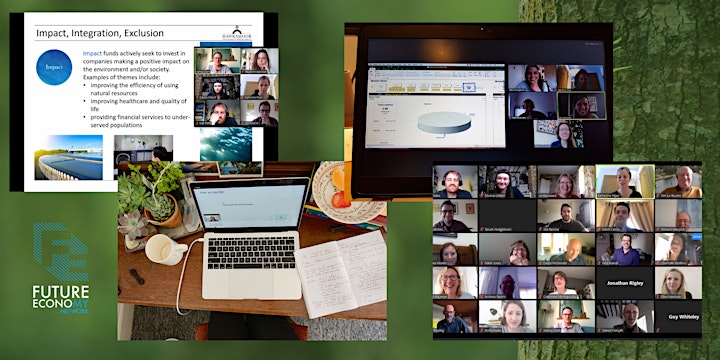 If you would like to join the Network please get in touch via: info@TheFutureEconomyGroup.co.uk
Follow us on Facebook, Twitter & Instagram
Sign up to our newsletter HERE
We have included a mandatory £1 carbon offsetting fee to all event tickets in our commitment to being carbon neutral in our operations. You can find out about our chosen charity here.
We will share your Name, Job Title & Company with the other delegates & speakers to this event only.
If you don't want this information to be shared please let us know when you have purchased your ticket.
We take photos at our events for marketing purposes, if you don't want your picture taken please let us know.
#wegrowthhub #business #seminar #circular #circulareconomy #zerowaste #reducewaste #circularbusiness #circularpractice #sustainablebusiness
Date and time
Location
Refund policy
Refunds up to 7 days before event
Eventbrite's fee is nonrefundable.
Organiser of In The Loop: Business Breakfast