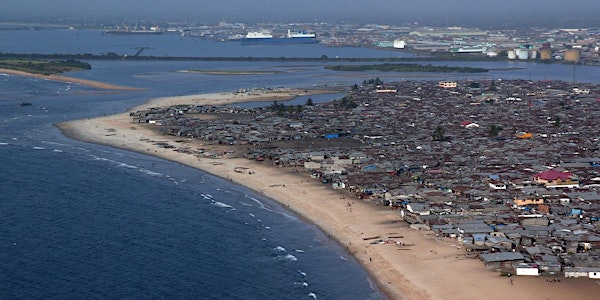 In the Shadow of Ebola - Film Screening and Panel Discussion
Location
The Wellcome Collection (Reading Room)
183 Euston Road
London
NW1 2BE
United Kingdom
Description
In the Shadow of Ebola is an intimate story of a family and a nation struggling against the Ebola outbreak in Liberia. We follow a Liberian student and his family living divided between the United States and Liberia. As the crisis unfolds, loved ones are isolated in Monrovia where the government is shut down, schools and markets are closed, and food prices are rising.
Liberians find themselves fighting an invisible war that is painfully reminiscent of the chaos and confusion of the fourteen-year Liberian civil war, which ended a mere decade ago. When the Liberian government responds to the crisis initially with military-enforced quarantines and curfews, mistrust and anger among Monrovia's residents grow.
As the death toll from Ebola climbs, and a quarantine results in the shooting and death of a 15-year old boy, mistrust and disbelief are replaced by compassion and inner resolve to combat the spread of the virus. With international aid slow to arrive, Liberians turn to each other for help, as healthcare workers, musicians, and artists join forces on the front lines in public health education campaigns. The steps toward community empowerment and action help to build trust and stabilize the number of new Ebola cases. But the ripple effects—food insecurity, overwhelmed medical infrastructure, and economic isolation—endure.
The film screening will be followed by a panel discussion.
Panelists:
Patricia Kingori is a Wellcome Trust Biomedical Society and Ethics Fellow at the Ethox Centre, University of Oxford. Her disciplinary background is in Medical Sociology and her current interests research interests lie at the intersect of sociology of science and medicine and a critical examination of ethics with a particular interest in the frontline practitioners of medical research, the politics of health and what research and guidelines come to mean in practice. Her work has focused on the views, values and experiences of fieldworkers and similar frontline workers involved in collecting data and interacting with research participants. This has taken place in East Africa but has recently extended its focus to South East Asian and West African countries.
Prof. Gregg Mitman (University of Wisconsin) Co-producer and co-director of the film.
Professor Mitman is the Vilas Research and William Coleman Professor of History of Science, Medical History, and Environmental Studies at the University of Wisconsin-Madison. He is an award-winning author, filmmaker, and teacher, whose interests span the history of science, medicine, and the environment in the United States and the world, and reflect a commitment to environmental and social justice. He is co-producer and co-director of the film. Mitman is the founding director of the Nelson Institute's Center for Culture, History and Environment, and is also curator of the UW-Madison's popular environmental film festival, Tales from Planet Earth.
Dr. Jessica Reinisch (Birkbeck)
Jessica Reinisch is a historian of modern Europe. Her PhD, completed in 2005, looked at public health in Germany in the aftermath of the Second World and compared the different occupation zones and regimes. Subsequently she was awarded a postdoctoral fellowship on Eric Hobsbawm's Balzan Project on Post-War Reconstruction of Europe, and a Leverhulme Early Career Fellowship. She is now a Senior Lecturer in European History and Coordinator of MA programmes in Birkbeck's Department of History, Classics and Archaeology, and was awarded a Wellcome Trust Investigator Award for The Reluctant Internationalists.
Sarita Siegel (Alchemy Films) Co-producer and co-director of the film.
With an educational background in physical anthropology and religion, Sarita Siegel gravitates to stories that lie at the intersection of cultural worlds. Siegel established Alchemy Films with Taggart Siegel in San Francisco in 1994. She produced, directed, filmed, and edited Fire Burn Babylon, which won the Audience Award for Best Documentary, Freestyle Life Film Festival 2012; Bronze Palm Award, Mexico International Film Festival 2010; and an honorable mention at the COMMFEST MADA Awards, Toronto.
Karen Wells is Programme Director for Children, Youth and International Development, and Reader in International Development and Childhood Studies. She holds a BA (Hons) African History and Religious Studies from SOAS, University of London, an Msc Comparative Government and a PhD in International Relations from the London School of Economics. She is the author of Childhood in a Global Perspective (Polity, 2009) and has published widely on children and visual culture. She is currently researching the life history narratives of children who have been fostered into the UK from overseas (privately fostered children) in collaboration with Children and Families Across Borders.
This screening and panel discussion is part of the conference: After the End of Disease, being held on May 26-27 at the Royal Society of Medicine.
More information about the conference
Organised by Dr Dora Vargha