Description
Ben jij klaar voor de strijd? #InTheSpotlight zet de schijnwerper op The war for Talent!
Top talent vinden is nog nooit zo moeilijk geweest. Toch is een geweldig team bezitten de grootste troef die je kan hebben om een sterk bedrijf op te bouwen.
Ontdek hoe je de meest fantastische werknemers kan vinden, aanwerven en behouden door aanwezig te zijn op In The Spotlight: The War for Talent op 23 mei! We voorzien ervaren ondernemers die de nodige tips en tricks zullen onthullen zodat jij de kloof kan dichten.
Neem de kans om deel te nemen aan discussies en verkrijg niet-traditionele inzichten omtrent het streven naar talent binnen jouw organisatie.
LOCATIE
De Serre
Lange Gasthuisstraat 29-31
2000 Antwerpen
PROGRAMMA
18:00 Welkom en registratie
18:30 - 18:35 Opening in the spotlight By Eynovation
18:35 Keynote Ilse Jansoone (WIJS)
19:00-19:45 Getuigenissen
19:00-19:15 Thomas Joos: Attracting and retaining creative talent
19:15-19:30 Tim Clauwaert (Intuo) -Talent management solutions
19:30-19:45 Bart Van Loon (Zeropoint) -Offshore recruiting
19:45-20:30 Panel discussie: Moderator: Sam Redele - Simple Complexity (people analytics consulting)
20:30 Netwerken & drink
In Partnership With: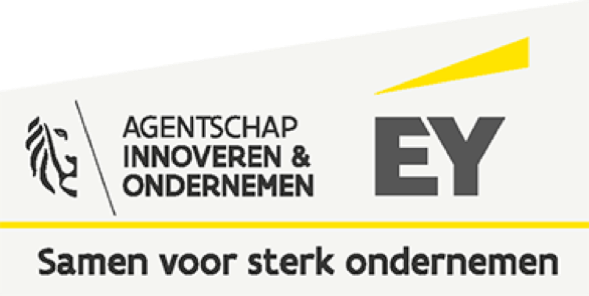 Agentschap Innoveren & Ondernemen: Samen voor sterk, ambitieus ondernemen.Meer starters, meer blijvers en meer groeiers: daar gaan we voor! Agentschap Innoveren & Ondernemen en haar partners willen u daarbij ondersteunen. In the Spotlights is slechts één van de vele initiatieven waar u gebruik van kan maken. Ontdek ze allemaal op www.sterkerondernemen.be. #sterkondernemen.
EYnovation EY gelooft sterk in ondernemerschap. Om die reden willen we investeren in onze relaties met ambitieuze (startende) groeibedrijven en proactief inzetten op hun ontwikkeling. Dat is de reden waarom we EYnovation™ in het leven hebben geroepen: een eenvoudige en modulaire abonnementsformule die gericht is op het ondersteunen van startende, snelgroeiende bedrijven tijdens hun reis naar marktleiderschap, door het inzetten van onze expertise en het openstellen van ons internationale netwerk.