Description
The Inaugural Mitre 10k 5k 1k
Sunday 30th September
To be held in aid of The Bishop's Stortford High School Mitre Fund Charity no 1155759
Sign up now to take part in the Mitre 10k! Spaces limited
This idyllic route takes you from Jobbers Wood through the beautiful country lanes to Much Hadham and back again, finishing to the cheering crowds of supporters.
With professional chip timing and UKA measurement, this traffic free course is perfect for all abilities.
All 10k and 5k finishers receive a medal and free technical t-shirt.
Raising vital funds for TBSHS, The Mitre 10k is set to become one of the top fundraising events for the school. Refreshments and entertainment will be available for your family and friends as they wait to cheer you on at the finish. There is plenty of free parking for everyone from 9:00 am. There will also be refreshments, physio, warm up & warm up area and a safe luggage location.
Participants may collect running numbers and chip on the Sunday 30th morning, or for those who would like to view the course on the day prior Saturday 29th September.
Junior Division
Junior runners aged 12 – 16 are encouraged to take part and we have prizes for the first and second places in each year group. There will be no 10k runners under the age of 15 on the day of the race, however they may take part in the Fun Run below.

Fun Run!
Runners of all ages and abilities are invited to take part in our 1k fun run around the perimeter of Jobbers Wood, with a medal for every child.


Tickets
10k - £14.95 ages 15+ (includes t-shirt and a medal)
Anyone aged under 18 must have permission from a parent / guardian and their details must be provided at the time of booking.(£12.95 affiliated)

5K - £10 ages 13+ (includes t-shirt and a medal) .
Runners must have permission from a parent / guardian and their details must be provided at the time of booking.


1K - Fun Run is free to enter on the day - no need to register (includes a medal)
Highlights:

Traffic Free, fairly flat Route through the Hertfordshire Countryside

Water stations

T-shirt and medal for all finishers

Professional Chip timing

Free Parking for everyone

Refreshments and Entertainment for friends and family
Route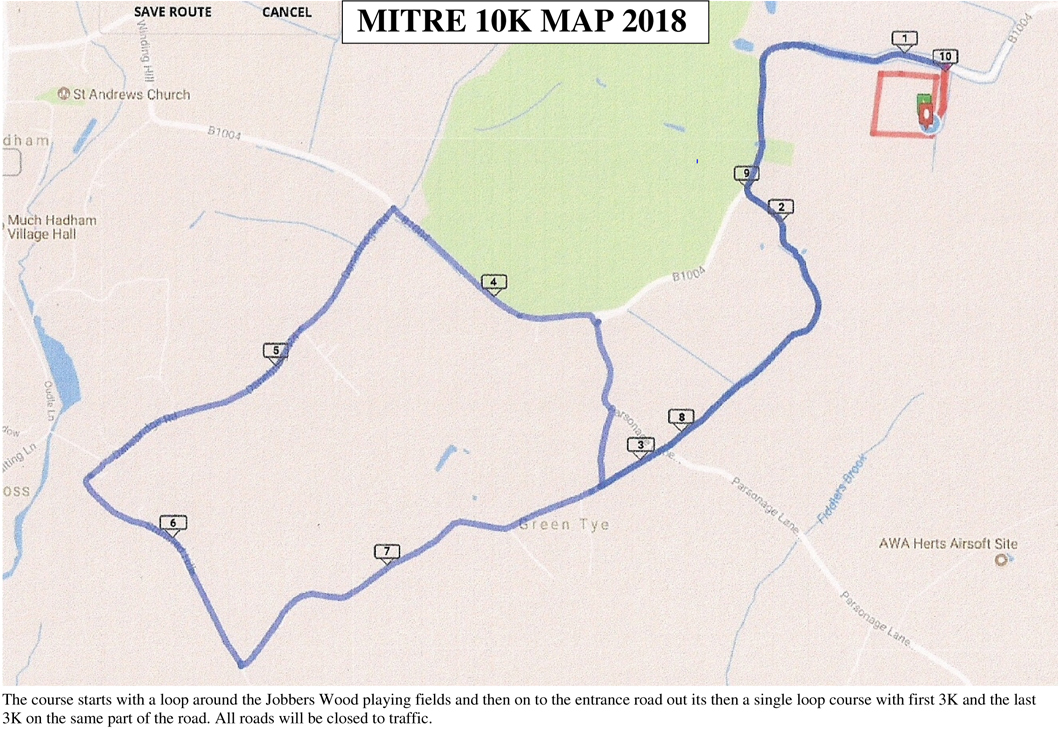 RACE INFORMATION
If you have a question which is not answered here then please email Vanessa Ambler Race Director at mitre10k@tbshs.org and we'll get back to you as soon as we can.
The Mitre 10k Runners Information
On behalf of the Bishops Stortford High School, thank you for signing up for our event and helping us to raise vital funds. We are very proud of our school and your support is genuinely appreciated.
We very much look forward to greeting you on Sunday at our sports ground "Jobbers Wood" located in a country lane at SG10 6FB. As you drive into the ground you will be greeted by our marshals who will direct you where to park.
Roads are closed for the race from 11am so please be here by 10.30am to ensure that you can park safely and receive your running number and chip in good time.
Vehicle access from Jobbers Wood is closed until 1pm or when all runners are back safely.
Timetable for the day:
9am Race HQ Opens for you to collect your running number and chip. Envelopes are ordered by Surname.
10am Secure Luggage opens for you to leave your valuables. Donations gratefully received.
10.30 Race Briefing. Please gather in front of the balcony.
10.50 10k runners to move to their starting positions. Please select the start position that is suitable for your usual pace with the fastest runners at the front. This is very important for your safety and to avoid pushing / tripping at the start. Your chip time will not start until you cross the line. The first 0.5k is on grass track in front of the pavilion with a step down onto the road. The remainder of the race is on the road.
10.55 5k runners move to the race "pen" to prepare for a start as soon as the 10k runners have cleared the field.
11.00 10k start at the far end of the field in front of the Pavilion.
11.05 5k start at the far end of the field in front of the Pavilion.
12.30 10k and 5k Prize Giving from the Pavilion Balcony.
12.50 1k Fun Run starts right in front of the Pavilion.
Race Information:
Please note that the 10k and 5k are separate routes. 10k runners cannot run with 5k runners. Marshals will direct you in the correct direction.
Race HQ will be located at the front of the Pavilion to assist you with any queries.
Refreshments are available inside the Pavilion until 1.30pm
2 Massage therapists will be available before and after the race
4 First Aiders will be at Jobbers Wood and en-route to assist you
Water Stations:
1.

At 5k which is located just before a gradient. You can keep hold of your water bottle and take it with you up the slope. Please dispose in a bin as you pass.

2.

At Race Finish
Medals & T-Shirts will be available for you to collect after the race. Please hand over your running chip to receive your envelope containing your t-shirt and medal.
Changing Rooms, Safe Luggage & Toilets are available inside the Pavilion.
Head Phones are not permitted.
Race Chips should be worn on your show or ankle. They will activate as soon as you step on the mats – please DO NOT go near the mats before the race or you may activate too early.
Prizes based on Chip Timing:
10k:
Overall Winner Male & Female
Veteran (40+) Winner Male & Female
1st TBSHS Teacher across the line
5k:
Overall Winner Male & Female
Certificate for 1st & Second in each school year group
If you have any questions on the day please ask any of our marshals who will be happy to assist you.
The weather looks perfect and we wish you all a wonderful day,
RACE ROUTE
The Mitre 10k Road Race is a fully marshalled course that follows a loop through local villages on closed roads starting and finishing at the superb sports facilities at Jobbers Wood. The course is gently undulating and on road throughout until the final 800m as it enters the sports complex at the finish.
The postcode for Jobbers Wood is SG10 6FB
RACE PACKS
Race packs include your running bib and timing chip will be available to collect from 8.30 on the day or between 9 – 11am on Saturday 29th September from Race HQ.
NB Race packs WILL NOT be posted and Race Numbers are non-transferable
RACE DAY PARKING
There is plenty of free parking at Race HQ and we ask that you do not park illegally on grass verges or the race route. Arrive early to give yourself plenty of time to negotiate any traffic build-ups and delays.
SAT NAV POSTCODE: SG10 6FB- please follow the directions of our traffic marshals.

Car parks will open at 8.00am, please allow enough time to collect your race pack.

Disabled parking can be found at Race HQ. Please ask car parking marshals for direction.
SPORTS MASSAGE AND WARM UP
We will provide free sports massage and physio support on site to assist you before and after the race
Donations will gratefully received by the school for this facility
CHANGING FACILITIES/ PERSONAL BELONGINGS
Kit may be left in the changing rooms at race HQ at your own risk. Unfortunately we are unable to take responsibility for small valuables (car keys/wallets etc.)
WATER
The weather on race day may be warm and it is your responsibility to ensure you take on enough water. There is ONE water station on the course at the 5k marker. Water is also provided as runners cross the finish line.
FINISH LINE
The race finishes on the sports field and there is plenty of space for spectators. You will be guided to collect your water / t-shirts and medals
HEADPHONES
The wearing of headphones is strictly prohibited by UKA under RULE 240 S 5
So we have BANNED ALL headphones or earbuds, including bone-conducting headsets, (other than those medically prescribed). This is for your safety, as listening to music or pacing information during a race may distract you from being able to hear instructions from our race marshals and other runners on the course. If you are observed using such a device during this race you will be disqualified.

RESULTS
Runners results will be displayed at RACE HQ, runners will be emailed and any runner that has provided a mobile number will be sent a text message on the day. Results will be available to view on our website.
FURTHER INFORMATION
Pot Holes/Hazards: tbc
Medical Support: Medical provision is provided in accordance with UKA rules. Marshals will be lining the route at 1km intervals. We also have first aiders and medical support around the course.
Spectators: Non-runners are welcome to stay at Jobbers Wood and enjoy themselves as they wait for you to return. There will be plenty of entertainment and refreshment for all the family
CERTIFICATION
Our race is currently applying for a road race licence by UK Athletics.
Our course will be accurately measured by a Certified Measurer using IAAF procedures approved for use in the UK.
Please note that the 5k is not officially measured but will have chip timing.
GDPR
All data collected with connection to this event will be securely destroyed at the end of the event.