Location
Manchester Metropolitan University
Brooks Building
53 Bonsall Street
Manchester
M15 6GX
United Kingdom
The Faculty of Health and Education presents Prof Sara Ryan's Professorial lecture on learning disability and assumption-based practice.
About this event
You are invited to our final Inaugural Professorial Lecture of 2021/22 in the Faculty of Health and Education. Delivered by Professor Sara Ryan, the lecture will look at why people with learning disabilities continue to experience poor support and healthcare. The lecture will be introduced by Head of the Department of Social Care and Social Work, Dr Jenny Fisher.
The lecture will take place in Brooks Lecture Theatre 4, however it will also be possible to watch and participate online. When booking, please choose either an in-person or online ticket. Those booking online tickets will be sent a participation link before the event.
Refreshments will be provided for those attending in person.
Title and abstract
How the hell did we get here and what are we going to do about it? Learning disability and the lingering stain of assumption-based practice
20 years after the White Paper Valuing People was launched by the UK government with the aim of enabling people with learning disabilities to live 'full and purposeful lives in their communities', the estimated 1 million adults with learning disabilities in this country continue to experience entrenched inequalities. Life expectancy has worsened in the last two decades and less than 6% of people are in paid employment. There is a body of evidence demonstrating what is important to people - relationships, employment, and acceptance - and a consistent failure to achieve this.
In this lecture I will take a whistle-stop tour through the academic, activist, and personal, to demonstrate how assumptions, rather than evidence, underpin so much of what is wrong.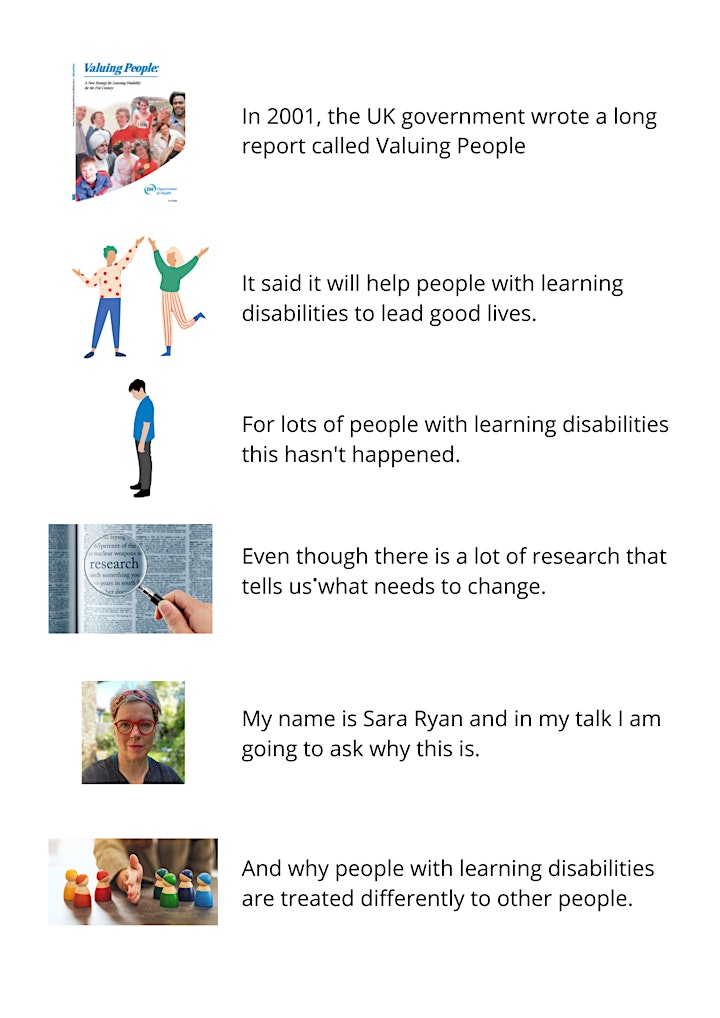 Biography
Sara Ryan is a social scientist and scholar activist. Her work focuses on learning disability, autism and inequalities.
Just to let people know that this session will be recorded with the intention of further dissemination to university staff for training purposes. Please see Manchester Metropolitan's privacy notice for online meetings and lectures for further information about how we process personal data in this way. You should inform the organiser prior to the event if you have any concerns about the session being recorded. The recordings will be reviewed for relevancy after 12 months, and deleted when no longer deemed to be relevant.