Description
European Forest Institute is inaugurating its new office in Bonn on 29 August 2017.
The event is organized in close collaboration between European Forest Institute and the German Federal Ministry of Food and Agriculture, the Ministry for Climate Protection, Environment, Agriculture, Conservation and Consumer Protection of the State of North Rhine-Westphalia and the City of Bonn.
EFI Bonn hosts one of the Institute's main initiatives: the Resilience Programme. It will focus on forest-related resilience issues, including the integration of biodiversity in sustainable forest management, climate change adaptation and mitigation, forest-related risks, payments for ecosystem services and the role of forests and trees in climate-smart cities. The programme will emphasize work on the science-policy-society interface at a European scale, thus strengthening EFI's policy support role.
Programme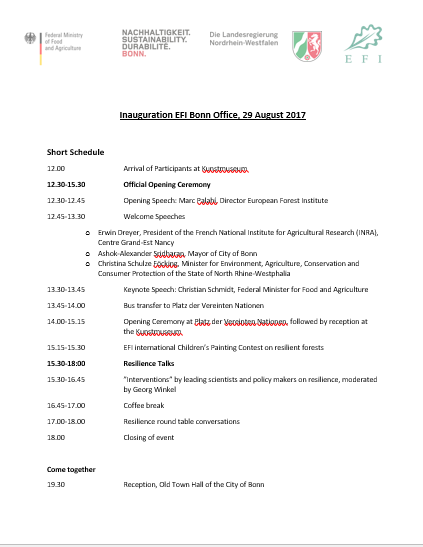 Please note that there will be no bus transfer from the Kunstmuseum to the Old Town Hall of the City of Bonn, where the Evening Reception will take place. The Old Town Hall of the City of Bonn is easily accessible by train and bus due to its location in the city center of Bonn at Markt 2, 53111 Bonn.
Accomodation
All participants are requested to book their own accommodation. The city of Bonn offers the following link: http://www.bonn-region.de/bonnhotels-de/hotelsearch-de.html

Closest to the venue is the Marriott World Conference Centre