We'll teach you how to get 100 leads in 6 weeks - It's that simple!
About this event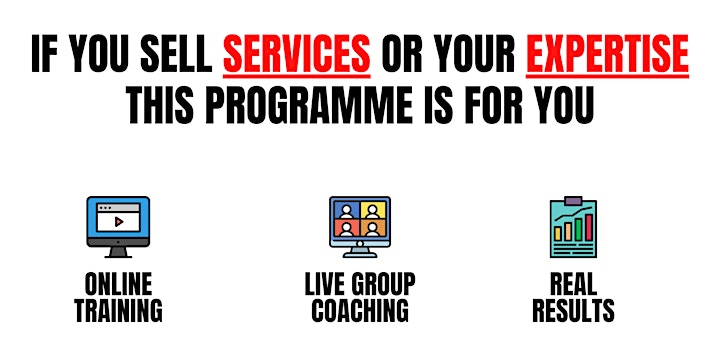 OVERVIEW
Inbound + Organic is one of the core modules of MAVERRIK's flagship programme the Accelerator.
The Accelerator Programme has helped more than 200 businesses get leads and clients using digital channels - without cold outreach.
This programme runs over 8 weeks... 2 weeks of learning and prep and 6 weeks of implementation.
The programme is available from 30th March 2022 with the first group coaching call on Thursday 31st March at 4pm (Same time every week).
During the programme, you will get access to the step-by-step training online, weekly group coaching and optional 1:1 coaching sessions.
During the programme you will learn how to use social media to generate 100 leads in six weeks - without cold pitching or spending ££££ on paid advertising.
If you miss any group coaching sessions, they are all recorded so you can catch up - we also have email support between sessions.
Extras: You can also bolt on some private coaching sessions so you can get 1:1 help if you need it.
There are some pre-requisites to join this programme...
1) You have at least 2 hours per week over 8 weeks to devote to this exercise.
2) You sell a service or provide expertise to your clients - not suitable for product-based businesses.
3) You have a basic knowledge of at least one of these channels:
- Facebook
- Instagram
- LinkedIn
- Email
4) You have at least £150 to spend on ancillary resources / tools.


This is the most important part... this is the underpinning of the whole programme. This section will help you understand how to leverage the pain points of your potential customer to...
Show your services value to them in a way they 'get'
Turn that into attention grabbing content
Create an Intent Thresholds which will get you leads

You can't leads unless you can get their attention, this is where we get their attention and draw them into your world.... this works across Facebook, Instagram, LinkedIn and Email

If you've never heard of an Intent Threshold - don't worry, we will teach you how to turn your attention grabbing content into mechanism for getting leads... Don't worry once this programme is completed you can rinse and repeat the process.

It's one thing to get a lead, but what do you do next? In this section we will teach you some strategies and give you some templates for getting the leads booked onto a discovery call.

On our course platform you will access the tutorials and sessions so you can work at your own pace. The platform includes step-by-step instructions

Every Thursday at 4pm, you can join the live group coaching calls to get advice and feedback as you implement the 100 leads in 6 weeks programme

Accelerator Student Testimonials