A conference to help organisations understand how they can be more inclusive.
About this event
National Inclusion Week 2021 will take place from 27 September – 3 October. It is designed to celebrate everyday inclusion in all its forms.
To mark this week, the BAME Apprentice Network has teamed up with AELP and Amazing Apprenticeships to bring you a special Inclusion in Apprenticeships Conference to bring organisations together from across the sector to celebrate, share and inspire inclusion practices.

Below is an agenda for what to expect:
11:00 - 11:45
Panel Discussion - How to be an inclusive organisation
11:45 - 12:00
Pride in Apprenticeships – How to be inclusive to staff members who are LGBTQIA+
12:00 - 12:30
Neuro Inclusion – Understanding Neuro Diversity
12:30 - 12:50
Cultural Intelligence – How to make your organisation inclusive to people of all backgrounds
12:50 - 13:15
It's Not Banter, It's Out of Order – What is acceptable in an inclusive workplace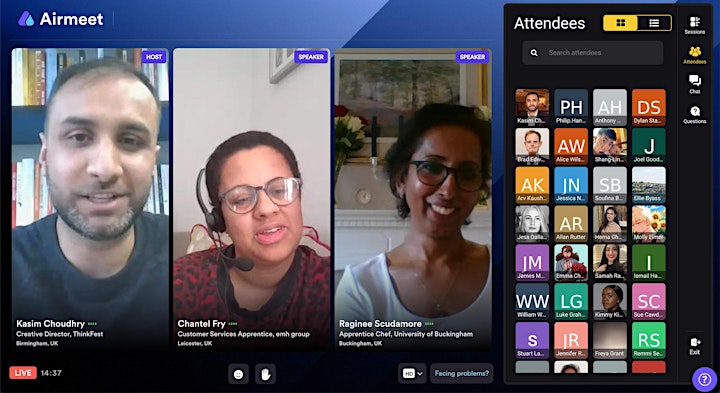 Event Organised by BAME Apprentice Network in partnership with AELP and Amazing Apprenticeships.
AELP is an award winning national membership organisation that represents the interests of an extensive number of organisations that deliver apprenticeships, employability support and vocational learning. Our main purpose is to lobby for government funded skills and employment programmes that increase workforce productivity and improve social mobility. We also offer a range of other member benefits such as guaranteed up-to-date news and insights, member exclusive sector forum meetings, webinars, events and conferences. Contact us on 0117 986 5389 or email admin@aelp.org.uk to find out more.
Amazing Apprenticeships is a leading organisation in the education sector, founded to tackle misconceptions about apprenticeships and promote the benefits. As experts on apprenticeships and vocational education, we influence the way that apprenticeships are perceived and drive forward innovative and creative work in England and internationally, to ensure that more individuals and businesses can access the benefits of apprenticeships.