Description
Bristol Autism Support Saturday Socials are casual get togethers for autism families with children of all ages. These are relaxed events featuring a buffet lunch and a unique, fun activity, plus toys and crafts.
Saturday Socials provide autism families an opportunity to have fun together in a relaxed and non-judgemental atmosphere, with other people who just 'get it'. It's a great way to meet new people, and a great way for your children to gain new social experiences.
These events are very inclusive. They are for every family with an autistic child of any age and any description. We have something for everyone!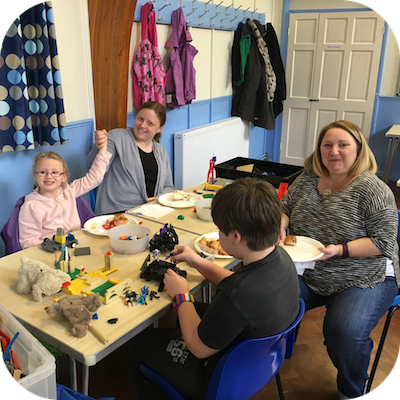 Every family social has some kind of performance midway through. In the past we've had dancers, a play, performance artists, a magician, circus skills training and more! The performer for this event has yet to be confirmed but we guarantee it will be something different and will have a wide appeal.
We will have toys, Lego, craft activities and play dough for kids to play with as well!
Entry is £5 for adults (18 and over) and free for children. This covers our costs for room hire, some food and payment for our guest performer. Guests are limited to 30 total to ensure the event is not too busy.
Redcatch Community Centre is entirely disabled accessible, and has a locked gate at the front.
Saturday Social FAQs:
What time is it on? 11am - 2pm. The performance will begin around noon.
Where is it? Redcatch Community Centre, Redcatch Road, Knowle BS4 2EP click here for map
What is the cost? £5 per adult. Children under 18 free.
Is there wifi? Yes.
What is the refund policy? If you need to cancel your booking, please email us as soon as possible and we will refund your booking cost. If we do not hear from you, we will treat your unused ticket price as a donation.
What age range is it suitable for? All ages! The toys available are Lego and other building toys, plus play dough/plasticine and colouring. We have wifi, too!
Is there parking? There is on-street parking and also a large multistorey car park behind the centre - see map
What happens at the event?
11am arrival
11am - noon food, chatting, playing with toys, crafts for kids
Noon - 1pm fun performance
1pm - 2pm more food, chatting, playing with toys, crafts for kids
(Please note these times are for general reference only and are not exact!)
I am really, really shy. Do I have to talk to anyone? No. You can just enjoy being with your own family.
What do I need to bring? There will be a selection of sandwiches, fruit, crisps and cakes available plus hot drinks and squash. You are very welcome to bring your own food. There is a kitchen on site with a microwave if you need it. If you have any dietary requirements, please email us and let us know as we will happily cater for these.
Do I need to print my Eventbrite ticket? No, we will have a guest list to tick your name off of.
I want to come to this but I can't afford it. What can I do? Email us and we'll confidentially work something out.
I still need more information... Email us and we'll help you!
Directions:
Click here for a location map. In Redcatch Road, Knowle in South Bristol just 1 minute from A37 Wells Road about 5 minutes from Temple Meads Rail Station.
No 2 bus from city centre to Wells Road, 511 to Redcatch Road outside the centre from Brislington and Bedminster.
Close to Broadwalk Shopping Centre, Wells Road, where there is an a free multi-storey car park close to the community centre. On street parking usually available in Redcatch Road.