Inclusive Virtual Imagination Hub Programme: Gamification with Make Code

Wednesday, 19 August 2020 from 09:30 to 11:00 (BST)
Event Details
Join us at the Inclusive Virtual Imagination Hub where we'll be exploring Gamification with Make Code Arcade
This is for children and young people aged 8-18 years old that have SEND, learning disabilities, autism and/or who are neurodivergent. You must be living in or go to school within Brent, Barnet, Harrow, Camden, Kensington & Chelsea, City of Westminster, Hammersmith and Fulham or Ealing to be eligible for a place in this session
What will happen in this session?
In this session, we will be looking at how we can create our own games using MakeCode Arcade. We will be designing our own characters and scenes as well as exploring block coding, so that the characters can explore the game and collect points. We will also be able to add in our own effects and music. At the end, we will be showcasing our games to each other in a Zoom Arcade. If you have any queries, please email Imaginationhub@ioi.london or call us on 07585009726.
Session Structure
Introduction on Zoom and warm up anagram games
Introduction to MakeCode Arcade
Learn to create your own game by designing characters and building scenes.
Learn how to experiment and hack using MakeCode Block coding
Showcasing our Games in our 'Zoom Arcade'
When is Inclusive Virtual Imagination Hub: Gamification with Make Code?
This session will be held on Wednesday 19th August 09.30 -11.00 am. There will be up to 30 students at each session.
What will I need for the Theatre and Performance session?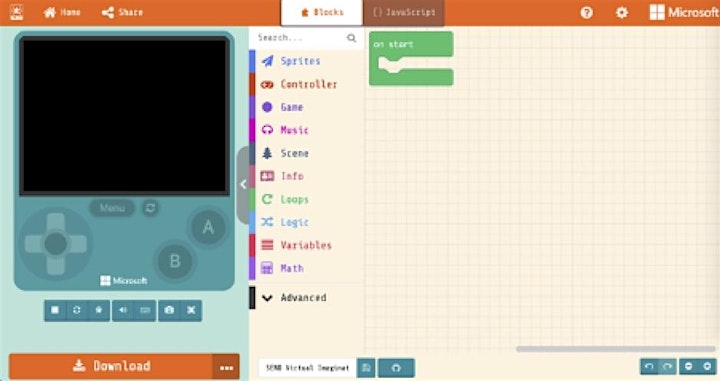 What is the Inclusive Virtual Imagination Hub?
The Inclusive Virtual Imagination Hub is an exciting 8 week programme brought to you by the Institute of Imagination and Oily Cart. It features a range of exciting and experimental workshops, with the crossover of arts, science, engineering, coding, digital technology. Explore how to be playful with everyday household items. It's made specially for children from neurodivergent backgrounds.
Sessions include:
Theatre sessions and sensory engagement workshops with Oily Cart, a charity who aims to reimagine theatre for young audiences to make it more inclusive.
Tinkering with everyday objects and exploring digital making with the iOi
An online CPD session for teachers and parents to provide new inspiration, ideas and tool kit for online delivery and home learning with the iOi and Oily Cart.
In August, we will be hosting workshops from Tuesday-Thursday, every week. Sign up now and we'll keep you updated on all our events.
How much does the Inclusive Virtual Imagination Hub: Gamification with Make Code cost?
This is a funded programme with John Lyons, so it is free to participate. You must be living in or go to school within Brent, Barnet, Harrow, Camden, Kensington & Chelsea, City of Westminster, Hammersmith and Fulham or Ealing to be eligible for a place in the sessions. All participants should be accompanied by an adult for the online session.
How have we made this programme inclusive?
When you sign up to each session, we ask you to provide details about what needs your child(ren) have. We will pass on these details to our practitioners, to ensure that they make the sessions suitable for everyone taking part. Also, each session includes a captioned video, a resource page and a live workshop. We have a session that will support children and young people with sensory needs and high functioning needs.
How do I join the session?
If you would like to take part in this session, please book here and we will send you a booking confirmation shortly to confirm your place, resource pack and how to join. If you have any queries, please email Imaginationhub@ioi.london or call us on 07585009726.
How do I do this activity if I can't join this session?
If you can't join this session, we have a resource pack that you can download after the session has taken place and a pre-recorded video that you can watch, so you can catch up in your own time.
Organiser
Website: https://ioi.london/organiser/the-institute-of-imagination/