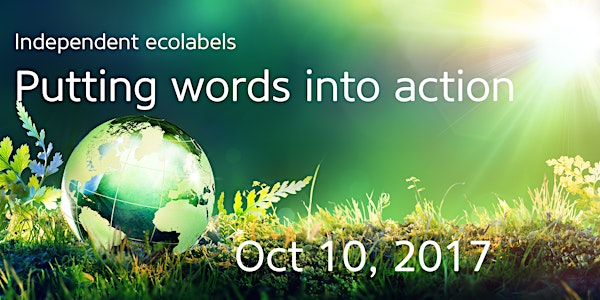 Independent ecolabels - Putting words into action
Location
Stockholm
City Conference Centre
Drottninggatan 71 C
Stockholm
Sweden
Description
There are many fora for discussions about circular economy and the UN Sustainable Development Goals, and there are lots of new exciting ideas in these areas. This conference is about going from theory to practice, and how independent ecolabels are a good tool for this. Let´s walk the talk !
During the day we will have presentations of how the greening of the economy globally, in Europe and specifically in the Nordic countries is stimulated by creating a pull in the market among both consumers and professional purchasers. In that pull for green solutions independent ecolabelling offers strong assistance by very differentiated measures.
Streaming: for those who can not join us in Stockholm, the event will be streamed. You will also be able to watch it afterwards.
http://streamify.io/putting-words-into-action-with-independent-ecolabels
For any practical enquiries and in case of deregistration to free your seat to another participant, please contact Mr Kristoffer Lawner at kristoffer.lawner@svanen.se
Program
Moderator of the day: Ms Nina Ekelund
Registration from 8.30.
9.00 Environmental policies for SCP (sustainable consumption and production)
Cooperation between the Nordic countries for a sustainable future. Dagfinn Høybråten, General Secretary, Nordic Council of Ministers
The variety in focuses of ecolabels globally. Björn-Erik Lönn, Global Ecolabelling Network
Integrating SCP policies in Europe - towards a circular economy. Ari Nissinen, Finnish Environment Institute
Discussion
10.30 Refreshments
10.50 Green Public Procurement
Guiding the greening of public procurement under new EU legislation. Isa-Maria Bergman, Motiva Services, Finland
ModUpp - cooperation between ecolabels to promote GPP (green public procurement) in Sweden, followed by similar initiatives in Norway and Finland. Anna Norberg, Project Manager
Legislation coupling directly GPP with ecolabelling in Asia, experiencies from Chinese Taipei. Chin-Yuan Chen, EDF Env. Dev. Found., Chinese Taipei
Exchange of experiences
12.10 Lunch
13.00 Consumer power
Ecolabelling and the market - trends and future challenges. Cecilia Soler, Gothenburg School of Economics
Consumer campaigns for sustainability. Karin Lexén, Swedish Society for Nature Conservation
Global supply chains bring up social requirements from the buyer, xperiencies with TCO certified IT equipment. Sören Enholm, TCO Development
Possibilities and challenges for independent ecolabels
15.00 Refreshments
15.30 Beyond traditional ecolabelling

Greening the market by supporting choices made by both professional and private green buyers and investors. Ragnar Unge, Nordic Ecolabelling
Further steps as green consumer demands move into the finance markets. Per Bolund, Minister of Consumer Affairs and Finance Market
16.30-17.30 Reception ; snacks served by Ecolabelling Sweden