Description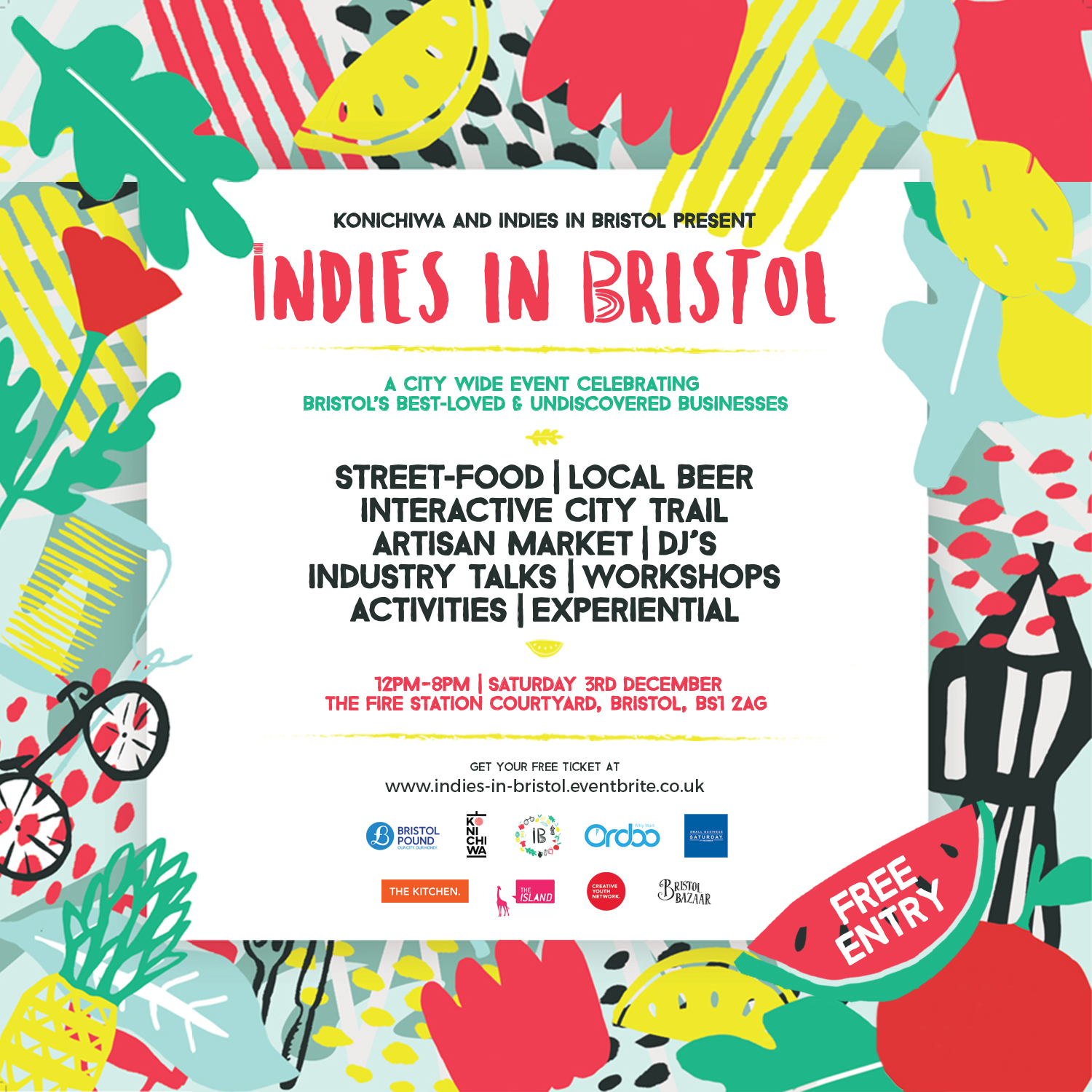 Join us on Saturday 3rd December for a city-wide event celebrating Bristol's best-loved and undiscovered businesses
Indies in Bristol will be more than your typical Christmas market! As much a social gathering as a shopping experience, Indies in Bristol will include talks, workshops, installations, art, music and more, as well as a chance to buy from Bristol street food traders, drink local craft beer and buy your Christmas gifts at local independent businesses.
On Saturday 3 December (Small Business Saturday), 12pm–8pm, Indies in Bristol will unfold throughout the city from the main hub of The Station Courtyard in the city centre, where the main market will be situated. There will also be a Bristol Pound ATM on site, as we will be encouraging £B as the main currency for the day.
Cafes and shops will also open their doors to the public, hosting one-off experiences and activities through an interactive trail map. Find undiscovered businesses as well as Bristol favourites, through activities, workshops and interactive challenges!

A distinguishing feature of Indies in Bristol will be our talks and workshops. As well as helping existing businesses create new experiences for customers, we want to stimulate the imagination of prospective entrepreneurs and start-ups by giving them an opportunity to learn from their favourite local businesses first-hand about setting up a new venture within different industries. Established start-ups and independents can also pick up tips and new ideas on different business opportunities, such as crowdfunding, while meeting with other like-minded business owners.
12pm - 8pm, The Fire Station Courtyard, Silver Street, Bristol, BS1 2AG

FREE ADMISSION
TRAIL MAP & INDIE PASSPORT (Available from November)

STREET-FOOD from Bristol Eats
ARTISAN MARKET from Bristol Bazaar
TALKS & WORKSHOPS programme TBA
ACTIVITIES programme TBA
MUSIC local DJ collectives TBA

How To Get Involved?
Please contact:
Ursula Hutchinson – Partners or Press – hello@konichiwa-pr.co.uk
Clem Balfour – Workshops, Talks & Traders – clem@konichiwa-pr.co.uk
Jayne Christie – Volunteers & Proposals – jayne@konichiwa-pr.co.uk
Our Event Partners and Event Collaborators:
The Bristol Pound, Ordoo, Small Business Saturday, The Fire Station, The Creative Youth Network, Bristol Eats (BEATS), Bristol Bazaar, The Kitchen, The Island