Description
The Doctoral School would like to invite all doctoral research students beginning their studies in May (or who missed a previous induction opportunity) to attend an induction session.
This University-wide doctoral induction session will introduce new starters to the life of a SHU doctoral researcher, and provide orientation on a number of key elements relating to doctoral study. It is the perfect opportunity to meet with staff involved in supporting your studies and to get to know doctoral researchers from across the University. The event includes a full introduction to research ethics and integrity and research data management - mandatory elements of your doctoral research studies.
The programme for the event is: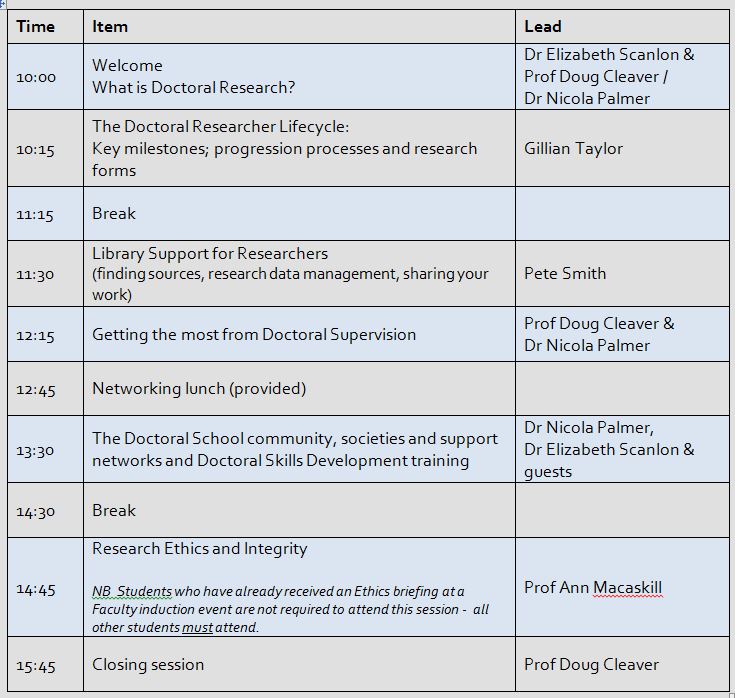 All new PhD and Professional Doctorate researchers at Sheffield Hallam University are required to attend an induction event.
You will need to complete the online Ethics 1 course before attending the event. This training is accessed via the Epigeum online site. Please visit the SHaRD blog (https://blogs.shu.ac.uk/shard/resources/) for instructions on how to register for an account and access the training. Completion of this module will provide you with the background information necessary to engage in the ethics session.
Please direct queries to doctoralschool@shu.ac.uk
Whilst this session is aimed at students with a May start date, anyone who missed the induction session which ran in February 2019 is welcome to attend.