Join our free to attend webinar to hear from an expert line up of speakers and panellists.
About this event
The UK's offshore oil and gas industry is changing. It remains a crucial part of the UK economy and is committed to playing a positive role in the UK's energy future.
COP26 provides a once in a generation opportunity for the UK offshore oil and gas industry to show case its central role to the transition and existing work; the Roadmap 2035 and the freshly signed North Sea Transition Deal both being presented as exemplars of collaboration between industry and government in delivering an energy transition. Our industry has an important economic role to play, supporting jobs today and creating exciting energy careers of the future.
The event will be chaired by Deirdre Michie OBE, CEO, OGUK.
Our speakers and panellists were (click on the speaker name to access slides delivered):
David Duguid MP, UK Government Minister for Scotland
Jean-Luc Guiziou, Managing Director, TotalEnergies
Romain Chambault, Vice President Services and Offshore, Europe and Key Accounts, Oilfield Equipment, Baker Hughes
Dr Martin Hanton, Technical Director, TÜV SÜD National Engineering Laboratory
Mike Barber, Partner, Risk Advisory, Deloitte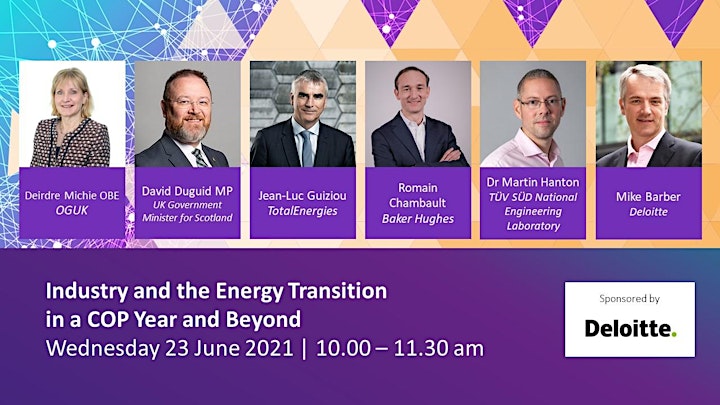 Organiser of Industry and the Energy Transition in a COP Year and Beyond
Network with peers, learn from industry leaders and debate the future of our industry at OGUK's events. From specialist seminars to breakfast briefings, you can be involved in discussing the issues which will shape the future of this sector.
Would you like to receive email updates for OGUK Events?
Then sign up at https://oguk.org.uk/email-bulletins/
Members of OGUK can access a 35% discount off event tickets. For more information on membership visit https://oguk.org.uk/members-directory/.