Event Information
Location
Bio Escalator
696 Roosevelt Drive
Headington
OX3 7FZ
United Kingdom
Scientific seminars at the interface of academia and industry - brought to you by the University of Oxford's Medical Sciences Division.
About this event
To register for this hybrid event, please use the 'select a date' button
17 May 2022: Physical Modelling and Machine Intelligence for Accelerated Discovery
Presenter: Dr Jason Crain
Company: IBM Research
Location: Large Meeting Room, Oxford BioEscalator, 696 Roosevelt Dr, Headington, Oxford OX3 7FZ.
Zoom: Attendees are welcome to join online; joining details will be emailed
Lunch: Will be served after the presentation to allow for networking.
IBM Research, are inventing what's next in AI, quantum computing, and hybrid cloud to shape the world ahead.
They're discovering the new materials that will become the next generation of computer chips; They're building bias-free AI that can take the burden out of healthcare decisions; They're designing a hybrid-cloud platform that essentially operates as the world's computer. They're moving quantum computing from a theoretical concept to machines that are redefining industry and society.
*Please note these seminars are intended for scientists, academics, clinicians, students and life science professionals only. Please register using a business email address and join the meeting with your registration name.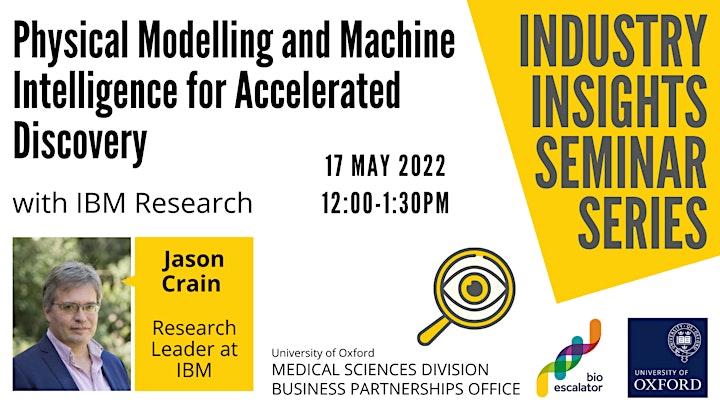 Location
Bio Escalator
696 Roosevelt Drive
Headington
OX3 7FZ
United Kingdom