Sales Have Ended
Registrations are closed
Thank you for interest in this Industry Insights Seminar, ticket sales have now closed. If you would like to be placed on the reserve list please email BioEscalator Events at bioescalator.events@medsci.ox.ac.uk
Sales Have Ended
Registrations are closed
Thank you for interest in this Industry Insights Seminar, ticket sales have now closed. If you would like to be placed on the reserve list please email BioEscalator Events at bioescalator.events@medsci.ox.ac.uk
Scientific seminars at the interface of academia and industry - Brought to you by Oxford University's Medical Science Division
About this event
To register, please use the 'select a date' button
6 July 2021: Tumour Re-engineering
Presenter: Manuela Zonca - Senior Research Scientist, PsiOxus.
Abstract: Combining different anti-cancer immunotherapies is currently a major focus of clinical oncology studies, but while this can increase efficacy this benefit usually comes at a price of increased, dose limiting toxicity. Because these agents are dosed systemically, they frequently cause unwanted immune inflammation in a variety of organ systems as well as in the intended tumor lesions.
Tumor re-engineering aims to overcome these issues by enabling selective delivery to and/or production of the therapeutic agent or combinations in tumor tissues where they are needed while minimizing systemic exposure. We are developing a tumor-specific immune-gene (T-SIGn) vector approach that delivers biotherapeutic gene payloads for production by the tumor cells themselves. These aim to promote anti-tumor immunity from within the lesions by targeting elements of the tumor and local lymphoid microenvironments. This presentation will use data generated with different clinical and preclinical stage T-SIGn candidates to illustrate these concepts.
*Please note these seminars are intended for scientists, academics, clinicians, students and life science professionals only.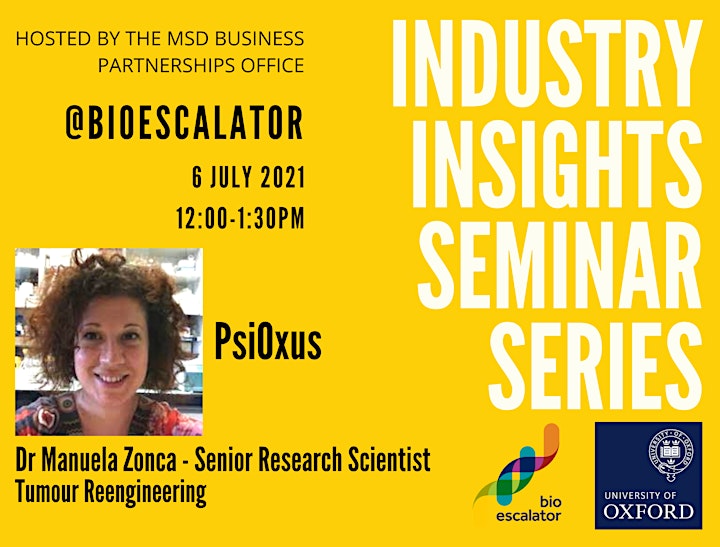 Organiser of Industry Insights Seminar Series