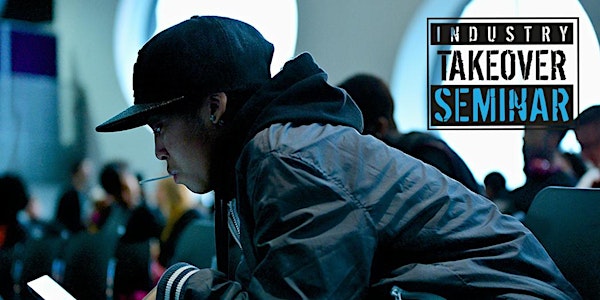 Industry Takeover Seminar x CMU:DIY - Songwriting, Publishing & PRS
Location
Red Bull
155-171 Tooley Street
London
SE1 2JP
United Kingdom
Sales Have Ended
Ticket sales have ended
Many thanks for registering to attend the Industry Takeover Seminar on 18th November. If you are unable to attend, please cancel your ticket so that others can attend as we run a very tight guest list. Thanks also for completing all the registration data. It helps us understand the audience for our events and report to our funders on its impact. UD HQ
Description
The Industry Takeover Seminar returns to Red Bull on 20 April, diving deep into an all important topic that boasts a wealth of opportunities but can often be a little confusing - Publishing, Songwriting & PRS.
Take control, take a seat and make sure you're not missing out as our panel explores the ways songwriters can build alternative revenue streams through their art by working with publishers, and building relationships with brands and music supervisors. Hear from those in the know as they give you the inside track on what to do, and how to take things to the next level.
Hannah V is a singer songwriter whose music had soundtracked global ad campaigns for the likes of Rimmel, Renault and the BBC. She understands the intricacies of publishing from an artist's perspective and has also worked with Rihanna and Jessie J.
Toby Williams is a music supervisor at Leland Music - an independent music consultancy service for brands, ad agencies and film companies, bridging the gap between them and the music industry. Clients include John Lewis, Sky, Sony and Land Rover.
Ally McRae is Head of A&R and partnerships at Sentric Music, an independent music publisher founded to reduce the complication and confusion that surrounds music publishing. Home to over 65k songwriters, they aim to give every songwriter and catalogue owner the infrastructure to collect royalties.
Seminar chair Chris Cooke is MD and Business Editor of Complete Music Update, and also leads both consultancy unit CMU Insights and educational programme CMU:DIY. The CMU Daily bulletin is industry gold dust, covering the latest news, trends and developments each day.
All sessions include a panel discussion, Q&A, and dedicated networking opportunities; swap cards with industry movers, spark new contacts with peers and start a revolution.
Pricing:
- In order to maintain quality and sustainability of the seminars, we are introducing a small nominal fee of £5 for non-UD Creatives to be paid via Eventbrite
- Seminars remain free for UD Creatives via the annual membership package, which includes entry to 9 seminars (Feb-June and Oct-Dec) + discounted admission and priority early bird booking for the Industry Takeover All Dayer
- Please note, only UD Creatives will have access to the post seminar speed- networking session
- Become a UD Creative by selecting the relevant ticket below.
New Timings
- 6.30 session starts
- 8.30 panel discussion ends
- 8.45 dedicated speed-networking session (for UD Creatives only)
- 9.30 close
If you're 18 – 24 and ready to make your mark find more information here: UD Tickets
Reprezent Radio will record the seminar.
Red Bull Studios
155 – 171 Tooley Street
London, SE1 2JP
T: 020 3117 2000