Industry Talks at King's College London - Konica Minolta
Description
Dennis Curry, VP & Director of Business Innovation EU/EMEA and Dr. Joanna Soroka, Manager - Digital Healthcare of Konica Minolta join us on February 25th for the second 'Industry Talks at King's'.
Konica Minolta is the company who brought the world the first camera with built-in flash, the first camera with autofocus and the first color photo paper with a lifetime of more than 100 years. Today the company has shifted it's focus to healthcare and produces products based on the needs of the consumer, from high-speed digital copying for the business sector to digital imaging systems for medical imaging diagnostics.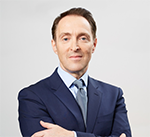 Dennis Curry recently joined Konica Minolta as Director of the Business Innovation Centres and EU Innovation Strategy. He has overall management responsibility of Konica Minolta's medium to long term business development from; Incubation, client development, VC & M&A technology direction, as well as Leading Edge Partners within EU/EMEA
Curry has over 25 years' experience in the IT and telecommunication fields as a strategist, technical leader, innovator and enterprise capability leader. He has worked across various industry sectors and is responsible for developing Konica Minolta's Enterprise Innovation approach as well as new services, software & hardware.
Previous to Dennis' existing role he was the Global Director of HP Enterprise Innovation. In this role, Curry was responsible for delivering co-Innovation initiatives with HP's major enterprise and corporate customers and built the world's largest IT services innovation program by revenue generated.
Curry's career at HP (previously EDS) began in 2004 as a senior technologist developing IS/IT strategy for the UK MOD and later driving technical innovation forward as Director of Research and Capability Development. He then went onto assist in strategic and technical innovation across many of HP's EMEA Enterprise Services government clients.
In 2006 Curry took on the role of Chief Technical Officer for the EMEA Innovation Program and by 2008 was appointed Director of EMEA Innovation, which has led onto his most recent role at HP.
Prior to HP, Curry was Chief Technical Officer for NATO serving within the Communication and Information System Division. During his 12 years, Curry held several key technical and operational roles across all of NATO's European boundaries.
Before NATO, Curry held several leadership roles within commercial research and development and product development. Curry also holds a Ph.D. in Information Systems whilst serving within NATO.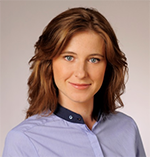 Dr. Joana Soroka's primary role within Konica Minolta's Business Innovation Centre Europe is identifying, assessing and Joana Sorokaimplementing investment opportunities in healthcare and building relationships with entrepreneurs.
Joanna has over 7 years professional experience in biomedical research, she worked as a Marie Curie Postdoctoral Fellow at Cancer Research UK focusing on molecular mechanisms of DNA repair pathways associated with cancer. Prior to this she obtained an MSc in Biology from the Jagiellonian University and PhD in Biochemistry from Technische Universität München.

---
The Faculty of Natural & Mathematical Sciences at King's College London has a Code of Conduct, which we expect participants at our events to abide by. This is intended to ensure an inclusive and productive environment and can be read here.