Description
Thanks for your interest in our Business Espresso morning.

Effective Selling without a Sales Team
St Austell Conference Centre
Tuesday 9 July
9am until 1pm
Because we know how busy you are, our Business Espresso mornings are all about getting to the point.
Just bring your full attention and a willingness to be honest.

What you can expect:

Led by Sales Consultant and Coach, Trevor Lee (Trevor Lee Media). Trevor helps businesses transform their sales. In his 45 minute session he will share tips and ideas that will help transform and re-energise your sales, giving them that 'espresso hit'.

The Espresso will arm you with more insights and better knowledge around selling.

You'll learn how to create opportunities from your existing customer base, and to identify why more customers aren't buying more from you.

Sales insights and tips.

Discover how you can embed an effective sales strategy into your business.

One-to-one advice from our Business Development Managers, who are all specialists in Sales and Marketing.

Opportunities to network with like-minded businesses.

This Business Espresso event is part of Unlocking Potential's brand new InFocus programme.
InFocus is dedicated to supporting ambitious businesses turning over £85 - £500k per annum who are committed to growth. Is this you? Click on the Eventbrite link above to register.
If you are keen to grow, review your business model or access business support but don't fall into this turnover category, please give us a ring on 0845 600 3660 and let us see how we can help you.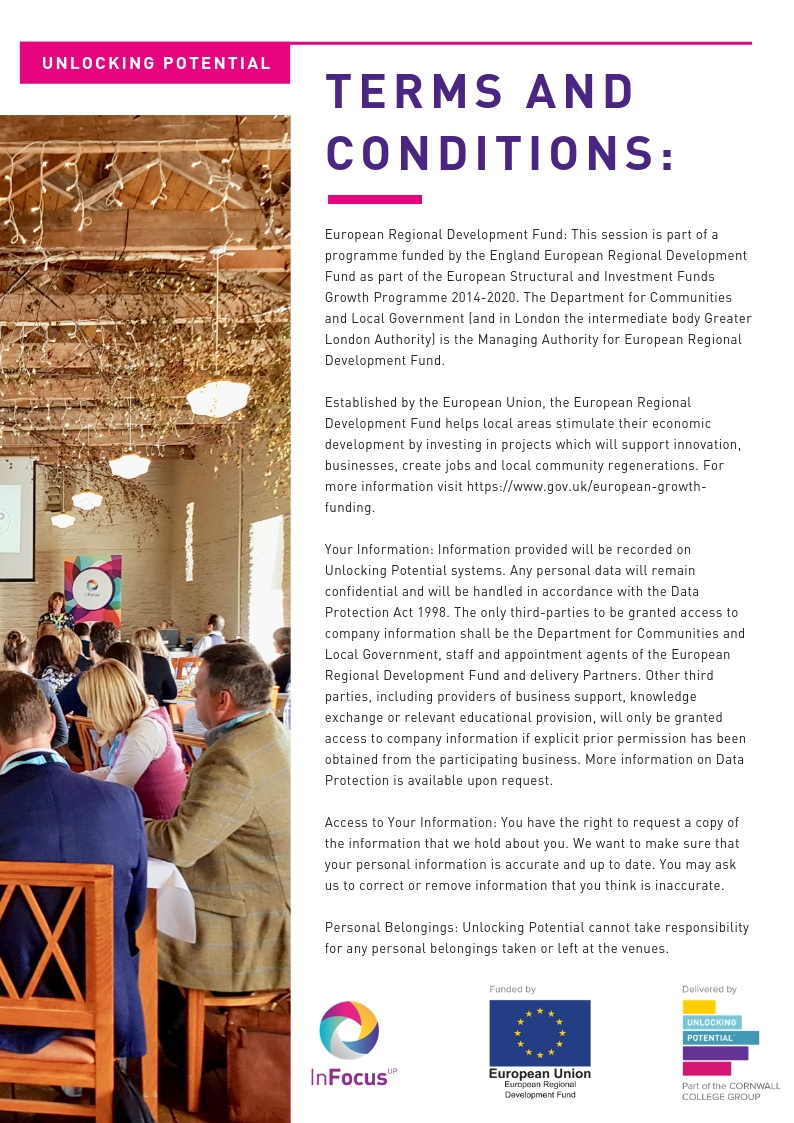 Organiser of InFocus Business Espresso Event - 'Effective Selling without a Sales Team'
Here at Unlocking Potential we believe every business benefits from taking some time, being boosted, learning, listening to new voices and seeing what can be done through others' eyes.  
We work in a wide range of ways to help your Cornish business focus, develop and grow. We do this by committing to understanding what you do: our work is a conversation which helps us to learn too. 
Instead of dispensing wisdom or insisting on systems, our diverse, dynamic and experienced people work flexibly, helping you figure out what you need, and then provide it. 
Our take on what this looks like is pragmatic, bespoke and based entirely on what's the best fit for the businesses we work with. Preparing start-ups for take-off and helping established businesses ask themselves tough questions to take the next big step.