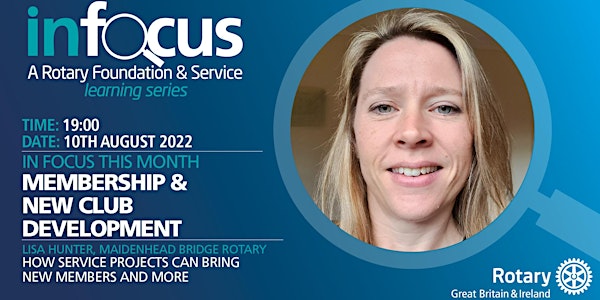 InFocus - 'How Service Projects Bring New Members' with Lisa Hunter
Each month on InFocus we look at how to turn Rotary's Areas of Focus into action in your community.
About this event
Wednesday 10th August 2022 - 19.00 - 20.00
InFocus is a yearlong learning series, brought to you by Rotary in Great Britain and Ireland. Each month, we are joined by an expert guest speaker, looking at how Rotary's Areas of Focus can be put into action in your community.
Each learning event includes:
1 hour session
In-depth and sharp conversation around important topics
Q&As section with chance to submit questions in advance
Guest speaker
Lisa will give real examples of how being an integral part of our communities with our Rotary service projects can benefit not just those communities but also our Rotary clubs.
Lisa was Founder President of Bournemouth Rotaract in 2000. Over the next 12 years she served as the Rotaract District Representative, Chairman for Rotaract in Great Britain & Ireland, EUCO 2008 Organiser, and spent 3 years on the Rotary International Rotaract Committee.
Lisa says she was humbled by the experiences and people she met along the way. When she turned 30 and had to leave Rotaract there was only one place she wanted to go… Rotary!
However, not having a club that was suitable to join in her local area she thought she'd start a new one! They were very successful and chartered Maidenhead Bridge Rotary Club on 23rd November 2012, a club that has only gone from strength-to-strength.
Lisa will talk about how their Rotary club is an integral part of their community through their service projects and how they have attracted and retained new members.
Tickets
Tickets are free of charge. Each registration gives you front row access to the event live through Zoom. This is your opportunity to put your questions to our speakers!
Can't make it? Watch on demand.
All InFocus events are made available on demand on our YouTube channel after the event.